A Writer's Thrill
For writers, whose careers are mostly defined by thankless struggle, it's often the little things that sustain us, those all-too-infrequent moments that come at the fruition of a long-gestating project, that remind us why we subject ourselves to so much anxiety, frustration and self-doubt.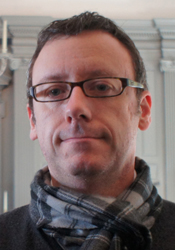 Gary Whitta
When I was a kid, I used to mock up movie posters with my name in that peculiar elongated font used for the "billing block" where the credits appear. When, many years later, I finally had a movie made, seeing my name on a poster for The Book of Eli, in that font, for real, was the greatest thrill, the literal realization of a life-long dream.
I came to write my debut novel, Abomination, kind of by accident. Unlike writing movies, being a novelist wasn't something I fantasized about as a kid. So I was in no way prepared for the thrill I would eventually feel seeing that book in one of my local indie bookstores for the first time. Maybe I'm being overly romantic, but I got the feeling that it was there because someone, a real person who cares about books, cared about this one.
I always love seeing the personalized handwritten recommendations from staff members in indie bookstores; it creates a sense of personalized community that's hard to replicate online. Here in San Francisco, the local independent bookstores are cherished, and readers have a ferociously protective attitude toward shops like Green Apple Books and the sci-fi/fantasy store Borderlands. I've frequented bookstores like these all my life, so to be able to give something back as an author and to see my book on those same shelves I've spent years perusing has been a thrill like no other. Yeah, even better than the movie poster. --Gary Whitta
Witta is a screenwriter and the author of Abomination (Inkshares, $15.99 paperback)