Gabby
Today marks the publication of a book about an amazing person, an amazing couple and their amazing story.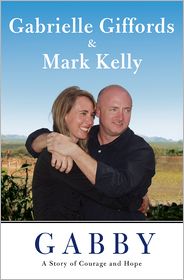 The book is Gabby: A Story of Courage and Hope by Gabrielle Giffords, her husband, Mark Kelly, and Jeffrey Zaslow, published by Scribner.

Giffords is, of course, the congresswoman who was shot in January in a strip mall in Arizona, where she was meeting constituents. Astoundingly, with the help of her husband, who was captain of the last mission of the space shuttle Endeavor and has retired from NASA, and a team of doctors and nurses, she can speak, if haltingly, and walk. She's still a long way from leading the life she had--but she keeps progressing beyond expectations. In the book, written with the help of Wall Street Journal columnist Zaslow (co-author of The Last Lecture and Chesley "Sully" Sullenberger's memoir), the couple tell of the fairy tale life they had until this year--and what life has been like since the shooting.

The book was kept under wraps until today--and publicity about it began only last night, when Diane Sawyer interviewed Giffords and Kelly on ABC's 20/20. The public will hear a lot about it now: Kelly is making the rounds of TV and radio shows, including the Daily Show with Jon Stewart, Good Morning America, All Things Considered and On the Record with Greta Van Susteren.

This is a sad but ultimately heartwarming, uplifting tale: the continuing recovery of a vibrant, brilliant woman who survived a point-blank gunshot that should have killed her, helped by a husband who never gave up his belief that she will recover. Giffords wrote the final chapter of the book, consisting of 19 lines, and reads that section on the audio version. "Hope and faith," Gabby Giffords says in words that everyone can acknowledge. "You have to have hope and faith... I will get stronger. I will return."