The National Book Awards
This coming week is National Book Awards week, when the top books published last year in fiction, nonfiction, poetry and young people's literature are honored. There are readings, press conferences and other events; the grand finale comes Wednesday night, when the winners are announced and celebrated at a gala dinner in New York City. It's the book industry's Oscar night, and for the first time ever, it's being webcast live.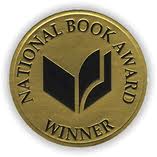 We've reviewed and covered in various ways some of the 20 NBA nominees--five in each category. There's a Book Brahmin with Téa Obreht, author of The Tiger's Wife, a fiction nominee. (She's a charming 26-year-old who has written an astounding first novel. An NBA award would be another milestone on the magical literary trip she has taken in the past several years.) We have reviews of The Swerve: How the World Became Modern by Stephen Greenblatt, a nonfiction nominee, and Chime by Franny Billingsley, nominated for the young people's literature award. In addition, we devoted a special issue to Okay for Now by Gary D. Schmidt, which includes a review and interviews with the author and his editor. Okay for Now is being considered for the young people's literature prize.

The events leading up to "NBA night" include: on Monday night the "5 Under 35," at which five fiction writers under age 35 will read; Tuesday afternoon's teen press conference--when students pepper the young people's award nominees with questions; and Tuesday evening's event, at which many of the finalists will read.

"NBA night" is also an occasion to honor several important people in the book world: this year, medals will be given to poet John Ashbery for his contributions to American letters and to Mitchell Kaplan, owner of Books & Books bookstores and co-founder of the Miami Book Fair International, for service to the literary community. The emcee on Wednesday night is actor, author, composer and singer John Lithgow.

There's always much debate about the merits of the nominated titles and omitted titles. Still, every year the list is full of reading gems, and this year's eclectic list is no exception.

Happy reading!