A Thanksgiving Cornucopia
Thanksgiving in America is often about food, family and friends--with extra helpings of gratitude. Here's a trio of 2015 picture books that touch on the spirit of the holiday in three very different ways.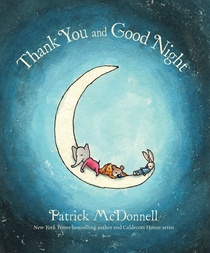 Thank You and Good Night (Little, Brown) by Caldecott Honor artist Patrick McDonnell (Me... Jane) is about a surprise pajama party for an adorable rabbit named Clement, who with his animal friends do a chicken dance and have a funny-face contest until the night winds down and the kindly human, Maggie, suggests: "Now, before we go to sleep, let's all say what we were thankful for this day." The long, long list--from a moon to a red balloon--is a soothing bedtime rhyme that ends with a good-night kiss.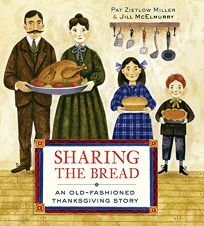 "Mama, fetch the cooking pot./ Fetch our turkey-cooking pot./ Big and old and black and squat./ Mama, fetch the pot." So begins Pat Zietlow Miller's Sharing the Bread: An Old-Fashioned Thanksgiving Story (Schwartz & Wade/Random House). Everyone pitches in to cook a delicious Thanksgiving dinner in this simple, rhythmic story set in a bustling 19th-century American household. Jill McElmurry's wonderful illustrations, as golden as freshly baked bread, shine a warm light on this nostalgic celebration of food and family, tradition and teamwork.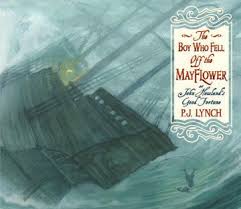 Irish author-illustrator P.J. Lynch offers a deeper look into the history of Thanksgiving in America for ages 8 and older, with The Boy Who Fell Off the Mayflower or John Howland's Good Fortune (Candlewick). John Howland left London in 1620 on the Mayflower as a teenaged indentured servant, and this vivid, sweepingly cinematic picture book tells the story of his dangerous voyage to "New Plymouth" and the eventual friendship with Squanto and the great King Massasoit of the Wampanoag that led to the shared harvest dinner that went down in history. --Karin Snelson, children's and YA editor, Shelf Awareness