Unlock Your Creativity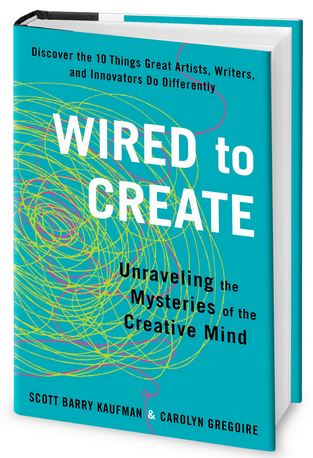 Scott Barry Kaufman and Carolyn Gregoire have written Wired to Create: Unraveling the Mysteries of the Creative Mind (Perigee, $26.95), and we asked them about New Year's resolutions--so much goal-setting that often comes to naught. They think resolving to find more creative fulfillment--they believe we are all, to some extent, wired for creativity--is a worthy goal:
"Bringing more everyday creativity into your life in 2016 is easier than you might think. Here are three simple (and enjoyable) suggestions to spark creativity at work and in life.
Make time for solitude: Alone time can be difficult to come by, but solitude is critical to the creative process; it's often in solitary reflection that we come up with our best ideas. Setting aside the time and space for quiet reflection fuels deep thought, creative problem-solving and innovation. Spend an afternoon on your own walking in nature or listening to music, and let your ideas flow freely.
Pick up a new hobby: Have you always wanted to sculpt or take up archery? Exploring a new activity can stimulate inspiration and help you to engage in new ways of thinking. It's the new and novel experiences in life that help us break out of habitual thought patterns and find new ways of seeing things. You never know--a Sunday afternoon class could be just what you need to get out of a creative rut.
Give meditation a try: Many artists and innovators have used meditation as a tool for tapping into their deepest creativity. Indeed, meditation has been shown to support a number of cognitive processes that play a key role in the creative process--memory, focus, emotional well-being and mental clarity--and research has suggested that certain types of meditation can directly enhance creative thinking. Plus, meditating for as little as 10 minutes a day could reduce stress and anxiety--two known creativity killers!" --Marilyn Dahl, editor, Shelf Awareness for Readers