Celebrating Black Poetry
To honor Black History Month, we'd like highlight some recent volumes of poetry. In January, Alice B. James Books published Chicago poet Phillip B. Williams's serrated first collection, Thief in the Interior.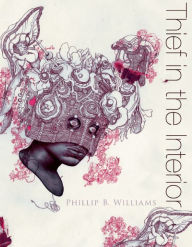 A gay black boy's dismembered body forms the centerpiece, and Williams twists tactile, electric lines about brutal hate crimes into ornate and compelling verse: "the boy's first word for pain/ is the light's/ new word for home," indicting the violence black bodies are subjected to. Yet as unflinching as his gaze is toward human cruelties, Williams also adorns his writing with moments of tenderness: "O darling, the moon did not disrobe you./ You fell asleep that way, nude."
Parneshia Jones begins her debut poetry collection, Vessel, with the important subject of her name. "Parneshia [par: knee: she a] n/ i. 1980--daughter of high school sweethearts," she explains in the poem "Definition." From there she makes clear the inextricable nature of poetry to her life. Our reviewer said this is "a book of family, history, storytelling, the South, romance, Chicago, music and tradition. Each entry opens like a delectable advent calendar of Jones's heritage; each a surprise, each a treat.... Vessel is a satisfying, lyrical chorus of both black struggle and personal revelation, swirling with regional sights and sounds, and sizzling with the burn of whiskey."
National Book Award finalist and PEN Open Award winner Kevin Young's poetry collection Book of Hours is "a work of great emotional power and beauty. Circling around the themes of grief (the loss of his father) and new life (the birth of his child), Young has crafted a rare work of art that is both immediately accessible and deeply philosophical." Our reviewer wrote: "Young fully embraces the dichotomies of this dance with death and birth. His language achieves an almost zen-like simplicity, wise with the blues of life.... Book of Hours is a major work by an important writer at the top of his game." --Marilyn Dahl, editor, Shelf Awareness for Readers