This Valentine's Day, Say It with Children's Books
Adults often buy children's books as romantic gifts for other adults on Valentine's Day, and we heartily endorse this practice.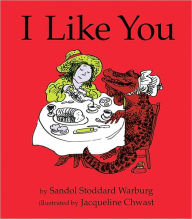 When customers ask for Valentine's Day gift advice, Cristin Stickles from New York City's McNally Jackson Books stands by the classic little red square book I Like You (Houghton Mifflin Harcourt) by Sandol Stoddard Warburg, illustrated by Jacqueline Chwast. And she's always caught off guard, she says, by how many lovelorn people come in to the bookstore around February 14 looking for Shel Silverstein's The Missing Piece (Harper). She raves about the beautiful collages in I Carry Your Heart with Me (Cameron & Co.) by e.e. cummings, illustrated by Mati McDonough, and also suggests Sandra Boynton's Your Personal Penguin (Workman)--"I want to be your Personal Penguin/ I want to walk right by your side"--as a disarming declaration of love.
Collette Morgan, co-founder of Wild Rumpus Books in Minneapolis, Minn., is a fan of Sarah Kilborne and illustrator Steve Johnson's Peach and Blue (Dragonfly Books). Valentine's Day could then be spent discussing who is the blue-bellied toad and who is the talking peach in the relationship. Morgan also proposes J.J. Austrian and illustrator Mike Curato's 2016 picture book Worm Loves Worm (Balzer+Bray/HarperCollins) for wooing purposes. In this book, two worms wed, and each worm is both the bride and the groom.
In Bellingham, Wash., where skies are gray quite often, Robert Gruen from Village Books particularly likes to recommend You Are My Sunshine (Cartwheel/Scholastic), the classic Jimmie Davis song illustrated in a board book by Caroline Jayne Church. He and his colleagues also like Hug Time by Patrick McDonnell (Little, Brown) and, if customers can ask for the title with a straight face, Leslie Patricelli's board book Huggy Kissy (Candlewick).
Chocolates vanish, flowers fade, but children's books are forever. --Karin Snelson, children's & YA editor, Shelf Awareness