'Buy Books for Everyone'
Author Scott Sparling (Wire to Wire) in his blog strongly suggests making Black Friday Book Friday. That day has passed, but his directive to go out and buy a book has not--and by go out, he means "to a physical bookstore with a real bookseller inside.... Go out and buy books for everyone."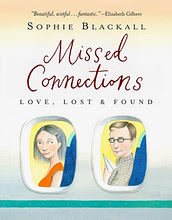 Good advice. We often get stuck in a gift-giving rut, and books are a marvelous way to get unstuck. Give the mail carrier a tip and a (lightweight) book. Donate money and books to a homeless shelter. Show up for dinner with a book instead of flowers or a bottle of wine. A book like Missed Connections: Love, Lost & Found by Sophie Blackall (Workman) is a perceptive book that makes the perfect gift for a friend, a host/hostess, a lover or even a passing crush on a city bus. Blackall, known for her award-winning children's books and editorial cartoons, here demonstrates her seemingly infinite insights into human nature. A brief, wry introduction explains how she became a convert to "missed connections," which led to a blog of illustrations, and then to a book.
Mourning the end of baseball season? Flip Flop Fly Ball: An Infographic Baseball Adventure by Craig Robinson (Bloomsbury) will tide you over until spring training and delight you beyond. Baseball is more than a sport to Robinson; it's a plethora of information to be organized, but not in a Jamesian way: "Baseball and the Wave" is a Venn diagram explaining the relationship they should have; road jerseys--the powder blue era; the Molina brothers; a red page that says "Ichiro Is Awesome (you didn't need a chart to convince you did you?)." Cool.
We have more gift suggestions below, and as one of our reviews said, channeling either a Zen master or Monty Python, "For the sort of people interested in this sort of book, this is exactly the sort of book they'll love." --Marilyn Dahl