Art & Photography Books Catch the Eye
As the year goes by, we set aside our favorite art and photography books to include in our holiday gift round-up. And every year, the selection gets bigger, until now the books spread over five feet of shelves and weigh, oh, about a ton. But this is the season when these big stunners get their due.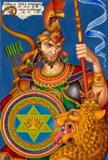 Out of this largesse, we've selected 20 books to highlight, but we had to leave out many other worthy titles, like The Szyk Haggadah (Abrams). Arthur Szyk (1884-1951) was known as a political illustrator, although I remember his illustrations from an old collection of Hans Christian Andersen. His Haggadah--created in Lodz, Poland, on the eve of Nazi occupation--is filled with calligraphy, exotic birds and lions, dreamy-eyed scholars, ancient stonemasons and 1930s workers.
We are often drawn to photography books of the natural world. Firefly has published The Natural World Close-Up, where Giles Sparrow has compiled more than 300 photographs using high magnification. Seal fur, magnified x 75, looks like sword-shaped grass; a stalactite core is a rose-colored agate; a conifer needle at x 1,030 is a honeycomb.
A different natural world is presented in Global Remains: Abandoned Architecture and Objects from Seven Continents by Michael Clinton (Glitterati). There is a particular beauty in ruins, and Clinton has found it in such places as an air force base in Tucson, graffitied buildings in Shanghai, rusting doorways in Budapest, an old Texaco sign in Santa Fe.
Michael Pollan's Food Rules: An Eater's Manual (Penguin) has been turned into an even more delightful gift book with illustrations by Maira Kalman. When Pollan says: "Place a bouquet of flowers on the table and everything will taste twice as good," the painting of a woman at an orange table with pink flowers and fresh bread and butter underscores his dictum perfectly.
There are more reviews below for fabulous books that deserve to be wrapped with extravagant bows. --Marilyn Dahl