For Book Clubs: Uncomfortably Funny
It may be difficult for a concerned white person in the United States to put their arms around the African-American experience, to understand fully the anger and frustration behind Black Lives Matter. The Sellout (available in paperback from Picador), Paul Beatty's novel of a black Los Angeles slave owner, weed and watermelon farmer and segregationist--which won the 2015 National Book Critics Circle Fiction Award and, this week, the 2016 Man Booker Fiction Prize--might help. Beatty's satire peels away the masks of both black and white stereotypes.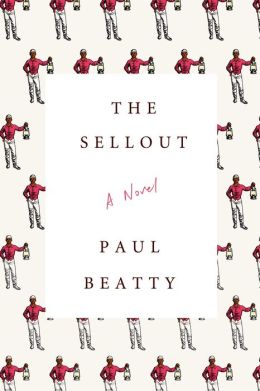 The Sellout is funny--very funny. As Dwight Garner said in his New York Times review: "The first 100 pages of his new novel... are the most caustic and the most badass first 100 pages of an American novel I've read in at least a decade." As our review put it: "The Sellout is a knock-out punch to everything all races smugly accept as our appropriate roles in a diverse world." Nobody gets away unscathed--Tiger Woods, Clarence Thomas, Rosa Parks, even Dave Eggers get their comeuppance.
But The Sellout's funny is an uncomfortable funny, especially for a book club group balancing the pleasure of laugh-out-loud lines with the tension, anger, guilt and bigotry that run beneath the surface of race relations in the United States. Could anybody but a relatively established black writer get away with the heavy racial humor in The Sellout? Does its somewhat complicated plot get in the way, or merely expand Beatty's platform for humor? Does Beatty's caricature of liberal blacks hit the mark? Although he pokes fun at racial stereotypes, they are stereotypes for a reason--do Beatty's comic wisecracks cut them down to size? And finally, can the humor of The Sellout help ease the United States' heightened racial unease and line-in-the-sand sort of ideological and sociological stand-off? Plenty to think about and discuss in this groundbreaking novel. – Bruce Jacobs, founding partner, Watermark Books & Cafe, Wichita, Kan.