Beauty on Board
We could all use some beauty right now. It's been a long, hard spring. Here are a few gorgeously illustrated board books sure to soothe children and caretakers alike.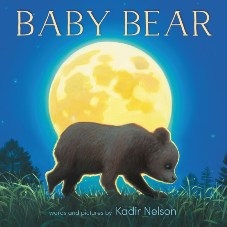 Baby Bear by Kadir Nelson (Balzer + Bray, $7.99) began life as a 40-page picture book. In the board book version for children up to four years old, Baby Bear's search to find home is condensed, but no less beautiful. Every page turn reveals a stunning double-page spread illustrated in Nelson's signature medium, oil paints. Full of life, texture and emotion, Baby Bear is a gentle story of hope in a visually arresting package.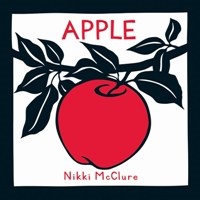 On seemingly the other end of the illustrative spectrum is Nikki McClure and her paper-cut art: "I cut my images from black paper with an X-Acto knife. Everything is connected. It is all one piece of paper, yet now it holds a story." Apple (Abrams Appleseed, $8.99, ages 3-5) was also a picture book before taking on life as a board book. In gloriously spare, thickly bordered illustrations, each page turn reveals a new step in the life of an apple tree. Using only black, white and red, McClure gives observers an optical feast.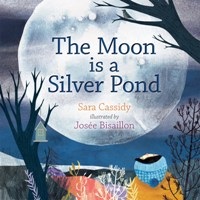 The Moon Is a Silver Pond by Sara Cassidy and Josée Bisaillon ($10.95, Orca Books, ages 0-2) has spare text with illustrations that tell stories far beyond the words. "The moon is a silver pond" on a cold, winter's night. Bisaillon's cut-paper, watercolor, pencil and digital collage art shows a clear sky, the moon shining down on a cozy cottage with a pond nearby. The moon is "a shining hubcap," "an apple pie," "a lost button"; each gently hued double-page spread depicting the moon and evoking a sense of comfort.