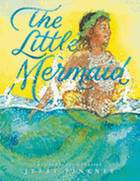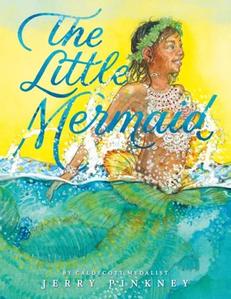 Jerry Pinkney (The Lion and the Mouse; The Tortoise and the Hare; The Grasshopper and the Ants) has mastered the art of the picture book rethink, and he comes through again in The Little Mermaid. Somewhere between Hans Christian Andersen's roiling turmoil and Disney's spick-and-span pageantry, Pinkney has found the sweet spot under the sea, where one of folklore's most famous deals with the devil is struck in the name of not love but friendship.
Pinkney's Melody, the youngest of the Sea King's four daughters, would rather explore sunken ships than sing in a mermaid choir with her sisters. In one wreck she finds a figurine that "looked a bit like her, but for two cloth sticks where its tail should be"; it fuels her sense of wonder about "the world beyond her home." Melody's sisters pooh-pooh her curiosity and remind her that their father forbids them to stray: he fears that the Sea Witch, who has been cast out of the kingdom, will seek revenge on his family.
The king entrusts an old sea turtle to be Melody's minder, and when it surfaces for a gulp of air, Melody tags along. She's beguiled by what she sees, especially a figure on the beach with "two sticklike legs, just like the doll she'd found!" Melody's singing elicits a genial wave from the girl and an admonishment from the sea turtle. After Melody reluctantly returns to her father's kingdom, a sea snake cajoles her: "So sad, isn't it?... Here you are, stuck undersea... but the Sea Witch can help."
Pinkney's The Little Mermaid is a princeless endeavor; it's the prospect of friendship that inspires Melody to trade her lovely voice for a pair of legs, and it's her friend who later gives her much-needed perspective ("You should have never given up your voice... for anything"). While Melody's decision to return to her father's kingdom to save her family costs her her freedom to walk the land, she will live in the sea under new terms: her sisters and father "listened eagerly as she told them about the world of people, sand, trees, and things that fly. The Sea King knew that he could not contain the adventurous spirit of his littlest mermaid."
As he did in Little Red Riding Hood, Pinkney, working in pencil and watercolor, has given a fairy tale's traditionally white cast brown skin, and the rich umber hues round out his jewel-toned underwater color scheme and sun-kissed seaside palette. Readers are lucky: unlike Melody, they needn't choose between the two shimmery, color-drenched worlds. --Nell Beram, freelance writer and YA author
Shelf Talker: Jerry Pinkney gives the iconic Hans Christian Andersen story a glorious makeover in which friendship, not romantic love, spurs the mermaid's sacrifice.