Notes: PGW Keeps Name; Prison Bureau Reverses Library Policy
Farewell, poetically named Transition Vendor!
The bankruptcy court overseeing the AMS case has approved Perseus Books Group's purchase of the PGW name, various intellectual property rights and other assets, including PGW's office leases in Berkeley, Calif., and New York City, where sales, marketing and administrative staff are located. The West Coast staff of the former Avalon Publishing Group, which Perseus bought earlier this year, will be moved into the Berkeley PGW office in December.

In a statement, Susan Reich, president of PGW, said, "This is very important news to both PGW employees and clients, all of whom hold the PGW name in high regard."

---
The federal Bureau of Prisons has rescinded its policy purging prison chapel libraries of books and other material not on its list of approved titles, the New York Times reported. The policy, subject of a class action lawsuit, had been opposed in recent weeks by a range of groups after it received national publicity.

In an e-mail message, the bureau said it "will begin immediately to return to chapel libraries materials that were removed in June 2007, with the exception of any publications that have been found to be inappropriate, such as material that could be radicalizing or incite violence. The review of all materials in chapel libraries will be completed by the end of January 2008."

---
We offer straight-forward congratulations to Oblong Books & Music of Millerton and Rhinebeck, N.Y., which for the second year in a row has been chosen the Best Bookstore in the Hudson Valley by Hudson Valley Magazine.

The magazine wrote: "There's nothing quite like an independent bookstore. The coziness, the quirkiness, the knowledge, and the personality--these twin treasures have all that and more, including a bounty of books and lots of local author events."

Owned by father and daughter Dick and Suzanna Hermans, Oblong opened originally in Millerton in 1975. The second store, in Rhinebeck, opened in 2001. Dick Hermans is the newly elected treasurer of the New England Independent Booksellers Association.
---
Cabbages and Kings bookstore, Chatham, Mass., will close October 14, just months shy of its silver anniversary, according to the Cape Cod Chronicle. Owned by Bess and Jack Moye, the bookshop "has fallen victim to a number of factors, including competition from on-line mega-stores such as Amazon and Barnes and Noble, and an economy that has sputtered since Sept. 11, 2001."

David Gessner, author of Soaring With Fidel, said, "There will be a huge hole in the Cape literary community. I have done a brunch for every one of my books and had planned on doing them for each future book. Each time Jack and Bess made it a personal celebration. It was a great way to interact with Cape people, and Cabbages and Kings will be deeply missed."
---

Sisters Sherri Wright and Traci Giganti have expanded their three-year-old bookstore, Book Crossing, Brunswick, Md., into an apartment next door, the Frederick News Post reported. The catalyst appears to have been a seminar at BEA in New York on growing a business. "The presenter said it was best to expand in the same area if you can," Giganti told the paper. "We were asking ourselves 'Are we going to do this?' We were busting at the seams. You can get stagnant under those conditions."

The new space includes a central children's area and the book nook, where group events are held. The extra space also allows the store to do more cross merchandising. For example, cookbooks are displayed alongside gourmet foods, and copies of Wizardology and Dragonology are next to related puzzles.

---
Another case of excellent market timing?
In its first week on sale, The Age of Turbulence by former Federal Reserve chairman Alan Greenspan has sold 129,000 copies, as measured by Nielsen BookScan (about 75% of overall sales), leading the Wall Street Journal to speculate that book buyers were showing some "irrational exuberance."

"It exceeded our expectations, which were high," Antoinette Ercolano, v-p, trade book buying, at Barnes & Noble, told the Journal. "Given what's going on with the stock market and housing crisis, readers may be looking for answers."

---

A life-changing book list was featured in the Guardian, where leading feminists Jessica Valenti, Natasha Walter, Rebecca Walker, Julie Bindel, Ariel Levy and Joan Smith recalled the writers who first introduced them to the women's movement.

---
Does Google judge a book by its title? The Australian suggested that some book titles are "chosen to make it easy to find in a database search."
The example cited was a study of globalization, nationalism and tribalism, which author Paul James had originally titled
Global Savage
. "When it appeared in bookshops, though, the book bore the rather pedestrian title
Globalism, Nationalism and Tribalism: Bringing Theory Back In
."
---

Effective January 1, Portfolio Books, the U.K. sales and distribution company, will use National Book Network International's warehouse and distribution facilities. With the change, Portfolio is closing its warehouse in Perivale.

In a statement, Portfolio managing director David Lester said that the "partnership enables us to focus more energy on driving sales at the same time as ensuring the top quality distribution publishers expect from us."

---

---

Be the first to have an advance copy!
Ballad for Sophie
by Filipe Melo, illus. by Juan Cavia


trans. by Gabriela Soares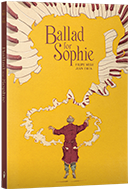 A reclusive French piano star recounts his epic rise and fall, from WWII France through the tumultuous disco era, to a young journalist who's hiding her own past, in this passionate, sophisticated graphic novel from writer and pianist/composer Filipe Melo and illustrator/filmmaker Juan Cavia. Publicist and marketing director Leigh Walton shares that Top Shelf selected this work for translation from the Portuguese for its stunning blend of "the grandeur of classical music, the outrageous drama of rock and roll, the grim history of 20th-century Europe... and the bittersweet unearthing of family secrets." Cavia's palette evokes the lush light of a late evening sun, and his accomplished illustrations breathe life into Melo's complex saga of fame, regret and redemption. --Jaclyn Fulwood
(Top Shelf Productions, $24.99 paperback, 9781603094986,
September 28, 2021)
CLICK TO ENTER
#
ShelfGLOW
Shelf vetted, publisher supported


---