Jerry Pinkney's Through Line
The holiday season is the ideal time for families to gather around a gorgeous story book. Jerry Pinkney's picture books are excellent candidates: they spark stories upon stories, retellings and recollections of childhood times.
When Pinkney began illustrating children's books, the line was all-important. Until the early 1980s, illustrations were created as pre-separated art. Three colors maximum could be used, and through a combination of those colors, an artist created an entire book. "We used the line to trap the color," Pinkney explained. Each time the art ran through the press with a single color, it had to line up with the image that came through the press before, layering color upon color.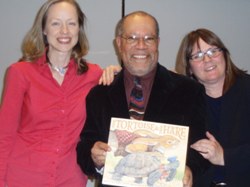 Jerry Pinkney, flanked by Andrea Spooner (l.), senior executive editor and Patti Ann Harris, senior art director, Little, Brown Books for Young Readers.
Today, Pinkney's books, such as his Caldecott Medal–winning The Lion and the Mouse and his most recent The Tortoise and the Hare (reviewed below), print on full-color presses. But the line remains all-important. "I am a drawer at heart," he said at a presentation in Hachette's offices last month. "The line is a simple tool that expresses so much." It still plays a key role in his watercolor compositions: the line shows through his transparent watercolor paints.
At age 12, in his hometown of Philadelphia, Pinkney sold papers at a corner newsstand--an ideal vantage point for a budding sketch artist. His drawings caught the attention of fellow Philadelphian John Liney, cartoonist on the comic strip Henry. At a time when no one in his family was an artist, the young Pinkney was invited to visit Liney's studio, and the cartoonist introduced him to the concept of "the usefulness of art," as Pinkney put it.
This past summer in Philadelphia, June 26 was named Jerry Pinkney Day and kicked off an exhibition of the artist's work. In 158 years of the Philadelphia Museum's history, its exhibition of Pinkney's work was the first devoted to a children's book illustrator. --Jennifer M. Brown, children's editor, Shelf Awareness