B&N's New Bags Feature Classics' First Pages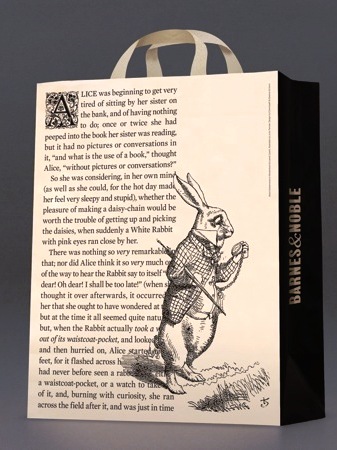 Barnes & Noble has redesigned its shopping bags to feature the text of the first pages of classic books such as Moby Dick, The Wizard of Oz, The Adventures of Huckleberry Finn and Alice in Wonderland, according to Ad Age's Creativity, which commented: "The designs are meant to promote Barnes & Noble as a physical destination that provides a tactile shopping experience--part of which is the act of leaving with a shopping bag."
"The bag serves as advertisement and reminder of the bookstore and thus is an essential part of the brand's communications," Sagi Haviv, a partner at Chermayeff & Geismar & Haviv, the design firm that created the bags, commented. "However, this new shopping bag series does more than promote the brand itself; it reflects the love of books and itself provides a book experience--you can even start reading them on the way home."
B&N will begin distributing bags to its stores this month.
---

---