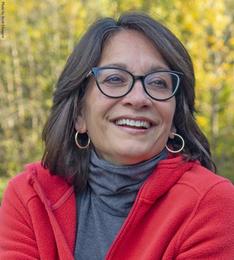 Meg Medina
Meg Medina has been named National Ambassador for Young People's Literature for 2023-2024. The Library of Congress and Every Child a Reader made the announcement yesterday, noting that Medina, who is Cuban American, is the first Latina to serve in the role in the program's history. She succeeds Jason Reynolds.
Medina's books examine how culture and identity intersect through the eyes of young people. Her middle-grade novel Merci Suárez Changes Gears, the first of three books in a trilogy (with Merci Suárez Can't Dance and Merci Suárez Plays It Cool), received the 2019 Newbery Medal. Her most recent picture book, Evelyn Del Rey Is Moving Away, illustrated by Sonia Sánchez, earned multiple honors, including the 2021-2022 Charlotte Zolotow Award. Her other titles include Yaqui Delgado Wants to Kick Your Ass, which won the 2014 Pura Belpré Author Award and will be published in 2023 as a graphic novel illustrated by Mel Valentine Vargas; Burn Baby Burn, which was longlisted for the National Book Award; The Girl Who Could Silence the Wind; Mango, Abuela and Me, illustrated by Angela Dominguez; Tía Isa Wants a Car, illustrated by Claudio Muñoz; and She Persisted: Sonia Sotomayor.
For her term as National Ambassador for Young People's Literature, Medina will engage readers across the country through her new platform Cuéntame!: Let's Talk Books. Inspired by the Spanish phrase that friends and families use when catching up with one another, ¡Cuéntame! encourages connection among families, classrooms, libraries and communities by talking about books--both books that reflect the readers' lived experiences and those that expose readers to new perspectives.
"It's an enormous honor to advocate for the reading and writing lives of our nation's children and families," Medina said. "I realize the responsibility is critical, but with the fine examples of previous ambassadors to guide me, I am eager to get started on my vision for this important work. More than anything, I want to make reading and story-sharing something that happens beyond classroom and library walls. I want to tap into books and stories as part of everyday life, with all of us coming to the table to share the tales that speak to us and that broaden our understanding of one another."
As National Ambassador, Medina will encourage families and young people to build relationships with their local libraries, and will create materials to introduce and connect readers with authors across a range of styles and genres. During in-person visits with students, Medina will discuss her work and host "book talks" with kids. Medina believes that when we talk about the books we enjoy with others, we share who we are as thinkers, as readers and as people in our families and communities.
"I am delighted Meg Medina will serve as the next National Ambassador for Young People's Literature," said Librarian of Congress Carla Hayden. "Meg's warmth and openness, coupled with her long-running commitment to young readers, libraries and librarians, is extraordinary. I look forward to the ways she will invite young people--especially Spanish and bilingual speakers--to share their favorite books and stories."
Carl Lennertz, executive director of Every Child a Reader and the Children's Book Council, said: "We couldn't be more pleased with the selection of Meg Medina as the next ambassador. She will inspire young people of all ages over the next two years with her energy, ideas and passion for reading and storytelling."
An inauguration ceremony will be held on Tuesday, January 24, at 10:30 a.m. at the Library of Congress in Washington, D.C.