Shelf Awareness for Thursday, March 31, 2011

News
Image of the Day: Inspired Quilts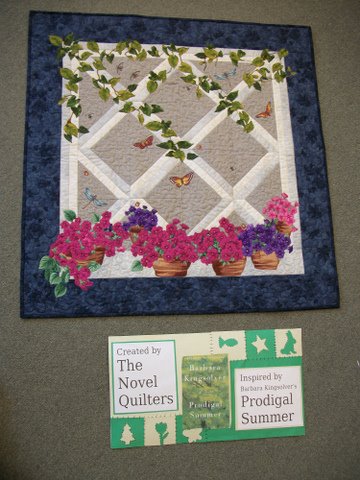 At St. Helens Book Shop, St. Helens, Ore., a group of book readers/quilters reads two books a year and then makes quilts based on each book. Their last set of quilts displayed in the store were based on Barbara Kingsolver's Prodigal Summer, as shown here. St. Helens Book Shop owner Lori Cardiff called the quilts "amazing, varied and a fantastic expression of the connection between literature and art."
The store also does a good business selling signed copies of books by various authors, including Chuck Palahniuk, who sends fans from his site to St. Helens for his signed books.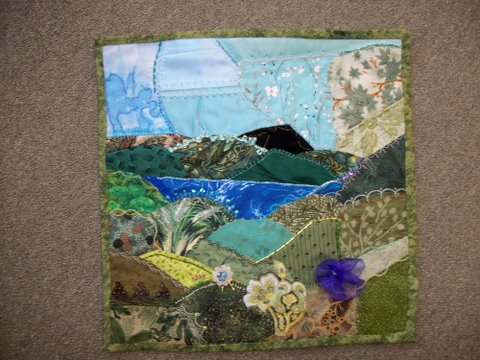 Notes: N.Y. Times on Google Settlement; McElderry Tribute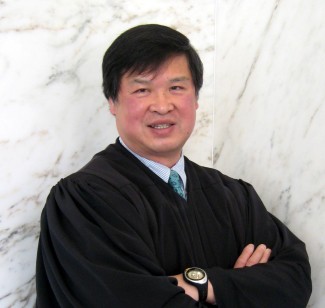 U.S. District Court Judge Denny Chin was correct in striking down the amended Google settlement last week (Shelf Awareness, March 23, 2011), according to an editorial in today's New York Times that claimed Chin "rightly pointed out that the Authors Guild--which has 8,000 members--hardly represents the entire class of authors. It had no right to enter into an agreement that automatically put their works in Google's system unless they opted out. This was particularly problematic for so-called orphan books--those for which the owner of the copyright is not known or can't be found. Only Google would be allowed to digitize these books."

Suggesting Congress should resolve the orphan books issue, the Times noted that in 2008 a bill almost passed that would have allowed "anybody to digitize orphan works without fear of being sued for copyright infringement as long as they proved that they had tried to find the rights' holder. This would give all comers similar legal protection to that which Google got in its agreement."

The Times also recommended that Congress "consider promoting a nonprofit digital library, perhaps seeded with public dollars. The idea of a universal library available to all is too good to let go."

---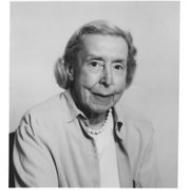 A celebration of the life of legendary editor and publisher Margaret K. McElderry, who died February 14 (Shelf Awareness, February 16, 2011), will be held Friday, April 29, from 4-5:30 p.m. in the South Court Auditorium of the Stephen A. Schwarzman building at the New York Public Library on Fifth Avenue at 42nd Street, where she first worked as assistant to another luminary, Anne Carroll Moore.

This is a public event, so those wishing to attend are asked to R.S.V.P. For more details and to register for the program, please visit the NYPL site.

---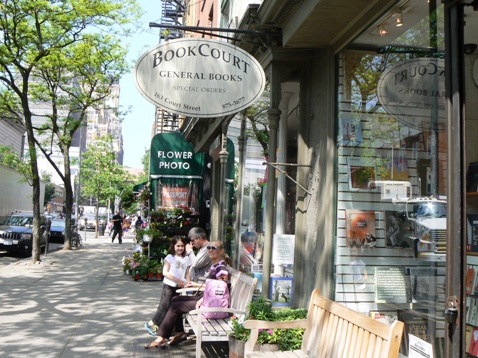 In the Huffington Post, Paul LaRosa made a case for Brooklyn as the new Paris, or more specifically "Hemingway's Paris--outdoor cafes, bookstores, bistros, writers, drinking!" He cited as evidence the ambience of "brownstone belt neighborhoods," including Brooklyn Heights, Park Slope and Fort Greene, as well as the ubiquitous presence of writers.

"We've also got great independent bookstores as I mentioned in another post," LaRosa observed. "I could go on and on. We've got the street life, the Bohemian lifestyle, readings, the nightlife, boutique coffee, great cheese stores, and farmer's markets galore, AND there are artists' studios all over DUMBO, Red Hook and Gowanus. A couple of years ago, someone dubbed Brooklyn 'the new Manhattan.' I'm saying we're way beyond that now. Shove over, Paris--Brooklyn is here!"

---

GreenvilleOnline.com profiled Hub City Bookshop, Spartanburg, S.C., where "all proceeds from shop sales--after wages, etc. are paid--fund local creative writing and independent book publishing, the latter through the Hub City Writer's Project, which issues about five titles annually."

Manager Erin Haire said, "The people who come in here are never grumpy. It's a good vibe."

---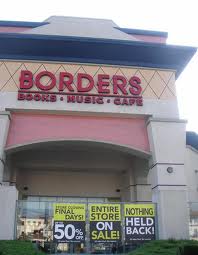 Jeff Pearlman offered a writer's perspective at CNN on the closing of the Borders store in Scarsdale, N.Y., where his third book, Boys Will Be Boys, "was written at a rickety wood table inside the store's small café. I used to waste hours standing at the magazine rack, pawing through Rolling Stone and GQ and, ahem, Us Weekly. When nobody was looking, I'd do the ol' author two-step and relocate my books from the bottom of the sports shelves to the 'Must Read' sections. (If you think I'm the only writer who does this, you're on crack.)"

In the not-so-distant old days, "Borders was cozy; safe; easy...," Pearlman observed. "Now, the shop is next up on death row.... At the risk of sounding like my great aunt, I love books. I love holding books. I love thumbing through books. I love marking up pages, I love perusing bookshelves, I love feeling the paper between my fingers.... Come day's end, I'm tired of staring at a screen. I do it all day, I do it through much of the night. I want a book. But do books want me?"

---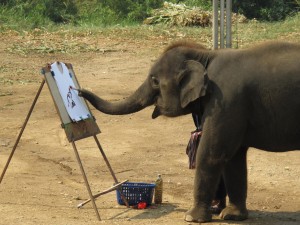 Algonquin has launched a video series, Ask an Algonquin Editor, in which people can ask questions they might have about the publishing world. In the first episode, executive editor Chuck Adams answers the question, "How did you acquire Water for Elephants?" He also shows the painting--created by an elephant--that author Sara Gruen gave him.

---

"Ten novels in translation you should know" were featured by the Christian Science Monitor, which wrote that to "read these books is to travel the globe in extraordinary style."

---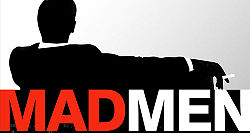 While fans of AMC's Mad Men series wait impatiently for a settlement to the current contract disputes that have delayed the next season until 2012, Jacket Copy reported that they will also have to put up with a publication delay for the "Benedikt Taschen-Matt Weiner collaboration on a behind-the-scenes guide in Taschen's sleek XL edition style," which had been tentatively scheduled for a fall release.

To pass time during this waiting game, fans can find solace in Jacket Copy's list of 10 "Mad Men-related books that hopefully will take care of their withdrawals for at least a few months."

---

Eleanor Birne, author of When Will I Sleep Through the Night, selected her top 10 books on motherhood for the Guardian, noting that "mother-child relationships are also complicated, and it's easy to see why they aren't straightforwardly suited to fiction that, in the end, has to tell a story. Motherhood isn't a story: it's far too messy for that."

---

Jeffrey Martin created a stunning 360-degree image of one of Prague's "most gawk-worthy attractions: the gloriously decorated Philosophical Hall, a Baroque reading room in the city's 868-year-old Strahov monastery library," Wired reported, adding that "viewing Martin's web-based panorama might actually be better than an actual visit, especially when it comes to exploring the fresco high above the books. Completed in 1794, Franz Anton Maulbertsch's trompe l'oeil ceiling depicts dozens of historical and religious figures, ranging from Noah and Moses to the French encyclopedists."

---

What is the well-dressed reader wearing this season? Boing Boing showcased designer Ryan Novelline's Golden Books gown: "The skirt is comprised entirely of the illustrations from the books sewn together with metallic gold thread, and the bodice is made from the books' foil spines. Both the bodice and skirt have tape backing for reinforcement."

---

Book trailer of the day: The Trinity Six by Charles Cumming (St. Martin's), in which Dominic West--police detective Jimmy McNulty on The Wire--chats with Cumming.

---

Effective immediately, Disney Book Group will be sold and distributed in Canada by Hachette Book Group.

Canadian accounts can now order all Disney titles directly from Hachette or through Canadian Manda Group, which represents Hachette at independent bookstores, library accounts and non-traditional accounts in Canada. Earlier this month, Hachette hired Manda to handle distribution to those accounts (Shelf Awareness, March 3, 2011).


Booksellers See Red Over The Pale King
The publication of The Pale King, the late David Foster Wallace's unfinished last novel, is causing some consternation among booksellers who haven't received copies yet--because Amazon.com and Barnes & Noble have received initial shipments and are already selling it. The book has an official pub date of April 15 and an on-sale date of March 22.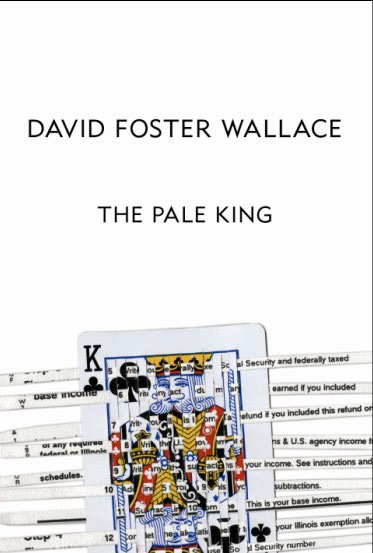 In an open letter, Robert Sindelar, managing partner of Third Place Books, Lake Forest Park, complained that he will not receive his copies of The Pale King, published by Little, Brown, until next Monday. He fears that the book will receive "the attention of a major media outlet like the New York Times, which will allow the title to receive attention even before legitimate reviews arrive. Then customers who get excited and want to purchase their book right away are going to have only one option to go (at least on the West Coast). The customers who call us tomorrow and want a copy from us will not understand why they will get it shipped to their home from Amazon before I even have a copy to sell them."

He added: "Hachette's authors, agents and beneficiaries of royalties are all better served when their product is in as many retail locations (virtual, physical, chain or indie) as possible to give the widest cross section of consumers the option and availability to purchase the item."

In a long story on the issue, the New York Times offered a roundup of similar comments from unhappy booksellers. For example, Kelly von Plonski, owner of Subterranean Books, St. Louis, Mo., who had planned a midnight release party on April 14 for the book, said she is "really, really angry about it. Add it to the list of advantages that Amazon has been given." And Zack Zook, general manager and events coordinator at BookCourt, Brooklyn, N.Y., called the situation "outrageous."

There were no red faces at the publisher. Noting that several accounts have complained, Hachette issued a statement saying that The Pale King is "not a one-day laydown title, no affadavits were signed for it, although we did ask that anyone who received a prepub galley of the book not leak any information before the book came out. Books have already been shipped and are en route to accounts, and many accounts already have received their shipments. This is a situation that occurs frequently with non-lay down titles--some accounts receive their books earlier than others. We apologize for any inconvenience."

And Little, Brown spokesperson Nicole Dewey told the Times, "I don't really understand the confusion. This happens all the time. There's nothing unusual about it."


Help for Japan
The Phaidon Store in SoHo in New York City is currently donating 50% of the profits on the sale of more than 30 Phaidon titles to the Japan Society's Earthquake Relief Fund. The books "celebrate the vibrancy of Japanese culture from woodcut prints and Manga animation to street fashion and contemporary architecture." The program continues through April 23.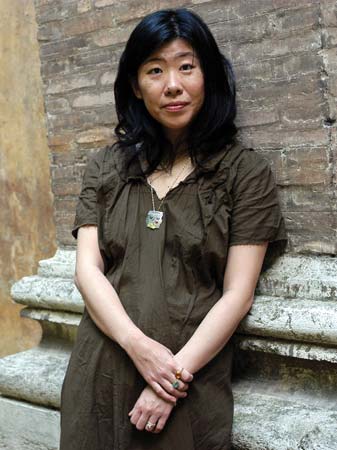 And in a program it's calling "Banana for Japan," Melville House is donating a part of proceeds from the sale of The Lake by Banana Yoshimoto, which will appear May 3, to relief agencies dealing with victims in Japan. The house earlier donated a week's worth of profits from sales on its website--more than $5,000--to Japanese relief agencies.

"Thank god Banana and her family are safe and sound, but so many others are not, and the danger isn't going away," Melville House co-publisher Valerie Merians said. "We hope that we can help make a difference, and inspire others to join us in doing whatever they can do to help."

Yoshimoto wrote: "My heart almost burst with grief at the death of so many people from this disaster. However, not a day passes that I do not discover anew the greatness of the Japanese people. I think it is the duty of writers to spread hope--no matter the situation."


Media and Movies
Media Heat: Manning Marable on 60 Minutes
Sunday on CBS' Sunday Morning: Hampton Sides, author of Hellhound on His Trail: The Electrifying Account of the Largest Manhunt in American History (Anchor, $15.95, 9780307387431).

---

Sunday on 60 Minutes: Manning Marable, author of Malcolm X: A Life of Reinvention (Viking, $30, 9780670022205).


This Weekend on Book TV: The Social Animal
Book TV airs on C-Span 2 this weekend from 8 a.m. Saturday to 8 a.m. Monday and focuses on political and historical books as well as the book industry. The following are highlights for this coming weekend. For more information, go to Book TV's website.

Saturday, April 2

7 p.m. David Brooks, author of The Social Animal: The Hidden Sources of Love, Character, and Achievement (Random House, $27, 9781400067602), looks at how our unconscious mind shapes our character, intelligence, and biases. (Re-airs Sunday at 10 p.m.)

8:15 p.m. Christopher Strain, author of Reload: Rethinking Violence in American Life (Vanderbilt University Press, $24.95, 9780826517425), argues that even though violence is part of the American identity, it is possible for us to become less violent.

9 p.m. Phyllis Schlafly and Suzanne Venker, co-authors of The Flipside of Feminism: What Conservative Women Know--and Men Can't Say (WND Books, $25.95, 9781935071273), argue that a "natural evolution" aided by men, rather than feminist politics, improved women's rights. (Re-airs Sunday at 5 p.m.)

10 p.m. After Words. Julianne Malveaux interviews Ken Walsh, author of Family of Freedom: Presidents and African Americans in the White House (Paradigm Publishers, $26.95, 9781594518331). Walsh discusses how race relations inside the White House have sometimes reflected those of society at large. (Re-airs Sunday at 9 p.m. and 11 p.m., and Monday at 3 a.m.)

11 p.m. Thanassis Cambanis, author of A Privilege to Die: Inside Hezbollah's Legions and Their Endless War Against Israel (Free Press, $27, 9781439143605), talks about the rise, power, and popularity of Hezbollah in Lebanon. (Re-airs Sunday at 7 p.m.)

Sunday, April 3

12 p.m. In Depth. Ishmael Reed, the award-winning author of more than 20 books, joins Book TV for a live interview. Viewers can participate in the discussion by calling in during the program or submitting questions to booktv@c-span.org or via Twitter. (Re-airs Monday at 12 a.m.)


Books & Authors
The Language of Flowers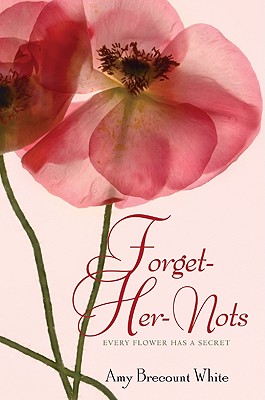 The scent of rosemary fills the air at Amy Brecount White's appearances promoting her debut YA novel, Forget-Her-Nots (Greenwillow Books, $16.99). She presents attendees with sprigs of the herb--which stands for remembrance--to provide a tactile experience while she reads a passage from the story in which it's mentioned.
In Forget-Her-Nots, 14-year-old Laurel researches the language of flowers for a school project and discovers that the Victorian symbolic bouquets (or tussie-mussies) she creates have unintended and mysterious effects like making people fall in love or ace tests.
Since the book's publication last year, White, who lives in Arlington, Va., has found avid audiences for the magical realism tale among gardeners and flower enthusiasts. Earlier this month she appeared at the Philadelphia International Flower Show, where she gave a presentation on the language of flowers throughout Western history from its roots in Greek mythology to its uses in Shakespeare's works and beyond.
White has spoken at garden club meetings, as well at the Potomac Unit of the Herb Society of America and the U.S. Botanic Garden's Plant Literacy Festival. In addition, she has reached out to places such as the Matthaei Botanical Gardens in Ann Arbor, Mich., and Longwood Gardens in Kennett Square, Pa., both of which stock the book in their gift shops.
At each event, White demonstrates how to make tussie-mussies that convey meanings such as congratulations, romance or forgiveness. (If you need help with the latter, try white tulips.) She uses plants from her own garden or ones that can be purchased inexpensively. Lucky audience members leave with the bouquets, which are traditionally accompanied by a card explaining the significance of the blooms. Forget-Her-Nots includes a glossary of the most common flowers and herbs and what they represent.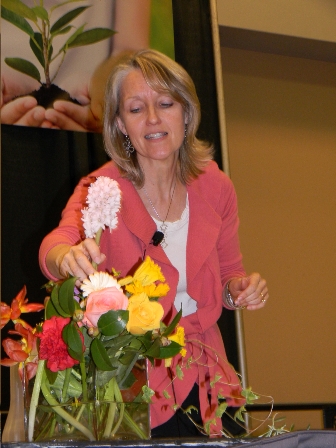 "I'm helping people incorporate the language of flowers into their lives," White said. "We all know that when someone gives you flowers it brightens your day, but you can do it more specifically by sending flowers and herbs with a particular message."
The first tussie-mussie White created was for an ailing friend. She was inspired to make the bouquet after coming across a coffee table book on the subject at Books & Company in her hometown of Dayton, Ohio. As she assembled it and wrote out the card, she found herself wishing that the get-well sentiment behind it would actually occur. "That got my wheels spinning," she said. "What if you gave someone flowers and herbs and it came true, that there was magic there." The idea blossomed into Forget-Her-Nots, which is set at an all-girl's high school reminiscent of one where White used to teach English.
The book has garnered a following among readers of varying ages, due in part to the historical perspective on flowers and the multi-generational storyline featuring Laurel's relationships with her grandmother and her late mother. White has spoken to audiences ranging from middle school kids to book club members in their 60s and 70s, amateur horticulturists and master gardeners to Arlington-area newcomers.
During her presentations, as in the pages of Forget-Her-Nots, White illustrates that there is more to flora than meets the eye. "I really do believe there is something magical about giving and getting flowers," she said. At one event, a 12-year-old girl presented White with fennel. Translation: worthy of all praise.--Shannon McKenna Schmidt


Shelf Starter: Father Flashes
Father Flashes by Tricia Bauer (Fiction Collective 2/Univ. of Alabama Press, $12.95 trade paper, 9781573661607, March 2, 2011)
Opening lines of a book we want to read, a novel in vignettes about he complex workings of a father-daughter relationship.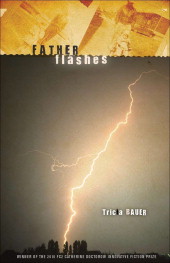 Prologue
All the time I wove through the browns and grays and greens of other places, he was a farm. The solid landscape and dependable seasons became him. Then when I returned, each time that I came home, more of him had been sold off.
First to go, and not really missed, was the far fallow field, but next a meadow flecked with Queen Anne's lace, loud with meadowlark, and thick in untrod clover. The planted fields--wheat, alfalfa, rye--disappeared one by one. Incongruities grew up around him--condos and condolences. The outbuildings with their earth-encrusted tools and sleeping machinery were broken down and carted off. Month by month we witnessed the giving over, right up to the farmhouse itself with its front porch sagging into a weathered face, its steps the broken, discolored teeth.
Where is the proper place to plant a loss?
My father hasn't stepped onto a hallowed farm, watered well with generations of nostalgia, since he was a boy. My father has lived for forty years on a street shorter than a good row of corn, each night the cars growing closer along the street and plucked off by the following morning. His mortgaged plot of dry Kentucky Blue sits behind, an afterthought of golden harvest.
I have made him a farm instead of the farmer that his surname implies. A daughter takes liberties, and time takes liberties. --selected by Marilyn Dahl


Book Brahmin: Josh Wilker
In celebration of baseball's Opening Day, we asked Josh Wilker to be our Book Brahmin. He is the author of Cardboard Gods (Algonquin Books, March 15, 2011), a poignant and funny memoir about growing up in the crazy '70s. Each chapter opens with a baseball card--Wilker's talismans during a challenging childhood. He also has a forthcoming book celebrating the 1977 film The Bad News Bears in Breaking Training. Josh Wilker continues to examine his life through his childhood baseball cards at cardboardgods.net. He lives with his wife in Chicago.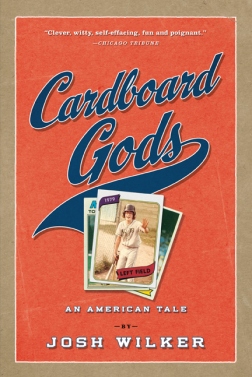 On your nightstand now:
White Mule by William Carlos Williams. I'm reading some of this 1937 novel at night, thus qualifying it for nightstand status, but most of it is coming my way on my really long, bumpy Pace Bus ride to and from work, so I will probably forever associate it with nagging back pain, intermittent headaches and the tinny beat-heavy iPod music of Other People (Sartre, I imagine, rode a lot of buses).
Favorite book when you were a child:
Hang Tough, Paul Mather by Alfred Slote. This novel about a little leaguer with cancer was the first book to make me cry.
Your top five authors:
How about a starting nine, like a batting order for a baseball team? Charles Bukowski once did this in a poem, so I figure even if I don't have permission for this I can channel his "ah, hell with it, I'll do it anyway" batting stance:
Denis Johnson, SS (dazzling in the field; .297/.398/.412)
Anton Chekhov, 3B (always makes perfect contact; .313/.402/.498)
Jack Kerouac, CF (think Fred Lynn in '75 but forever; .325/.413/.545)
J.D. Salinger, RF (glove has poems scribbled on it; .286/.374/.529)
Bruce Jay Friedman, 1B (hilarious infield chatter; .302/.397/.502)
Frederick Exley, LF (erratic and powerful; .264/.342/.512)
Charles Schulz, C (always there when you need him; .282/.367/.423)
Raymond Carver, 2B (key when things get rocky; .272/.372/.402)
Franz Kafka, P (baffling, overpowering stuff; 2.08 ERA)
Book you've faked reading:
I lie that I read Naked Lunch all the way through, not that anyone cares or considers the beat artifact a must-read classic. I just want full credit for the suffering the nightmarish repetitive anti-narrative inflicted on me during a horrific four-day cross-country Greyhound bus trip when I was 19.
Book you're an evangelist for:
A Mother's Kisses by Bruce Jay Friedman. When I discovered this book I practically wept with gratitude, which as it turns out is possible to do while laughing your ass off.
Book you've bought for the cover:
The Basketball Diaries by Jim Carroll. I bought this when I was 12 because I thought it would be about basketball, which it was, though of course it was also about a lot of other things and instantly became a favorite.
Book that changed your life:
There are a lot of the usual suspects on my list (On the Road, Stop-Time, The Catcher in the Rye, Cathedral, A Fan's Notes, Jesus' Son), but since those books have all had more eloquent cheerleaders than I could ever be, I'll say Mad magazine. Does this count? I had a subscription as a kid and the Alfred E. Neuman ethos infected me for life.
Favorite line from a book:
"Swing and a ground ball, stabbed by Foulke. He has it. He underhands to first. And the Boston Red Sox are the world champions."--Red Sox radio play-by-play man Joe Castiglione, quoted in--among other places, surely--Remembering Fenway Park
Book you most want to read again for the first time:
The Bronx Zoo by Sparky Lyle. This book, which presents the 1978 pennant race as a daily journal from the pen of reliever Sparky Lyle, began my writing life at age 12. As soon as I finished it, I started my own journal and haven't stopped. But while I've returned repeatedly to other key personal books, I've stayed away from this one, because I somehow get the sense that it wouldn't have the same effect on me as it did then--unstoppable laughter. One more bus ride story: every summer my big brother and I visited our dad in New York City for a couple weeks, a trip that required a seven-hour slog on the Greyhound. During one visit I bought a paperback copy of The Bronx Zoo and started reading it just after the bus pulled away from Dad standing there waving in the dim bowels of Port Authority, and for the next seven hours all I did was laugh and show my brother what I was laughing at, which made him laugh, and then I'd read on and laugh some more and show him some more and we'd both be laughing, and so that bus ride flew by like some kind of new transportation altogether, flotation powered by brotherly laughs. I'd take that ride again if I could.


Book Review
Book Review: Other People's Money
Other People's Money by Justin Cartwright (Bloomsbury Publishing PLC, $15.00 Paperback, 9781608192731, April 2011)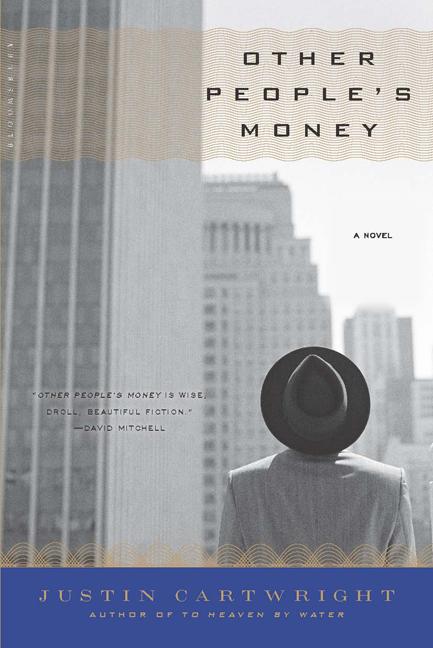 Sadly, Justin Cartwright, widely admired in the U.K.--he won the Whitbread Award, the Hawthornden Prize and has been shortlisted for the Booker--has no traction in the U.S. His The Song Before It Is Sung and The Promise of Happiness are, arguably, among the best novels of the last decade.
Other People's Money is typically droll, seriously funny, first-rate literary entertainment--with a message. To say that it is "entertainment" is not to be pejorative; on the contrary, Cartwright can show us the realities we live with every day in a manner that makes us laugh through our tears.
His storytelling powers are put to good use this time in laying out the heinous, dishonest behavior of bankers in our recent past. As we now know, all manner of useless instruments were sold as foolproof ways to make money--and they did, for the bankers.
Tubal and Co. is a small, privately owned bank in England, with a proud history of serving the country for 600 years. As the company's longtime leader, Sir Harry Trevelyan-Tubal, suffers a stroke and slips into senility, his son Julian takes over. Julian was not made to be a banker, but the mess is now his to deal with. The company's hedge fund holds mostly toxic assets, and Julian rightly fears what will happen if their real value is discovered.
Enter Artair Macleod, an actor/ manager/director whose ex-wife, Fleur, is now married to Sir Harry. Macleod was pensioned off after Sir Harry seduced Fleur; he receives a monthly grant to continue production in his small theater. Suddenly, the funds stop arriving. He can't get anyone to tell him what's happened, so he talks to a fledgling reporter whose boss sees a bigger story here. The editor, distrustful of the rich, would like nothing better than to bring down the Tubal dynasty. His reporter finds out that the grant money is in fact a payoff, written off by the bank as a charitable donation. A scandal erupts and the basically honest Julian is ill-equipped to handle it. He works mightily to hide the losses the bank has endured, fiddling with the balance sheet and hating himself for it.
Each of the book's characters is well-drawn: Estelle, Sir Harry's faithful amanuensis for many years, is not so secretly in love with him and on Julian's side to the end. She makes a supreme sacrifice for the company. Fleur, the failed actress flibbertigibbet, sleeping with her personal trainer, is a recognizable type and Sir Harry's folly. Julian's brother, Simon, a trust-fund boy, has been busy exploring the world's nooks and crannies and is no help in this crisis. Julian's wife is a send-up of the Organic American Girl.
A great subplot in the book is Macleod's interest in mounting a production of the work of Flann O'Brien starring Daniel Day-Lewis. O'Brien's comic genius is also largely overlooked in the U.S.; could there be an affinity here? In any case, it is a great pleasure to see O'Brien's words quoted in Cartwright's droll tale.--Valerie Ryan
Shelf Talker: The greedy misdeeds of a noble British banking family are about to be unearthed as the patriarch lies dying and his scion tries to sort it out.


Ooops
Little Pim Books & Abrams
In our announcement about the Abrams launch of the Appleseed imprint (Shelf Awareness, March 25, 2011), the partnership we mentioned to publish books in English, French and Spanish should have cited Little Pim books, rather than Little Kim (though the rapper would likely do some very interesting books for toddlers...).


The Bestsellers
Top-Selling Titles in Florida Last Week
The following were the bestselling books at independent bookstores in Florida during the week ended Sunday, March 27:

1. The Paris Wife by Paula McLain
2. The Imperfectionists by Tom Rachman
3. Swamplandia! by Karen Russell
4. The Girl Who Fell from the Sky by Heidi W. Durrow
5. Blood, Bones & Butter by Gabrielle Hamilton
6. Bringing Adam Home by Les Standiford
7. Live Wire by Harlan Coben
8. In the Time of the Butterflies by Julia Alvarez
9. Moonwalking with Einstein by Joshua Foer
10. The Social Animal by David Brooks

Reporting bookstores and their handselling favorites:

Book Mark, Neptune Beach: The Revenge of the Radioactive Lady by Elizabeth Stuckey-French
Books & Books Pick of the Week: Blood, Bones & Butter by Gabrielle Hamilton
Inkwood Books, Tampa: The Bone Yard by Jefferson Bass
Vero Beach Book Center: Live Wire by Harlan Coben

[Many thanks to the booksellers and Carl Lennertz!]


Top-Selling Titles in Chicagoland and Milwaukee Last Week
The following were the bestselling books at independent bookstores in the Chicago and Milwaukee areas during the week ended Sunday, March 27:

1. The Imperfectionists by Tom Rachman
2. The Paris Wife by Paula McLain
3. The Tiger's Wife by Tea Obreht
4. The Social Animal by David Brooks
5. The Hunger Games by Suzanne Collins
6. Cutting for Stone by Abraham Verghese
7. Heaven Is for Real by Todd Burpo
8. Unbroken by Laura Hillenbrand
9. The Postmistress by Sarah Blake
10. A Visit From the Goon Squad by Jennifer Egan

Reporting bookstores and their handselling favorites:

Anderson's, Naperville and Downers Grove
Books & Co., Oconomowoc: Wingshooters by Nina Revoyr
Book Cellar, Lincoln Square: The Late American Novel: Writers on the Future of Books by Jeff Martin
Book Stall at Chestnut Court, Winnetka: The Social Animal by David Brooks
Book Table, Oak Park: Confessions of a Young Novelist by Umberto Eco
Boswell Book Company, Milwaukee: Drawing Conclusions by Donna Leon
57th St. Books, Chicago
Lake Forest Books: Amaryllis in Blueberry by Christina Meldrum
Next Chapter, Mequon: Say Her Name by Francisco Goldman
Read Between the Lynes, Woodstock
Seminary Co-op, Chicago
Women and Children First, Chicago: Big Sex Little Death by Susie Bright

[Many thanks to the booksellers and Carl Lennertz!]