Shelf Awareness for Tuesday, February 21, 2012

News
B&N Third Quarter: Sales Up 5%; Net Income Down 14.2%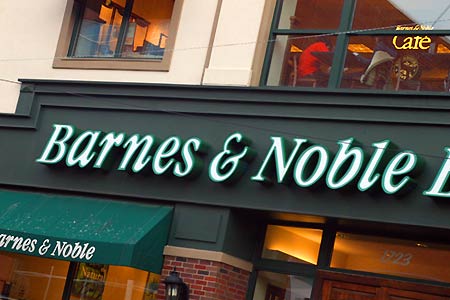 Total sales at Barnes & Noble in the third quarter ended January 28, rose 5%, to $2.4 billion, and net income was $52 million, a 14.2% drop from the net gain of $60.6 million in the same period last year.
At B&N trade stores, sales rose 2%, to $1.49 billion, and sales at stores open at least a year rose 2.8%. Store "core" sales--which excludes the sale of devices, accessories and warranties--rose 4.2%. B&N College sales fell 3%, to $525 million, "due to a shift from selling new and used textbooks to lower-priced textbook rentals." Sales at college stores open at least a year were flat. B&N.com sales rose 32%, to $420 million, mainly because of the continued growth of Nook e-readers and digital content sales, offset by a decline in sales of printed books online.
B&N CEO William Lynch commented: "In the third quarter, our traffic and sales in stores were the highest we've seen in five years. Our physical book sales at our stores increased more than 4% over last year, and our merchandising changes in our juvenile business and our toys & games department experienced double-digit revenue growth."
B&N predicted that sales for the full fiscal year will be between $7 billion and $7.2 billion. Sales at stores open at least a year should rise 1%, college store sales will be flat and sales at B&N.com should rise 40%-50%. The Nook business will likely have sales of $1.5 billion this fiscal year.
---
In related news, G Asset Management, which describes itself as "a value-oriented investment firm," has bought a 5% stake in B&N, making it the bookseller's fifth-largest investor. In a filing with the Securities and Exchange Commission quoted by Bloomberg Businessweek, G Asset president and chief investment officer Michael Glickstein said B&N is undervalued and supported the idea, first made public by the company in January, of spinning off the Nook business. This places G Asset on the side of John Malone's Liberty Media, which reportedly has pushed for the move. Liberty Media owns 16.6% of B&N and has two representatives on the board.
---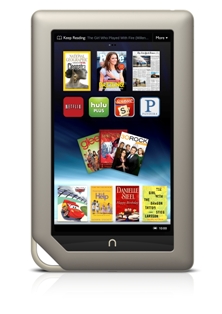 In yet more news, B&N has introduced an 8GB version of the Nook Tablet, which is selling for $199, a price competitive with Amazon's Kindle Fire. "It's a smart, if possibly-overdue move for B&N," Techcrunch said. "Amazon has already been playing up their price advantage with a national marketing campaign, and while it targets the iPad specifically, the message still applies to B&N's slightly pricier tablet."


Patchett and Colbert on Bookselling, Bezos and Tire Irons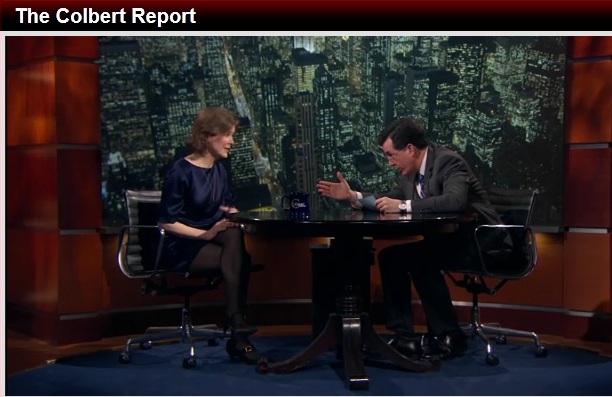 Last night on the Colbert Report, Stephen Colbert and author and new bookseller Ann Patchett mixed it up as they talked about bookselling, Amazon and more. In his introduction, Colbert said, "Oooh independent bookstores. I should buy one of those on Amazon!" And at one point, he asked, "Why would a writer open a bookstore? That's like a rodeo rider opening a butcher shop."
Geekwire's partial transcript includes the following gems:

Colbert: "Haven't we already had this battle: In the movie You've Got Mail, OK. You are Meg Ryan in this, and Jeff Bezos of Amazon is Tom Hanks. And, in that, Tom Hanks crushes Meg Ryan, and then... she falls in love with him."

When Patchett said that "smart people" were one of the many things readers can get from a bookstore and not online, Colbert said he couldn't agree with her because "I have a couple books coming out this year [and] Jeff Bezos at Amazon, he's a vindictive man. He clubbed the owner of Borders to death with a tire iron."

Patchett: "Just like a baby seal on the ice floe."

Colbert: "He did. He did. And the guy from Barnes & Noble, he slashed his tires. Aren't you afraid of--you are an author. And if you are trash-talking these online people, aren't you afraid that they won't sell your book?"

Patchett: "I am so beneath their notice, I am not a pebble in their shoe."

Patchett later invited Colbert to do an event at her store: "You can see your friends Jack White and Al Gore, we will have a party for you.... We will have the Goat Rodeo guys to play at the store as your warm-up, you'll sign and you will have such as great time. And then the next week, you will take your Sharpie, you will go to the warehouse at Amazon, they will cut the boxes open for you, and you can sign all day. You see which one you like better."


BookHampton Jumping to North Fork with Fourth Store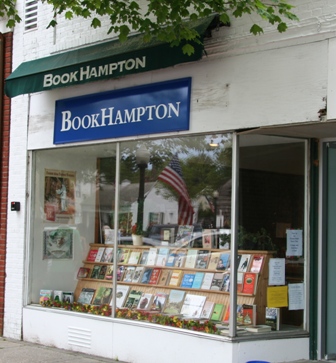 BookHampton, which has three stores on the South Fork at the eastern end of Long Island, plans to open its first store on the North Fork, in Mattituck, N.Y., by April 8, Easter Sunday, according to the NorthFork Patch.

BookHampton co-owner Charline Spektor said that she and husband, Jeremy Nussbaum, had been "scouting the North Fork for roughly five years" and were given extra impetus by the closing last July of the Borders in Riverhead. "The North Fork is underserved and Mattituck is right in the middle of it." She added that the neighborhood where the store is opening is "unbelievably enchanting."

The new store will also be called BookHampton and be staffed at least in part by three booksellers from BookHampton's Southampton Village store, where renovations will take place next month. BookHampton's last expansion occurred a decade ago, when it opened in Sag Harbor.




Phoenix Set to Rise in Second Location in May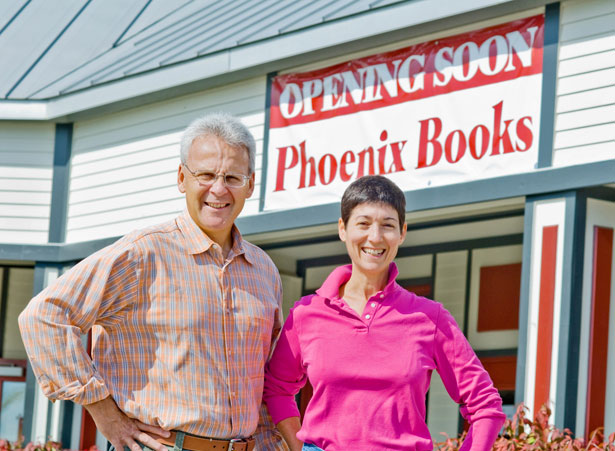 Phoenix Bookstore, Essex Junction, Vt., has finalized plans announced late last year to expand to a second location, at 191 Bank Street in downtown Burlington. On the shop's website, co-owner Renee Reiner wrote that she and Michael DeSanto "intended to give back to Burlington, Vermont its own independent, locally-owned frontlist bookstore dedicated to selling new books, should be up and running by May 1st, in a fabulous retail location with approximately 5,000 square feet of selling space."

She told WCAX that "Borders was doing a fair amount of business in the downtown Burlington area. And they were actually slated to stay open during the bankruptcy conversations and so we think if we can do a mere 20% of what they were selling, we can be profitable at that." WCAX reported that the shop has raised more than $350,000 dollars for the move.



Queen Anne Books for Sale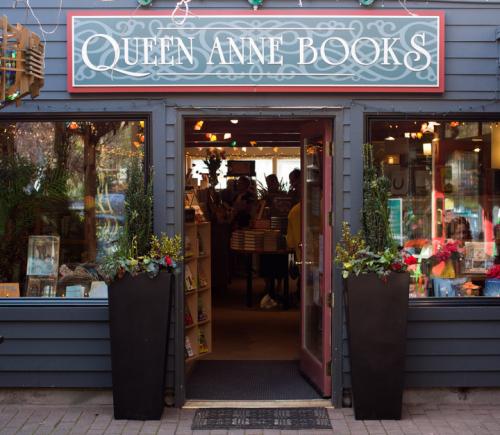 Patti McCall, co-owner and then owner of Queen Anne Books, Seattle, Wash., for the past 14 years, is putting the store up for sale. In an e-mail to customers, she cited the death of her husband last year, saying, "I am eager to move on and discover what the next stage of my life will hold. I initially believed I would continue to be a bookseller but, because the business is changing so much, I have realized the store requires more than I can give right now."

She called her time at Queen Anne Books "an amazing ride.... After a couple hundred book club meetings, four amazing Harry Potter parties, countless author events and 14 Holiday Magics, I have decided it is time to turn over Queen Anne Books to a new owner--someone who will bring fresh energy and ideas to a business undergoing a radical and exciting transformation."

The store's lease is up in October, but there is a five-year option. Interested parties should contact former co-owner Cindy Mitchell at QueenAnneBooks@queenannebooks.com. Please use "Cindy" in the subject line.




MainStreet BookEnds' New Event Space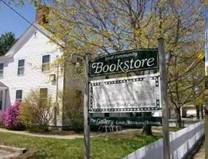 When renovations at MainStreet BookEnds, Warner, N.H., are completed in April, the result will be "a dream come true," co-owner Katharine Nevins told the Concord Monitor. The main part of the renovations: the barn that is attached to the store, which is currently devoted to children's toys and books, will become a space for events and other gatherings, have a kitchen, wi-fi and tables. The new area will be called MainStreet MarketPlace and Gallery and may showcase art as well as food from local farmers.
Nevins said that her late brother, Jim Mitchell, who founded the store with her and her husband, Neil, had wanted to create such a space.


Notes
Image of the Day: Spin's Saloon Signing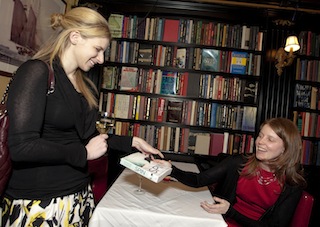 Earlier this month Hurley's Saloon in New York City hosted a launch party for Spin by Catherine McKenzie (Morrow). Here the author (seated) signs copies of her book.
Photo: Alexis Barrera


Orca Books 'Best Bookstore in Olympia'
Congratulations to Orca Books, Olympia, Wash., named best bookstore in Olympia by the Weekly Volcano. Read an appreciation by author Christian Caravajal here.


Cool Idea of the Day: Pisces Sale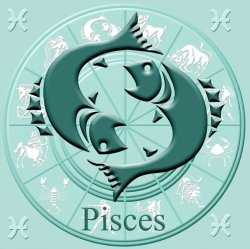 Until March 20, Spoonbill & Sugartown, Brooklyn, N.Y., is offering a 10% discount to "all Pisces." The announcement includes this fine print: "I.D. required, no books placed on hold, in-store purchases only."


Book Trailer of the Day: You're Not Doing It Right
You're Not Doing It Right by Michael Ian Black (Gallery), in which the author interviews himself about this memoir.


Stephanie Selah Rejoins Harper
Effective today, Stephanie Selah has returned to Harper, joining the marketing team as senior marketing manager for all Harper imprints, including Harper, Harper Business and Broadside Books. She was most recently a marketing manager at Palgrave Macmillan and earlier worked in marketing at Harper Perennial, Harper Paperbacks and Avon trade paperbacks.


Media and Movies
Media Heat: Fred Willard's Magnificent Movie Trivia
This morning on Fox & Friends: Fred Willard, author of Fred Willard's Magnificent Movie Trivia: Put Your Knowledge of Movies, Actors, Facts & Firsts to the Test (Square One, $7.95, 9780757003110).

---

Today on CNN's Starting Point: Ali Wentworth, author of Ali in Wonderland: And Other Tall Tales (Harper, $25.99, 9780061998577).

---

Today on the Hallmark Channel's Martha Stewart Show: Heather Ross, illustrator of Crafty Chloe by Kelly DiPucchio (Atheneum/S&S, $16.99, 9781442421233).

---

Today on CBS's the Talk: Regis Philbin, author of How I Got This Way (It Books, $25.99, 9780062109750).

---

Today on Tavis Smiley: Thomas Frank, author of Pity the Billionaire: The Hard-Times Swindle and the Unlikely Comeback of the Right (Metropolitan Books, $25, 9780805093698).

---

Tonight on the Daily Show: Russ Feingold, author of While America Sleeps: A Wake-up Call for the Post-9/11 Era (Crown, $26, 9780307952523).

---

Tonight on the Colbert Report: Robert Kagan, author of The World America Made (Knopf, $21, 9780307961310).

---

Tomorrow on CNBC's Squawk on the Street: Peter H. Diamandis and Steven Kotler, co-authors of Abundance: The Future Is Better Than You Think (Free Press, $26.99, 9781451614213).

---

Tomorrow on the Jim Bohannon Show: Alisa Statman, co-author of Restless Souls: The Sharon Tate Family's Account of Stardom, the Manson Murders, and a Crusade for Justice (It Books, $26.99, 9780062008046).

---

Tomorrow on NPR's Diane Rehm Show: readers review Ethan Frome by Edith Wharton (Empire Books, $6.99, 9781619493469).

---

Tomorrow night on the Late Late Show with Craig Ferguson: Anne Rice, author of The Wolf Gift (Knopf, $25.95, 9780307595119).




The Hunger Games: Soundtrack List & Music Video
For "Mockingjay-pin possessors," Entertainment Weekly showcased the songs and performers that will be on the soundtrack for The Hunger Games.

The official music video for the film--Taylor Swift's "Safe and Sound"--was released recently and Swift, a self-described Hunger Games fangirl, told MTV that when she first received a call from the studio about writing a song, she "immediately read the book in, like, two days and fell in love with it. I fell in love with the characters, fell in love with the world that Suzanne Collins had created. I was just so immersed in it.... When I got the call, I thought from what I'd heard about the movie, 'It's an action movie, right? We're probably going to be writing a song that's like, "We're going to win!" ' And then I read the book, and I thought, 'No, we're going to have to write sort of a death lullaby, it's so different from what I thought.' "



Books & Authors
Awards: Poets & Writers and Red House Winners; Nebula Finalists
David Baldacci, Kwame Dawes and Carol Muske-Dukes have won the 2012 Barnes & Noble Writers for Writers Award, which is sponsored by Poets & Writers and recognizes "authors who have given generously to other writers or to the broader literary community." The award is named after B&N in honor of the company's sponsorship of Poets & Writers.

Kathryn Court, president and publisher of Penguin Books, has won the Editor's Award, which is given to "a book editor who has made an outstanding contribution to the publication of poetry or literary prose over a sustained period of time."

The awards will be presented at In Celebration of Writers, Poets & Writers' annual benefit, on March 29 in New York City.
---
Patrick Ness has won the Red House Children's Book Award for his novel A Monster Calls, the Guardian reported. The prize is voted for by young readers from a shortlist drawn up by children's book groups across the U.K., and this year more than 80,000 votes were cast.

Ness's book garnered the overall prize after being chosen the best work in the "older readers" category. Other category winners were Scruffy Bear and the Six White Mice by Chris Wormell (younger children) and The Brilliant World of Tom Gates by Liz Pichon (younger readers).

---

Nominees have been announced for the Science Fiction and Fantasy Writers of America Nebula Awards, the Ray Bradbury Award for Outstanding Dramatic Presentation and the Andre Norton Award for Young Adult Science Fiction and Fantasy Book. Winners will be named in May at SFWA's Nebula Awards banquet in Arlington, Va.



Book Review
Review: When I Was a Child I Read Books
When I Was a Child I Read Books: Essays by Marilynne Robinson (Farrar Straus & Giroux, $24 hardcover, 9780374298784, March 13, 2012)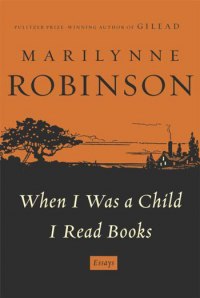 Though most well-known for her fiction (including the Pulitzer Prize-winning Gilead), Marilynne Robinson is also an accomplished essayist. When I Was a Child I Read Books is her fourth collection of essays, carrying forward themes for which she is consistently recognized: faith, culture, patriotism and self-identity. In exploring these ideas--and her ideals--Robinson leaves no subject untouched, from the role of science in explaining our origins to the practical worship of capitalism in the 21st century, from our treatment of the poor to the intertwined nature of religious identity and American patriotism.
With "The Fate of Ideas: Moses," Robinson examines the laws of Moses as presented in the Old Testament, which she calls "a brilliant economics based in religious ethic marked by... an anxious solicitude for the well-being of the needy and the vulnerable." She laments the loss of the spirit of these laws, positing we have come to value property and possession over assisting the impoverished.
In the title essay, Robinson uses her own experience as a child reader to parallel our one-time lust for exploration and adventure in the American West. She goes on to reckon with the loss of individualism, or perhaps the loss of the celebration of individualism, and our seeming complacency with the status quo. "Everything, for all purposes, still remains to be done," she presses. We need, in short, a modern version of the American West to spur our imaginations, to motivate us to once again embrace the spirit of the individual.
Other essays explore subjects equally important, and some just as mundane, all with a critical, questioning eye that is both impassioned and thought-provoking. Throughout, Robinson approaches these topics through the lens of her own faith and beliefs, but the lessons ultimately transcend any one religion and instead encompass our very definition of our selves, as individuals, as Americans, as readers, as members of a faith--or not, as the case may be.
It is this transcendence that makes When I Was a Child I Read Books as relevant for non-religious readers as for the observant, as important for Jewish readers as Protestants. Robinson's essays are thoughtfully passionate, forceful, clear-eyed and concise. As individual pieces, they inspire a new consideration of particular issues; as a whole, they force readers to reconsider who they are--and, perhaps more importantly, why they are. --Kerry McHugh
Shelf Talker: Pulitzer-winning author Marilynne Robinson tackles questions of faith, patriotism and self-identity in a stunning collection of essays.