Shelf Awareness for Thursday, September 6, 2012

Quotation of the Day
The Big Philip Roth Biographer Job Interview Q&A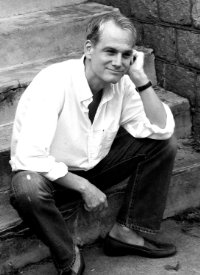 "I pointed out that I'm not an aging bisexual alcoholic with an ancient Puritan heritage, and I still managed to write a biography of John Cheever."


News
Kobo Introducing New Tablet and E-Readers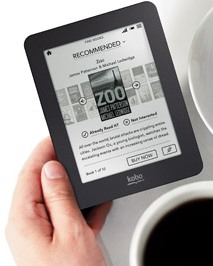 Kobo is introducing several new devices, including a new tablet called Kobo Arc, which will appear in November, and two e-ink e-readers that appear in October. The Android-based Arc will retail for $199 (8GB) and $249 (16GB); the Kobo Glo, with an adjustable front light and six-inch screen, is priced at $129; and the Kobo Mini, with a five-inch screen, retails for $79. By comparison, Amazon's least expensive Kindle costs $79 and comes with advertising. Amazon is expected to introduce a new tablet and updated Kindle at a press conference today.

Last week Kobo and the American Booksellers Association announced a partnership whereby ABA members can sell Kobo devices and e-books, replacing the Google eBooks program that Google is ending in January.

Kobo CEO Mike Serbinis told Reuters that Kobo is aiming to expand its U.S. market share to more than 20% compared to its current "low single digit" share. "Our overall objective is to be No. 1 in the world," he continued. "That may sound preposterous today, but it sounded a lot more preposterous two and a half years ago when we first started. We have proven that we can be No. 1, as we are here in Canada or in France. It is going to take some time, but we are in this for the long haul."




Barbara Marcus to Head Random House Children's Books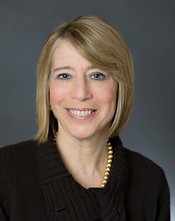 After 10 years, Chip Gibson is stepping down as president and publisher of Random House Children's Books. Effective immediately, his successor is Barbara Marcus, who worked for 22 years at Scholastic, most recently as president of children's book publishing and distribution. Since 2005, she has been a consultant and advisor to several major book publishers and international media companies. Her arrival at Random House is a kind of return: her first job after college was at Bantam.

At Scholastic, among many other accomplishments, she directed the acquisition of the Harry Potter series and the publication of the first six books in the series. She helped expand the company and was involved in other bestselling titles, including series such as the Baby-Sitters Club, Goosebumps, the Magic School Bus and I Spy as well as books by Cornelia Funk, David Kirk and Norman Bridwell.

During her career, she has also supported a variety of charitable organizations for literacy, the welfare of children and education.

In a letter to staff about the changes, Random House chairman and CEO Markus Dohle called Marcus "one of the most qualified, and sought-after, children's books leaders in our industry, as revered for her publishing track record as she is for her great heart and team-building--values that align with the Random House culture."

Chip Gibson has worked at Random House for more than 30 years, starting at Crown right after college, rising from inventory clerk eventually to president and publisher in 1996. In 2002, he became president and publisher of the children's books division, a position he was originally going to hold for three years.

Dohle praised Gibson, saying, "Together with his colleagues, Chip has transformed the workplace culture at Children's and impacted young readers everywhere--not just with their beloved books but also with their genuine commitment to philanthropy and community service."

The division, he added, has "substantially increased revenues and profits under his leadership, which has emphasized author and illustrator development, breakout sales and marketing programs, and served as home to an incomparable roster of longstanding and emerging authors." Major titles have included Christopher Paolini's Inheritance Cycle, The Book Thief by Markus Zusak, the Magic Tree House and Junie B. Jones series and Lauren Kate's Fallen. In the last three years, division titles have won either a Newbery or Caldecott. He has helped grow the audience for established franchises while launching new imprints, experimenting with new business models, going digital and reinvigorating such brands as the Princeton Review and Prima Games.

Considering all that, perhaps it's not surprisingly that Dohle said Gibson plans to take an extended break from work.




B&T Buys Some Assets of Follett's Book Wholesalers
Baker & Taylor has bought "certain assets" of Book Wholesalers, Inc., a company owned by Follett Corporation that specializes in providing children's and YA books and AV materials to public libraries. The purchase follows Follett School & Library Group's decision to concentrate on the pre-K-12 market.
"In this process, we felt it was imperative to find a distributor that would continue to provide outstanding service levels for our BWI customers," said Todd Litzsinger, president of Follett Library Resources. "Baker & Taylor is the right partner and the best choice to continue BWI's legacy."


China's Book Biz: Dispatch from Beijing International Book Fair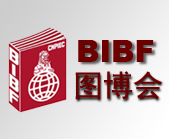 Calling the mood at last week's Beijing International Book Fair "buoyant, despite the barren decor and a lack of good coffee," the International Herald Tribune reported that among the factors driving increased sales in China "is a literate population that emphasizes education and self-improvement. Censorship has become less draconian since Mao's time and publishing has become more commercial. As a result, readers of Chinese books today have more choice of genre, voice and subject matter than they have had at any time in the last 60 years."

Seth Russo, director of international sales at Simon & Schuster, described the Chinese publishing industry, the largest in the world, as being in an "expansive mode," with 7.7 billion books published in 2011, up by 7.5% from 2010.

"Unlike many developing countries, China has a long tradition of education and reading, culture and literature," observed Jo Lusby, head of Penguin China.

While censorship and political pressure are certainly still factors inhibiting the Chinese book market, IHP noted a few other challenges: "As in the West, online retailers are squeezing independent bookstores and digitization is hurting sales of printed books; more distinctively local is the problem of piracy. And while international publishing houses are eager to enter this market, local writers and publishers complain that because of red tape the number of books published in China is still well below par for a country this size."



Notes
Image of the Day: Bookstore Engagement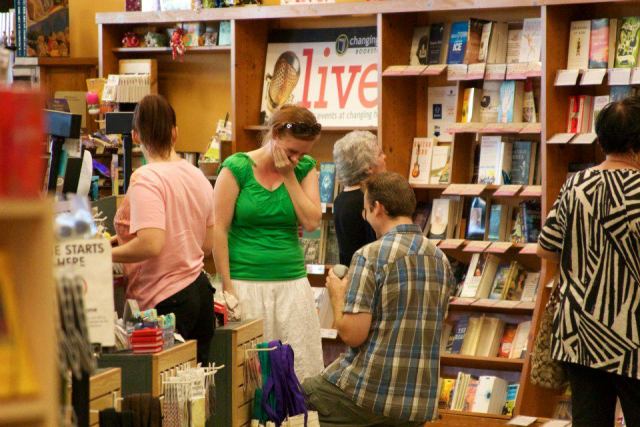 Recently, Changing Hands Bookstore, Tempe, Ariz., was the setting for this amazingly cute moment: Jamie Duke asked Stephanie Frensley to marry him and gave her a coupon to be redeemed at the store register. The coupon was good for one engagement ring.


Personnel Changes: Luisa Smith, Victoria Comella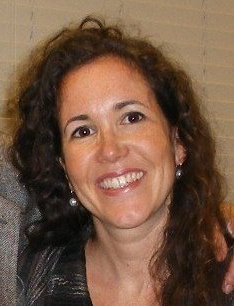 Luisa Smith has been appointed head buyer of Book Passage, Corte Madera and San Francisco, Calif., her second time holding the position.
Smith began her career as a bookseller at Book Passage, became a manager, then managed the annual Book Passage Writers' Conferences, and became head buyer. She held that position for several years, then cut back when her second daughter was born--although she remained active in the buying department.
"Luisa's knowledge and love of books, her attention to inventory management, her leadership skills, and her much appreciated ways of working with colleagues, publishers, authors and the public make her the ideal person to lead our buying team," said Book Passage president Elaine Petrocelli.
Smith (whose father is author Martin Cruz Smith) may be reached at lsmith@bookpassage.com; 415-927-0960 ext. 242.
---
Victoria Comella has joined HarperCollins 360 as publicity manager. She was formerly a senior publicist at Putnam and Amy Einhorn Books.


The Green Apple Platform '12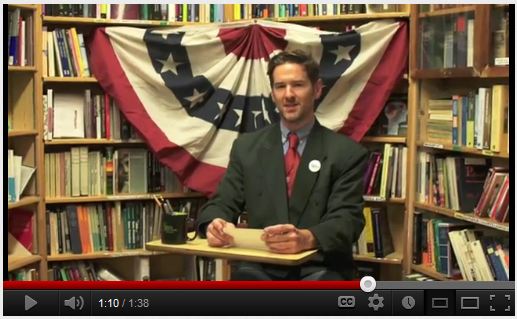 Green Apple Books, San Francisco, Calif., offers an amusing "election year message" video. The people's choice: Green Apple or "the Amazon."


Anthology Celebrates Remodeled Cafe and Espresso Bar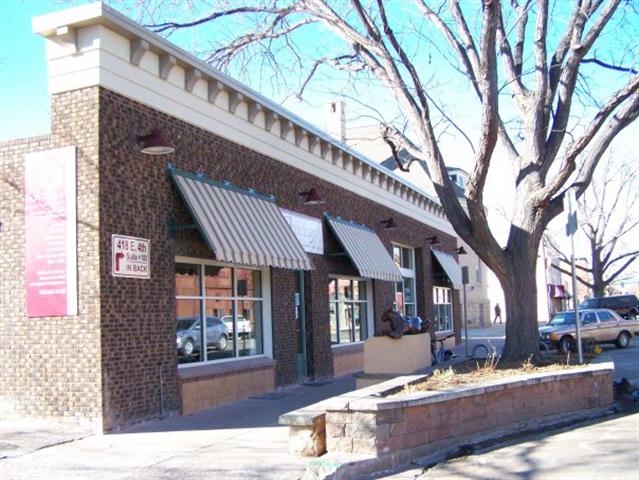 Congratulations to Anthology Book Company, Loveland, Colo., which is celebrating the grand opening of its remodeled café and espresso bar this Friday evening, beginning at 6 p.m. with live music. Other events include children's story time and face painting for children of all ages by Matt Fredricey, bookseller, events coordinator and artist. The store is offering samples from the café and its new offerings, including wines by the glass and Colorado beer, cider and root beer on tap.
Owner Stephanie Stauder noted that the store will have new, longer hours and thanked customers and Loveland for being "wonderfully curious and supportive during our remodeling phase. There are even more great things to come!"


Bookmasters Distributing Edibesa
Effective immediately, Edibesa, Madrid, Spain, a publisher of Catholic books, is being sold and distributed in the U.S. by Bookmasters. Founded in 1984, Edibesa publishes prayer books, biographies of notable Saints and Popes, Sacrament studies, inspirational materials and Bibles.
"The Catholic market in the U.S. is lacking quality Catholic contents in Spanish," Edibesa commercial director Luis Angel Soler said. "In the past, we haven't been able to address the requests from many Catholic bookstores requesting our titles. Today, through our partnership with Bookmasters, we are able to share our mission with Hispanic readers in the U.S."


Book Trailers of the Day: How Not to Read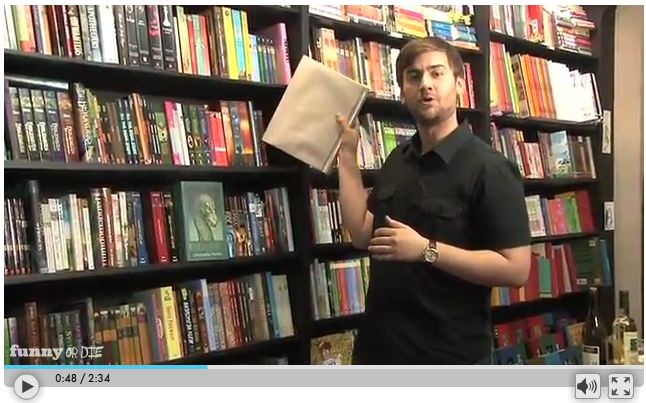 How Not to Read: Harnessing the Power of a Literature-Free Life by Dan Wilbur (Perigee), for which the author, who is also a comedian and a bookseller at the Community Bookstore in Brooklyn, N.Y., made two hilarious trailers.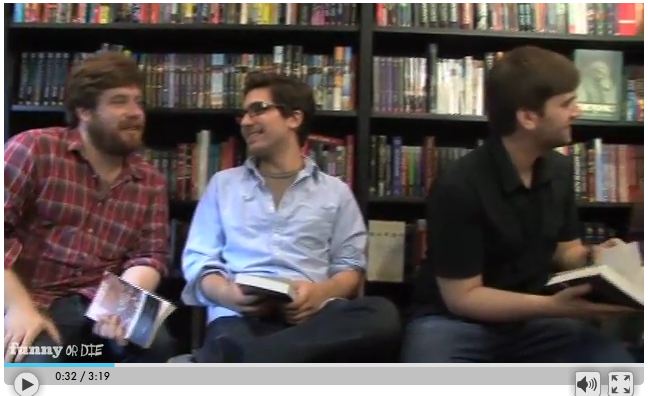 Filmed at the store, one discusses what a book club is and the other has tips on how to survive a book club.


Media and Movies
Media Heat: Mitch Albom on the View
Tomorrow on CBS This Morning: Carol Blue, widow of Christopher Hitchens, who wrote the afterword to Hitchens's new book, Mortality (Twelve/Hachette, $22.99, 9781455502752).

---

Tomorrow on the View: Mitch Albom, author of The Time Keeper (Hyperion, $24.99, 9781401322786).

---

Tomorrow on NPR's Studio 360: D. T. Max, author of Every Love Story Is a Ghost Story: A Life of David Foster Wallace (Viking, $27.95, 9780670025923).

---

Tomorrow night on the Tonight Show with Jay Leno: Meghan McCain, co-author of America, You Sexy Bitch: A Love Letter to Freedom (Da Capo, $26, 9780306821004).




Downton Abbey Third Season Trailer
The first official trailer for the third season of Downton Abbey, which starts in January.


This Weekend on Book TV: Kofi Annan
Book TV airs on C-Span 2 this week from 8 a.m. Saturday to 8 a.m. Monday and focuses on political and historical books as well as the book industry. The following are highlights for this coming weekend. For more information, go to Book TV's website.

Saturday, September 8
2:30 p.m. William Clancey presents his book Working on Mars: Voyages of Scientific Discovery with the Mars Exploration Rovers (MIT Press, $29.95, 9780262017756). (Re-airs Sunday at 10 p.m.)

7:30 p.m. Jeff Faux talks about his book The Servant Economy: Where America's Elite Is Sending the Middle Class (Wiley, $27.95, 9780470182390). (Re-airs Sunday at 2 p.m.)

8:45 p.m. Dinesh D'Souza presents his book Obama's America: Unmaking the American Dream (Regnery, $27.95, 9781596987784). (Re-airs Sunday at 10:45 a.m. and Monday at 4 a.m.)

10 p.m. After Words. BBC America's Katty Kay interviews former U.N. Secretary General Kofi Annan, author of Interventions: A Life in War and Peace (Penguin, $36, 9781594204203). (Re-airs Sunday at 9 p.m. and Monday at 12 a.m. & 3 a.m.)

11 p.m. At an event hosted by the Booksmith, San Francisco, Calif., Ruben Martinez discusses his book Desert America: Boom and Bust in the New Old West (Metropolitan, $28, 9780805079777). (Re-airs Saturday at 11 p.m. and Sunday at 5 p.m.)



Books & Authors
Awards: Scotiabank Giller, Wellcome Trust Book Longlists
The longlist was unveiled for this year's $50,000 Scotiabank Giller Prize, which recognizes "the best Canadian novel or short story collection published in English." The shortlist will be revealed October 1 and the winner announced in Toronto October 30. You can see the complete Giller longlist here.

---

A longlist was also announced for the £25,000 (US$39,689) Wellcome Trust Book Prize, which "celebrates medicine in literature" by honoring a work of fiction or nonfiction published in the U.K. The shortlist will be revealed on October 11, with the winner named November 7 in London. The complete Wellcome Trust longlist can be found here.



Book Review
Review: Dora: A Headcase
Dora: A Headcase by Lidia Yuknavitch (Hawthorne Books, $16.95 paperback, 9780983477570, September 11, 2012)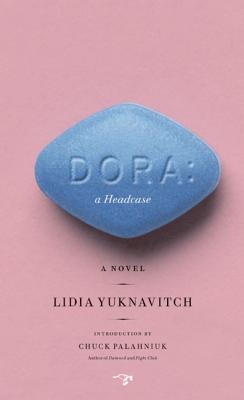 Lidia Yuknavitch's The Chronology of Water met with stunned praise when it was published in 2011. The memoir introduced readers to a woman writing from a howling, honest, unapologetically feminine raw nerve--one who clearly knew what it is to be a messed-up, shut-down, screaming-but-silenced teenage girl.
Dora: A Headcase, Yuknavitch's first novel, comes from a similar place. It's an inside-out retelling of Sigmund Freud's classic case study of "Dora," a Viennese teenager he diagnosed with hysteria (that proverbial feminine plague) in which Yuknavitch transposes the patient to modern-day Seattle and outfits her with a shaved head, plaid miniskirt and a crew of badass, misfit friends. "You know what? Seventeen is no place to be," declares Ida, our modern-day Dora. Her family life is stressful and complicated. She acts out. She gets high. Like the first Dora, intense emotions make her faint or lose her voice.
So Ida's parents send her to Seattle's top psychotherapist: Dr. Freud, whom Ida calls Sig. She has no patience for his brand of analysis: "Hello, won't you come in and let me explore your genitals by pretending to talk about your family origins," she scoffs. "What a load of crap." Ida's first line of defense against Sig's probing is her recalcitrant wit, but she's also got a millennial's innate flair for technology---and an audio recorder stashed in her repurposed Dora the Explorer purse.
Buying Freud as a contemporary Seattle psychotherapist takes some suspension of disbelief, but otherwise you would never know that Yuknavitch was borrowing a story from early 20th-century psychology. Ida and her friends (including Obsidian, a gorgeous Native American girl whom Ida is in love with) are hyper-modern, overstimulated and misunderstood. "We live through sound and light--through our technologies," she explains. "With our parents' zombie life dope arsenal at our fingertips."
Technology and chemicals may dominate Ida's life, but she's wiser than she gets credit for. "Wanna know the difference between adult wisdom and young adult wisdom?" she asks us. "You have the ability to look back at your past and interpret it. I have the ability to look at my present and live it with my whole body."
We know the original Dora (whose real name was Ida) only filtered through Freud's predictable analysis of her feelings and dreams. But in Dora: A Headcase, Yuknavitch grants a perspective and a voice to the girl who lost both. --Hannah Calkins
Shelf Talker: Lidia Yuknavitch transposes Freud's classic case study to modern-day Seattle, giving us Dora 2.0: a funny, foul-mouthed, queer bad girl who has more to teach us than Freud ever dreamed.


The Bestsellers
Top Book Club Books in August
The following were the most popular book club books during August based on votes from readers and leaders of more than 35,000 book clubs registered at Bookmovement.com:

1. Gone Girl by Gillian Flynn
2. Wild: From Lost to Found on the Pacific Crest Trail by Cheryl Strayed
3. What Alice Forgot by Liane Moriarty
4. The Immortal Life of Henrietta Lacks by Rebecca Skloot
5. Fifty Shades of Grey: Book One of the Fifty Shades Trilogy by E.L. James
6. Defending Jacob: A Novel by William Landay
7. The Night Circus by Erin Morgenstern
8. Before I Go to Sleep: A Novel by S.J. Watson
9. The Paris Wife: A Novel by Paula McLain
10. 11/22/63: A Novel by Stephen King

Rising Stars:

The Tiger's Wife by Tea Obreht
The Chaperone by Laura Moriarty

[Many thanks to Bookmovement.com!]