Shelf Awareness for Wednesday, October 31, 2012

Quotation of the Day
Frankenstorm: R.L. Stine Hates 'Real-Life Horror'

"Frankenstorm has shut down NYC. If you like dystopian fiction, you should be here. I HATE real-life horror."
--Children's author
R.L. Stine
("My job is to give kids the CREEPS!") on Twitter yesterday morning.


News
Hurricane #Sandy: Booksellers' Post-Storm Posts
Earlier this week, booksellers along the East Coast were already communicating with customers and colleagues through social media as Hurricane Sandy made its ominous approach. During the storm, people shared news updates, as well as storm-themed reading choices under the hashtag #sandyreads. Yesterday, Twitter and Facebook proved to be useful tools for broadcasting post-storm status.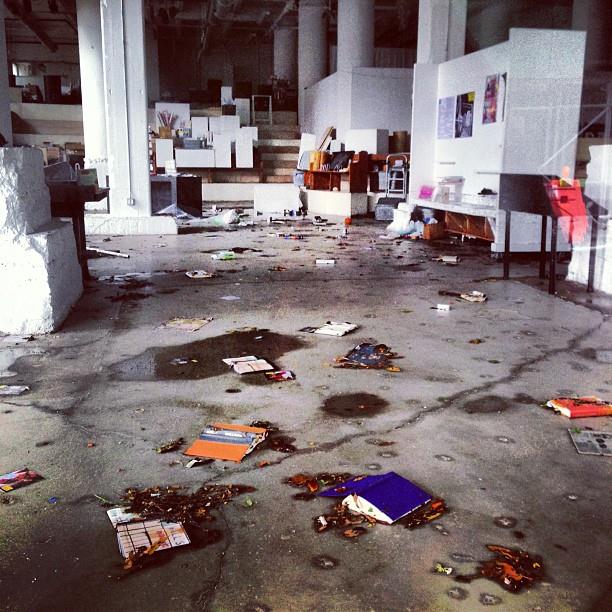 powerHouse owner Daniel Power reported "28 inches of water... store got whacked."
In Brooklyn, many bookstores were open and tweeting, including WORD ("Not only are we open and ready for business, we've got treats!)," BookCourt ("we are open"), Greenlight Bookstore ("Our phones are down but the bookstore is open! Don't try to call, just come visit.)" and Community Bookstore ("Did you exhaust your unread book pile during the #sandy house-arrest? We can help with that."). On Facebook, Boulevard Books & Café suggested: "If you live in Dyker Heights, chances are you still have no power... it's the perfect day at the bookstore."

Unfortunately, powerHouse Books in the flooded DUMBO section of Brooklyn took a hard hit, with CEO Daniel Power tweeting: "Store got whacked. 28 inches.... We planned for some water seeping in, but not 28"."

In Manhattan, McNally Jackson Booksellers offered reassuring words on Twitter: "We're okay! No power, but also no water. We'll be slinging books again in no time." Housing Works Books was still assessing the situation, tweeting: "CLOSED today; our Internetz will be pretty quiet. No word yet on how the store fared--if you're nearby, SAFELY take a peek & let me know?" A later update offered good news: "Just got word that the bookstore is power-less but no damage! We'll be closed tomorrow, but that's great news. Thanks everyone, stay safe." The Strand Bookstore said that "as of right now, the store remains closed. Hopefully we'll be back up and running (with power) soon!"

Clinton Book Shop, Clinton, N.J., "will be open tomorrow, power or no power. We miss our community and want to say hi to everyone."

Because Pleasantville, N.Y., was still under "an official state of emergency: no one but officials permitted on the streets," the Village Bookstore chose not open yesterday. Titcomb's Bookshop, East Sandwich, Mass., also opted to wait a day "to allow for clean-up from the storm. Hope everyone is safe from the storm. See you tomorrow!!!" R.J. Julia Booksellers, Madison, Conn., an area that saw substantial damage from Sandy, remained closed as well, noting: "If we are able to open tomorrow we will. Please stay safe during this recovery & clean up time." In a later post, the bookstore said: "We will be open from 11 a.m. to 3 p.m. tomorrow. We may not have power, but we have great books and friendly faces!"

Another Connecticut bookseller, Bank Square Books in Mystic, reported: "Floor of the bookstore is soaking wet. Books are ok. Must have been 3 to 5 inches in store with the high tide. Not sure of the next step. We did laugh at the craziness and mess of downtown however. It's a mess!" The Mystic River Press noted that it was "all hands on deck" to move books after co-owner Annie Philbrick appealed for help on the store's Facebook page.

Vermont's Bartleby's Books, which was wrecked by Hurricane Irene last year, posted: "So happy to see no flooding in town that we forgot to post that village is ok. Store is open and the sun is shining (at least some of the time)."

In Delaware, the Book End Cafe wrote: "We weren't able to spend any time at the store today because the town of Fenwick Island is still closed (until noon on Wednesday). We won't be open on Wednesday, but hope to open soon. We'll keep you posted!"

Though indie bookstores may be located from coast to coast, the bookselling community is, in many ways, a small family. This Facebook post from Green Apple Books & Music, San Francisco, Calif., was typical of nationwide concern: "Thinking good thoughts for all our N.Y. area friends, and hoping all the books and booksellers over there are safe and dry."



Storm Update: Ingram, Random House Distribution Centers Open
Ingram experienced a brief interruption in services due to power outages, but reported that its Chambersburg, Pa., distribution center and Allentown, Pa., print-on-demand center are up and running on schedule. While deliveries are not possible to a few ZIP codes in the hardest-hit areas that are inaccessible, Ingram said it is working closely with carriers to get service up as fast as possible.

---

The Random House distribution center in Westminster, Md., which had to close Monday evening because of Hurricane Sandy, has reopened. Undamaged by the weather, it is back operating normally and the company is authorizing weekend overtime to attend to any lingering order fulfillment because of the weather.



B&N: New Store in Ore.; Nook HD; Asda Deal in U.K.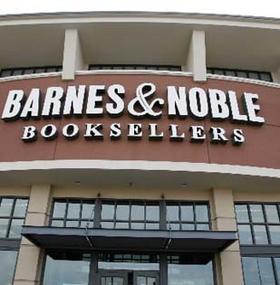 On November 14, Barnes & Noble will open a new store in Tigard, Ore., at the Bridgeport Village shopping center, in a former Borders location. The two-story location will employ approximately 100 people. As part of its grand opening celebration, the Bridgeport B&N is hosting a Friends and Family Preview Night on November 13, with a portion of the proceeds benefiting the Foundation for Tigard Tualatin Schools, an organization that raises money to buy school supplies, fund technology initiatives, scholarships and other programs for area students and teachers.

---

B&N begins shipping its 7-inch Nook HD and 9-inch Nook HD+ tablets this week to online pre-order customers. The devices will also be available at B&N's brick-and-mortar stores, as well as partner retailers Target, Walmart and Best Buy.

---

U.K. supermarket chain Asda will sell Nook e-readers and accessories in more than 300 stores and online from Asda Direct through a new partnership with B&N. The deal expands the expected number of retail outlets for the Nook line in the U.K. to more than 2,500, including Blackwell's, Foyles, John Lewis, Argos, Dixons Retail, Sainsbury's and Waitrose, as well as various online retail platforms and uk.nook.com.

"Asda is a successful British retailer that puts value and customer service at the forefront of its business, we feel that it is a great brand fit for NOOK," said Jamie Iannone, president of Nook Media.



Kobo Launches in South Africa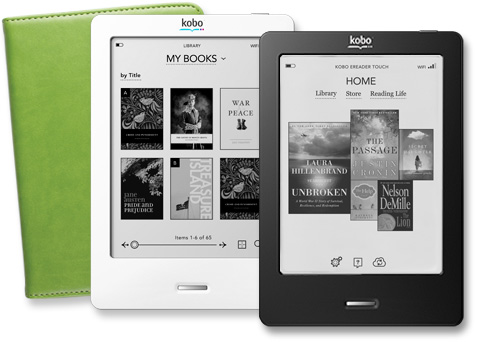 Kobo announced a partnership with Pick n Pay, one of South Africa's largest retailers, to bring Kobo's e-reading platform to the country. The Kobo Touch is available for sale at select Pick n Pay Hyper stores and Supermarkets as well as online for an introductory price of R995 ($116). South African customers will have access to Kobo's content catalogues and a localized online customer experience. The Kobo website will offer popular literature by notable local authors and books in both English and Afrikaans.

"We're excited to enter a new continent, and are happy to do so in partnership with top retailer Pick n Pay," said Kobo's CEO Michael Serbinis. "Together, we will transform the digital publishing market by making more books available to more people throughout South Africa."

Bronwen Rohland, marketing director at Pick n Pay, said, "There is no getting away from the fact that the world is fast becoming increasingly more digitally focused, and by offering quality digital products at competitive prices we can ensure that these platforms become more accessible to a greater base of South African consumers."



Notes
Image of the Day: Vik-o-Lantern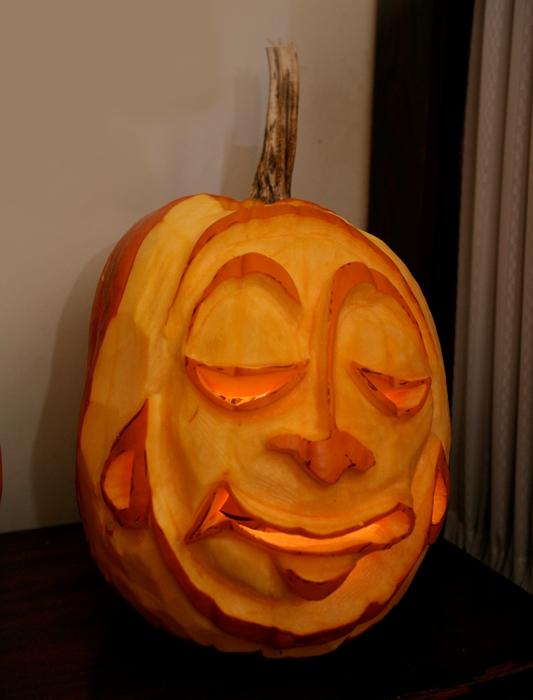 Shelf Awareness art director Alex Baker created this Halloween treat: our mascot, Vik, illuminated. Happy Halloween, everyone!


Comic-Con in San Diego Until 2016; London Cosplay
Comic-Con has extended its stay in San Diego, Calif., until 2016, adding one more year to its contract with the city. Deadline.com reported that "event organizers had indicated they might leave their long-time home if an expansion of the Convention Center did not occur." San Diego recently committed to a $500-million plan.

For the international cosplay crowd, the Guardian featured a photo slide show highlighting the recent London Comic-Con.



IPS to Distribute Abingdon Press to Indies, Others
Effective this past month, Ingram Publisher Services is handling sales and distribution for Abingdon Press to independent trade bookstores, gift stores and special markets. Abingdon will continue to use Ingram's Lightning Source for POD and CoreSource for digital content.

An imprint of the United Methodist Publishing House, Abingdon Press publishes Christian living, fiction, academic, professional and inspirational titles geared to both Christian and general markets.

Audrey Kidd, Abingdon Press's executive v-p, revenue and operations, commented: "The addition of an integrated sales and distribution component with Ingram will help us connect more of our titles to more readers worldwide."




Book Trailer of the Day: Round About the Earth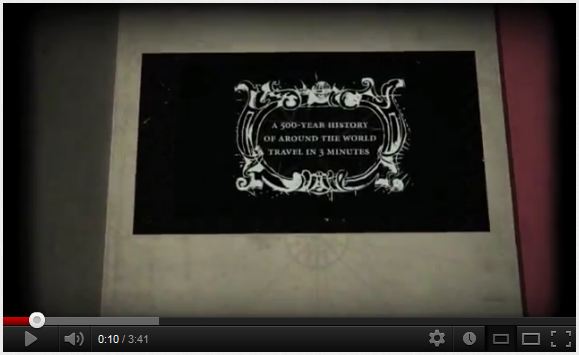 Round About the Earth: Circumnavigation from Magellan to Orbit by Joyce Chaplin (Simon & Schuster), a video called "The History of Circumnavigation in Three Minutes."


Media and Movies
Media Heat: Domingo Martinez on Diane Rehm
This morning on MSNBC's Morning Joe: Patricia Cornwell, author of The Bone Bed (Putnam, $28.95, 9780399157561).
---
Tomorrow morning on Imus in the Morning: Richard M. Cohen, author of I Want to Kill the Dog (Blue Rider, $21.95, 9780399162039).
---

Tomorrow on NPR's On Point with Tom Ashbrook: Tom Greenspon, author of Moving Past Perfect: How Perfectionism May Be Holding Back Your Kids (And You!) and What You Can Do About It (Free Spirit Publishing, $15.99, 9781575423876).
---

Tomorrow on KCRW's Bookworm: Craig Nova, author of The Constant Heart (Counterpoint, $25, 9781619020238). As the show put it: "Craig Nova's 14th novel conveys readers into dark and discomforting realms of the unseen, where human organs are harvested for sale on the black market. A noir for the present, The Constant Heart is that rarest of things: a metaphysical thriller. But can constancy of any sort--of the heart or otherwise--have traction in our world, or even in the world of a novel?"

---

Tomorrow on NPR's Diane Rehm Show: Domingo Martinez, author of The Boy Kings of Texas: A Memoir (Lyons, $16.95, 9780762779192).

---

Tomorrow on CNN International's Amanpour: Thomas E. Ricks, author of The Generals: American Military Command from World War II to Today (Penguin Press, $32.95, 9781594204043).




TV: My Korean Deli
Producers Mark Gordon (Grey's Anatomy, Criminal Minds) and Jason Blum (Sinister, Paranormal Activity 4) are teaming up to executive produce a half-hour comedy for ABC based on the book My Korean Deli: Risking It All for a Convenience Store by Ben Ryder Howe, Deadline.com reported. Geoff Moore and David Posamentier will write the adaptation.



Books & Authors
Awards: Scotiabank Giller Prize; Red House Shortlist
Travel writer and novelist Will Ferguson won the $50,000 Scotiabank Giller Prize, which honors the best Canadian novel or short story collection published in English, for his book 419.

According to the jury, Ferguson's novel "points in the direction of something entirely new: the Global Novel. It is a novel emotionally and physically at home in the poverty of Lagos and in the day-to-day of North America. It tells us the ways in which we are now bound together and reminds us of the things that will always keep us apart. It brings us the news of the world far beyond the sad, hungry faces we see on CNN and CBC and far beyond the spreadsheets of our pension plans. Ferguson is a true travel writer, his eye attuned to the last horrible detail. He is also a master at dialogue and suspense. It is tempting to put 419 in some easy genre category, but that would only serve to deny its accomplishment and its genius."

---

Finalists have been named for the 2013 Red House Children's Book Award, a British prize that is entirely voted for by children. The shortlist is drawn from children's nominations for three categories--Younger Children, Younger Readers and Older Readers--and the book garnering the most votes will be crowned overall winner February 23 in London.



Book Brahmin: Anka Muhlstein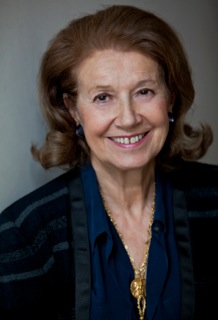 Anka Muhlstein was born in Paris in 1935. She spent the war years in New York City and returned to France when she was 10. She moved back to New York when she married the novelist Louis Begley in 1974. She has published 10 books, biographies and essays, been awarded the Goncourt Prize of Biography and has twice received the History Prize of the French Academy. Muhlstein prefers writing in French but chose English for her latest book, Monsieur Proust's Library, (Other Press, November 6, 2012).
On your nightstand now:
The Passage of Power: The Years of Lyndon Johnson by Robert A. Caro and The Patrick Melrose Novels by Edward. St. Aubyn.
Favorite book when you were a child:
Jane Eyre by Charlotte Brontë.
Your top five authors:
Saint-Simon, Balzac, Trollope, Tolstoy and Proust.
Book you've faked reading:
The Man Without Qualities by Robert Musil.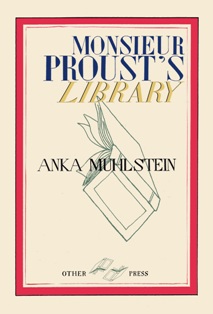 Book you're an evangelist for:
Marcel Proust's In Search of Lost Time.
Book you've bought for the cover:
Trouble Me by Laura Moore.
Book that changed your life:
Wartime Lies by Louis Begley.
Favorite line from a book:
"Everything ends well because everything ends." --from L'Epithalame by Jacques Chardonne
Book you most want to read again for the first time:
Anna Karenina.


Book Review
Children's Review: Charley's First Night
Charley's First Night by Amy Hest, illus. by Helen Oxenbury (Candlewick, $15.99 hardcover, 32p., ages 3-6, 9780763640552, November 1, 2012)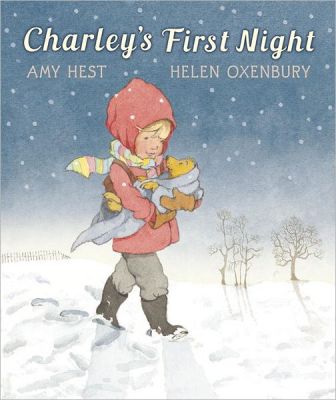 Amy Hest (Letters to Leo) proves once again her intimate knowledge of the bond between child and dog with this portrayal of Henry and the puppy that "wanted me to carry him home." Helen Oxenbury (There's Going to Be a Baby) captures every possible posture a puppy could assume, as Charley the dog woos Henry (and readers) until he wins a place in his home and heart.
As Henry wraps Charley in his old blue baby blanket and holds his new pet in his arms, the boy resembles a parent swaddling his newborn. Charley makes unwavering eye contact while Henry shows the new furry family member around, including the boy's room and "the place where my mother hides your birthday present when it's the day before your birthday." Henry says, "This is home, Charley." As Henry's parents spell out the rules ("I couldn't wait to feed Charley every day forever"), the little fellow naps on Henry's shoulder. Oxenbury paints the scene in rosy pink, forest green and sky-blue watercolors. Charley's fur matches Henry's hair, the rug, the throw pillows plus a row of identical volumes on the top bookshelf.
Henry's parents are "pretty clear" that Charley will be sleeping in the kitchen. ( "I thought about Charley in the kitchen, alone every night forever.") Oxenbury's vignette image of the inevitable "accident" makes evident why his parents want the dog to remain in the kitchen, just as Hest's echo of the wording makes clear that Henry will inevitably bend the rule. Henry starts out by making Charley comfortable under the kitchen table on a rosy pillow next to Bobo the Teddy bear. Hest captures this intimate moment with a perfect poetic line, as Henry places his small red clock between Charley and Bobo: "tick-tock-tick-tock--like another little heartbeat in the night." Charley bares his belly, vulnerable and irresistible. Henry tries not once but twice to quiet Charley's cries in the middle of the night before breaking his parents "pretty clear" rule. But a reflection of his mother in the mirror on Henry's dresser suggests all will be forgiven. This gentle tale is the ideal gift for a new dog owner and every dog lover. --Jennifer M. Brown
Shelf Talker: A boy brings home a new puppy and helps his new pet feel at home.