Shelf Awareness for Wednesday, December 12, 2012

Editors' Note
Happy 12/12/12!
Enjoy the day. It's the last of its kind for a long time!


News
Red Emma's Moving, Expanding
In September 2013, Red Emma's Bookstore Coffeehouse, the Baltimore, Md., worker-owned and collectively managed bookstore, is moving from the Mount Vernon neighborhood to Station North in the North Av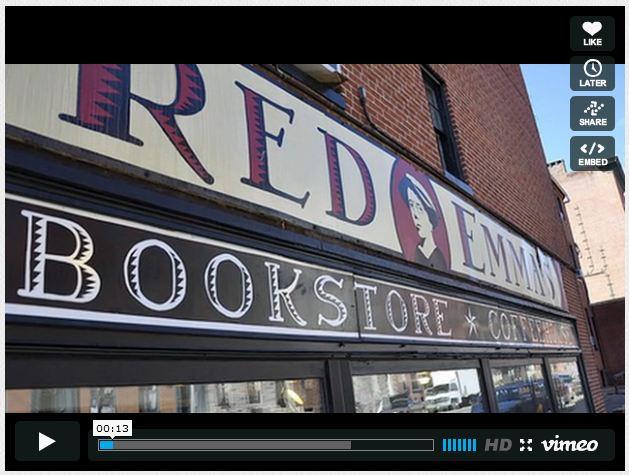 enue Market, where it will have five times as much space as it does now.

The store said the new location will allow it to stock more books, hold more events, have classroom and meeting rooms space and more tables and couches, and, thanks to a complete kitchen, offer "a full vegan/vegetarian menu, including dinner-options featuring locally-sourced produce and dairy" as well as "transparently-traded coffee roasted onsite." The store hopes that the new space will create economies of scale to pay staff, most of whom work on a volunteer basis, a living wage. "When we opened eight years ago, we knew a lot about books and politics, but very little about running a real collective business," the store said. "Today, we're ready to rebuild our project on a much more long-term sustainable economic basis."

Red Emma's estimates the cost of the move, new equipment, renovations and fees at $250,000 and is launching an indiegogo.com campaign to raise at least $50,000. ("We'll finance what we can out of pocket and with loans, but the less we have to work with big banks the better!") Rewards range from a cup of coffee for a $10 donation and a sticker and button for $25 to free coffee for five years for $5,000 to free coffee for life for $10,000.




Amazon to Begin Collecting Sales Tax in Massachusetts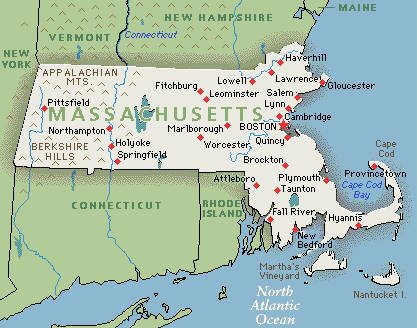 Adding to the states in which it is collecting sales tax, Amazon.com will begin collecting sales tax on purchases made in Massachusetts beginning November 1, 2013, according to MarketWatch. Governor Deval Patrick's office announced the deal, saying that Amazon and Massachusetts will "work together toward enactment of federal legislation to resolve the sales tax issue by creating an equitable and simple framework for collecting sales taxes."
The state argued that Amazon had the necessary nexus to collect sales tax by virtue of its purchase last year of Kiva Systems, a Massachusetts company that makes warehouse robots, and its recruitment of engineers for an office in Cambridge, the Boston Globe noted.


Hardcover Sales Bump for the Holidays
Hardcovers still rule the holiday gift-giving season, according to USA Today, which analyzed its top-50 bestseller list and found that currently "the most popular format is hardcover (25 of the 50 titles), followed by paperbacks (13) and e-books (12)."

These numbers are holding steady compared to last year at this time, when 30 hardcovers, 13 paperbacks and seven e-books occupied the top-50. In June, the list was essentially reversed: e-books (21), paperbacks (16) and hardcovers (13). After the holidays, however, there may be another "e-book surge" similar to last January (35 e-books, 9 hardcovers and 6 paperbacks) "after millions of new e-readers and tablets were activated," USA Today wrote.

"The holidays remain the heartbeat of print book sales," said Michael Norris of Simba Information. "When you give someone a gift, you want it to have some weight, to see them open it. You can't really do that with an e-book or a Barnes & Noble gift card."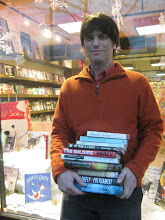 Daniel Goldin, owner of Boswell Book Company, Milwaukee, Wis., reported healthy early holiday sales for hardcovers, singling out Chris Ware's Building Stories as a strong performer: "The design makes it an experience that cannot be duplicated on a tablet," he said. "There's way too much touch involved."




Holiday Hum: Another Bit of Washington Electioneering
Like skilled legislators, employees at Politics & Prose in Washington, D.C., use the art of persuasion when creating the store's annual holiday newsletter. One example: Paul Elie's Reinventing Bach might not have been selected as one of this year's five nonfiction favorites if a staffer hadn't made a strong case for it to be included among the elite group of titles.
In Reinventing Bach, Elie explores how musicians in the modern era have used technology to keep the composer's creations relevant. "People really liked the book, but it was offbeat and not necessarily an obvious top five for us," explained co-owner Lissa Muscatine. "As we discussed it more, one person in particular felt strongly about it and made a really persuasive case for including it partly because the subject matter is different and not as predictable."
Discussions and debates took place as Politics & Prose staffers distilled a year's worth of literary output down to the 10 titles, evenly split between fiction and nonfiction, that most enthralled and impressed them in 2012. The results:
Fiction
Bring Up the Bodies by Hilary Mantel (Holt)
Gods Without Men by Hari Kunzru (Knopf)
NW by Zadie Smith (Penguin Press)
Wish You Were Here by Graham Swift (Knopf)
The Yellow Birds by Kevin Powers (Little, Brown)
Nonfiction
Joseph Anton: A Memoir by Salman Rushdie (Random House)
The Passage of Power: The Years of Lyndon Johnson by Robert A. Caro (Knopf)
Reinventing Bach by Paul Elie (Farrar, Straus & Giroux)
What Money Can't Buy: The Moral Limits of Markets by Michael J. Sandel (Farrar, Straus & Giroux)
Wild: From Lost to Found on the Pacific Crest Trail by Cheryl Strayed (Knopf)
Variety within each category is a consideration and, as with Graham Swift's Wish You Were Here, a book is sometimes chosen because it didn't quite catch on with customers and was thought worthy of an added push. Although the novel was well reviewed, "it wasn't finding audiences as well as we wanted it to," chief buyer Mark LaFramboise noted. "We loved it, and we really wanted to spotlight it."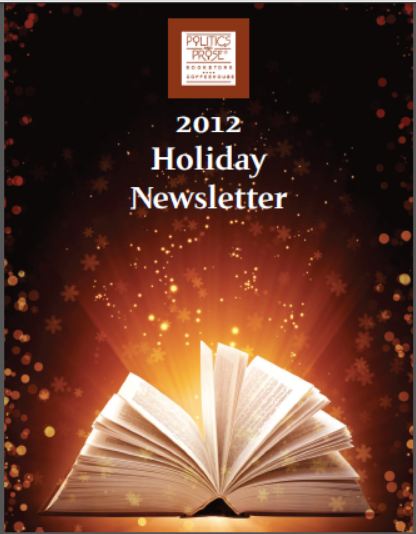 The 10 fiction and nonfiction favorites lead off the store's 2012 Holiday Newsletter. The 32-page gift guide, which highlights more than 150 present-worthy books, is a collaborative effort. The entire staff is invited to participate in the process and recommend titles. In addition, LaFramboise and chief remainders and university press buyer Laurie Greer, who also edits the Holiday Newsletter, flag potential candidates as they keep store shelves stocked during the year.
The creation of the Holiday Newsletter begins informally months in advance of its mid-November appearance, as staffers sign up for dibs on galleys and buzz builds about the books being read and swapped. A way to hand sell en masse, each title in the gift guide is accompanied by an employee review.
Bestsellers make up part of the mix along with lesser-known books staffers wanted to single out. An abundance of biographies this year by big-name scribes overshadowed Brigham Young: Pioneer Prophet by capital-area author John G. Turner. The Mormon leader's life story was so compellingly told that multiple Politics & Prose personnel vied to do the newsletter write-up.
Diverse gift suggestions range from Ian McEwan's Cold War-set Sweet Tooth to Pulitzer Prize winner C.K. Williams's poetry collection Writers Writing Dying, a facsimile edition of The Book of Kells and The Edge of Nowhere, mystery writer Elizabeth George's first young adult novel.
D.C.-centric picks are a staple and include On Dupont Circle: Franklin and Eleanor Roosevelt and the Progressives Who Shaped Our World by journalist and historian James Srodes. Another is James Mann's The Obamians: The Struggle Inside the White House to Redefine American Power showcased in a "National Security" section curated by Bradley Graham, Politics & Prose co-owner and a former reporter and editor at the Washington Post.
Printed copies of the 2012 Holiday Newsletter were mailed to participants in the Politics & Prose Membership Program in advance of a three-day, storewide sale held exclusively for them the first weekend in December, as well as distributed in-store throughout the season. The gift guide can also be downloaded as a PDF on the store's website.
Holiday Newsletter titles are prominently displayed in the store, making it easier for customers-- many of whom come in clutching marked-up copies of the gift guide--to find the items they want. Members receive 20% off the books featured in the newsletter, an incentive that increases sign-ups this time of year. The benefit extends through New Year's Eve, a nice perk for those who didn't get a book on their wish list and plan to treat themselves. --Shannon McKenna Schmidt


Notes
Image of the Day: Gaiman's Ninja Signing at St. Mark's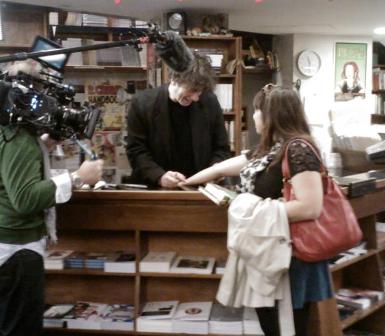 Yesterday morning, Neil Gaiman made this announcement on Twitter: "NEW YORK! There will be a ninja book signing at St Mark's bookstore on 3rd Ave & St Mark's. From 11 to 11:30am today. I'll bring a pen." One of the many fans who showed up already had his signature: as a tattoo on her arm. After the event, he tweeted: "The @stmarksbookshop now has LOTS of signed books by me. Perfect holiday gifts for people who like my books. Useless for anyone who doesn't."


Partnerships and Canada's 'Evolving Publishing Industry'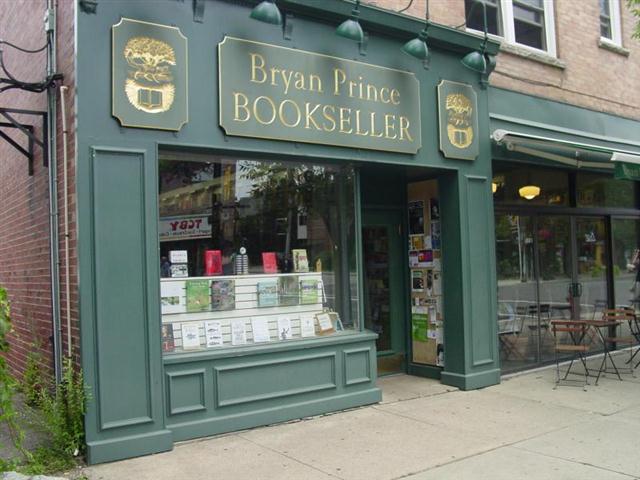 "You don't hear of many good, positive stories about the print side [of publishing] and bookstores, but things are going well for us," Tracey Higgins, co-owner of Bryan Prince Bookseller, Hamilton, Ontario, told the Financial Post, which examined the changing nature of the book trade for booksellers and publishers and the "evolving ways books are promoted, sold and consumed that has those in the publishing industry scrambling to ensure growth and, for some, survival."

Despite the merger of big publishers and closure of some indie bookstores, Cynthia Good, director of Humber College's Creative Book Publishing program and former president of Penguin Books Canada, said, "I can almost foresee a rebirth of Canadian publishing coming out of this. I find this to be a very creative time and full of artistic possibilities. There will be new kinds of partnerships, one can imagine publishers could partner with new kinds of media or a gaming company or a bookstore."

Bryan Prince Bookseller is using the partnership model. In addition to hosting monthly readings for the Hamilton Poetry Centre, the bookshop also hosts community events with A Different Drummer Books in Burlington, "bringing in big-draw authors including Salman Rushdie, Michael Ondaatje and Lloyd Robertson, sharing expenses and sales," the Financial Post wrote.

"We have cross-over in our customers, we have cross-over in the authors we want to bring in and there's more than enough room for us both to survive. It's mutually beneficial to work together and help each other thrive," Higgins said.



Jennifer Garza Joins S&S Publicity Department
Jennifer Garza has joined the Simon & Schuster publicity department as a publicity manager. She most recently worked at Media Connect.


Book Trailer of the Day: Magical Journey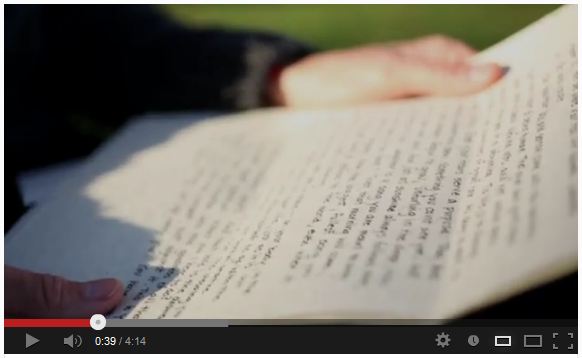 Magical Journey: An Apprenticeship in Contentment by Katrina Kenison (Grand Central).


Media and Movies
Media Heat: Learning the Language of Animals
Tomorrow on KCRW's Bookworm: Mark Z. Danielewski, author of The Fifty Year Sword (Pantheon, $26, 9780307907721). As the show put it, "The Fifty Year Sword is a ghost story about the weave of storytelling itself, written in sparse fragments of dialogue punctuated by faint embroidery, grim illustrations, and blank spaces. The experimental novelist regards all stories as both tapestries and echo chambers."

---

Tomorrow on NPR's Diane Rehm Show: Con Slobodchikoff, author of Chasing Doctor Doolittle: Learning the Language of Animals (St. Martin's, $25.99, 9780312611798).

---

Tomorrow on CBN's 700 Club: Katherine Kallinis Berman, co-author of Sweet Celebrations: Our Favorite Cupcake Recipes, Memories, and Decorating Secrets That Add Sparkle to Any Occasion (HarperOne, $24.99, 9780062210364).




TV: Women & Women First Bookstore in Portlandia Holiday Trailer
Although the third season of Portlandia won't begin until January 4, a special holiday episode, "Winter in Portlandia," airs this Friday at 10:30 p.m. IFC has released a trailer, featuring Women and Women First bookstore, with Candace's son (Saturday Night Live's Bobby Moynihan) asking her to watch his newborn baby while he does some Christmas shopping.



Books & Authors
Awards: Tribal Arts Prize Winner; Books for a Better Life Finalists
Heroic Africans: Legendary Leaders, Iconic Sculptures edited by Alisa LaGamma (Metropolitan Museum of Art, $60, 9780300175844) has won the English edition of the 2012 Prix International du Livre d'Art Tribal, which is presented to two art books, one in English and one in French, to "highlight the quality, diversity and richness of publishing in the field of tribal arts."
LaGamma is curator of Arts of Africa, Oceania, and the Americas at the Metropolitan Museum of Art. Heroic Africans is distributed by Yale University Press.
---
The New York City-Southern New York Chapter of the National MS Society has announced finalists for the 17th Annual Books for a Better Life Awards. Winners will be announced during an awards ceremony in New York City on March 11, 2013. In addition, the chapter will honor author Gail Sheehy and Publishers Weekly president George Slowik, Jr. See the five finalists in each of the 10 categories here.


Book Brahmin: Jennifer McMahon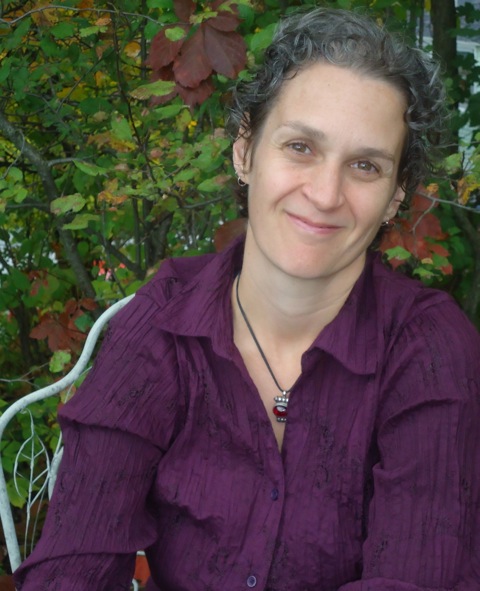 Jennifer McMahon is the author of six novels, including Promise Not to Tell and Island of Lost Girls. She grew up in suburban Connecticut, and graduated from Goddard College in 1991. Over the years, she has been a house painter, farmworker, paste-up artist, pizza delivery person, homeless shelter staff member, and has worked with mentally ill adults and children. She lives in Vermont with her partner and their daughter. Her new novel, The One I Left Behind, will be published on January 2, 2013, by Morrow.
On your nightstand now:
The Twelve by Justin Cronin, The End of the Wasp Season by Denise Mina and Hints of Heloise: Three Stories by Laura Lippman.
Favorite book when you were a child:
Harriet the Spy by Louise Fitzhugh. Harriet was my hero. I developed my own spy route around the neighborhood after reading it, unfortunately for my neighbors. I read it to my daughter about a year ago, when she was seven, and was silently praying she wouldn't get any ideas.
Your top five authors:
That's hard! If I have to choose today, let's say: Harper Lee, Shirley Jackson, Patricia Highsmith, Sarah Waters and Denise Mina.
Book you've faked reading:
Of Human Bondage by Somerset Maugham in high school. I got an A on essay about it that I did after reading the Cliffs Notes. I felt so guilty I never faked reading a book again.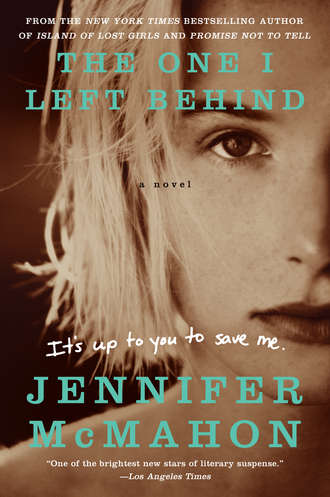 Book you're an evangelist for:
The Complete Poems by Anne Sexton. Truly, everyone should read some Anne Sexton.
Book you've bought for the cover:
Bangkok 8 by John Burdett--I was browsing the crime fiction section and the hot-pink cover with the snake jumped out at me. I ended up really enjoying the book.
Book that changed your life:
To Kill A Mockingbird. I remember finishing it at our dining room table and closing the cover. I looked around my house, which seemed strangely flat and unfamiliar. I knew right then and there that I wanted to be able to do this--to become a storyteller who could create such an intensely magical world that when the reader put the book down, the real world would feel bland.
Favorite line from a book:
"No live organism can continue for long to exist sanely under conditions of absolute reality; even larks and katydids are supposed, by some, to dream." --from The Haunting of Hill House by Shirley Jackson.
Book you most want to read again for the first time:
John Irving's A Prayer for Owen Meany. Irving is such an incredible writer and this book blew me away--making me think about faith and fate in whole new ways.
author photo: Drea Thew


Book Review
Children's Review: Courage Has No Color
Courage Has No Color: The True Story of the Triple Nickles: America's First Black Paratroopers by Tanya Lee Stone (Candlewick, $24.99 hardcover, 160p., ages 10-up, 9780763651176, January 1, 2013)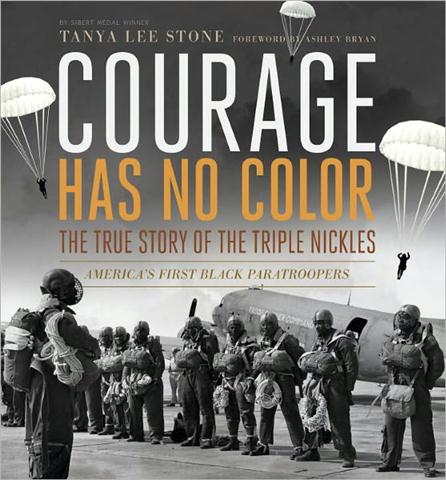 Tanya Lee Stone, whose history of women in the space program, Almost Astronauts, won the 2010 Sibert Medal, here offers another penetrating and illuminating look at a courageous, boundary-breaking group with plenty of guts and little glory: the Triple Nickles.
She begins her history by asking readers to imagine what it was like to jump out of an airplane as a paratrooper. Into her step-by-step description she weaves both suspense and also entertaining terms (the jumpmaster commands, "Load," to signal it's time to climb into the plane; the line of troopers is called a "stick"). Twenty African-Americans trained for combat during World War II to become members of the first all-black paratrooper unit, called the Triple Nickles. Their journey takes many surprising twists and turns--an odyssey of spiritual, physical and mental strengthening unlike that of their white counterparts. As Stone puts it: "What is courage?... Perhaps it is being ready to fight for your nation even when your nation isn't ready to fight for you."
Many individual stories come to the fore in the shaping of this larger history. The main thread of the narrative belongs to Walter Morris, first sergeant of the Service Company of the Parachute School at Fort Benning, Ga. In an attempt to keep up the morale of his men, whose job was to safeguard the facility, Morris began putting them through the exercises he'd watched the white jumpers practice. At the same time, A. Philip Randolph was planning a march on Washington, D.C., in 1941; President Franklin Delano Roosevelt averted the protest by signing the Fair Employment Act, a nod to integrating the armed forces without actually requiring it. Gen. Ridgely Gaither, who had observed Morris and his men, drafted them into the first all-black unit of paratroopers: the 555th Parachute Infantry Company. But it would take Harry S. Truman to integrate the military fully.
Stone shows how the 555th Parachute Infantry Company made an impact in other unexpected ways, connecting back to the war in the Pacific. She shares a little-known story of balloon bombs sent by Japan and kept secret by U.S. intelligence. The photos that Stone's research uncovered documents the professionalism of these men and the sacrifices they made, even as their white peers issued taunts and physical threats. The author's endnotes about her research and decisions based on the facts she could confirm make this an invaluable book for young people just starting to embark on research projects of their own. A fascinating, thorough and inspiring account. --Jennifer M. Brown
Shelf Talker: An award-winning researcher and writer tells the story of 20 brave African-American men who break all kinds of ground, including the color barrier in World War II.


The Bestsellers
Top-Selling Self-Published Titles
The bestselling self-published books last week as compiled by IndieReader.com.

1. The Elf on the Shelf by Carol V. Aebersold and Chanda B. Bell
2. Guinness World Records 2013
3. The Edge of Never by J.A. Redmerski
4. LEGO Ninjago: Character Encyclopedia
5. All In by Raine Miller
6. The Revoution Was Televised by Alan Sepinwall
7. Accidentally on Purpose by L.D. Davis
8. The Proposition by Katie Ashley
9. Naked by Raine Miller
10. Stop the Wedding! by Stephanie Bond

[Many thanks to IndieReader.com!]