Shelf Awareness for Readers for Tuesday, December 4, 2012

Book Candy
Authors in Movies; Books to Cookbooks; Literary Late Bloomers
Authors and their walk-on roles. Word & Film offered its choices for the "best literary cameos ever committed to film" and Flavorwire highlighted the "10 greatest historical literary cameos on time-traveling TV shows."

---
Dinah Bucholz, author most recently of The Unofficial Narnia Cookbook: From Turkish Delight to Gooseberry Fool-Over 150 Recipes Inspired by the Chronicles of Narnia, "isn't the only author who adapted beloved books into cookbooks, Philly.com noted, as it featured a number of "other book-to-cookbook adaptations."

---
Pop quiz: "some books are known by a variety of titles," Mental Floss asked readers to "match the well-known book title to its alternate title."

---
A pair of modular bookcase options were featured by Design Milk. The Limit Bookshelf Divider by Alp Nuhoglu includes 36 boxes you can stack and place "to create any number of combinations to make the perfect shelf or room divider." Monocomplex's Lean Bookshelf "is a chevron-shaped modular bookshelf unit designed to keep books upright."

---
You're never too old to publish. Flavorwire found "10 great literary late bloomers."

---
Want to start an argument? Share Flavorwire's list of "New York's 100 most important living writers."
Great Reads
Further Reading: There and Back Again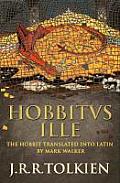 The best way to prepare for Peter Jackson's The Hobbit: An Unexpected Journey, of course, would be to read the J.R.R. Tolkien novel, whether you're coming to the story for the first or the 50th time. You can read the Mariner Books edition (with or without a movie tie-in cover), or listen to Audible.com's unabridged audiobook version, narrated by Rob Inglis. Or, if you took high school Latin and are up for a bit of mental workout, Mark Walker has translated the entire novel as Hobbitus Ille (HarperCollins).

When you're ready to learn specifically about the film, you'll have several options. The New Zealand-based Weta Workshop offers a behind-the-scenes look at how Peter Jackson and his team created the world of the Shire in The Hobbit: An Unexpected Journey Chronicles: Art & Design (Harper Design). Jude Fisher's The Hobbit: An Unexpected Journey Visual Companion (Houghton Mifflin Harcourt) describes that world from an internal perspective, accompanied by images of the characters and the sets from the film shoot, while Brian Sibley's The Hobbit: An Unexpected Journey Official Movie Companion (Mariner Books) has more of a production diary feel to it, or maybe an official press kit.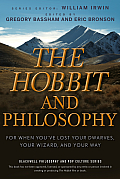 Gregory Brassham and Eric Bronson add to Wiley's series of essay collections applying philosophical perspectives to pop culture with The Hobbit and Philosophy: For When You've Lost Your Dwarves, Your Wizards, and Your Way; if you've ever wondered what the Taoist take on Tolkien would be, or what hobbits can tell us about hermeneutics, you'll want to have a look. Christian publishers are also finding a variety of ways to address Tolkien's novel, such as Louis Marko's On the Shoulders of Hobbits: The Road to Virtue with Tolkien and Lewis (Moody) or Matthew Dickerson's A Hobbit Journey: Discovering the Enchantment of J.R.R. Tolkien's Middle-earth (Brazos).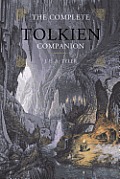 The Shire Collective's The Unofficial Hobbit Handbook (Writer's Digest), subtitled "Everything I Need to Know About Life I Learned from Tolkien," teases out all sorts of tidbits from Tolkien's stories--like drawing upon the books' roots in 20th-century England to deduce that "hobbit vegetables are cooked only one way: boiled to extinction." In a similar vein, J.E.A. Tyler's encyclopedic The Complete Tolkien Companion (St. Martin's Press), first published in 1976, has been updated and re-released; you can use it to look up unfamiliar names or follow along with Bilbo's journey using the maps. --Ron Hogan
The Writer's Life
A Passion for The Hobbit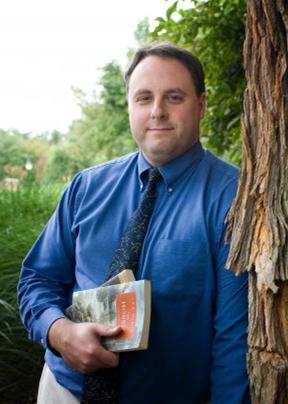 Corey Olsen got his first copy of J.R.R. Tolkien's The Hobbit when he was eight years old, as a gift from a family friend. Over the next four years, he says, he read that book--along with the Lord of the Rings trilogy--countless times, and he's reread them at least once every year since. He credits the early exposure with indirectly inspiring him to pursue a Ph.D. in medieval literature. "Tolkien does such a remarkable job of explaining the ethos of medieval literature," Olsen explains. "I didn't go seeking out the medieval stuff, but once I found it, I loved it."
A few years ago, he convinced the English department at Maryland's Washington College that a course on Tolkien wouldn't just be popular with undergraduates, but could serve as a "gateway" class to get them interested in other medieval subjects. He was also writing about Tolkien for scholarly journals, but came to realize that their limited circulation meant he wasn't reaching much of his potential audience. "As much as I really enjoy the interplay with other scholars," he says, "I know there are plenty of other people outside of academia who would enjoy getting involved in the conversation." So, in the summer of 2009, he launched The Tolkien Professor, a website where he shares podcasts of his lectures--a project that has led to Exploring J.R.R. Tolkien's The Hobbit (Houghton Mifflin Harcourt), a chapter-by-chapter guide to the novel and its themes.
The focus on The Hobbit rather than the entire Lord of the Rings saga is deliberate. "I think The Hobbit is too often seen as just a prequel," Olsen says. "A lot of people, even Tolkien fans, don't really respect it enough. It's not just a simple children's story." He pays particular attention to the fact that the original version of the novel was significantly different from later editions, which were revised to bring the story into closer alignment with the broader Middle Earth saga.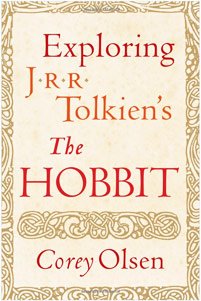 Specifically, he addresses the fifth chapter of The Hobbit: "Riddles in the Dark," and Bilbo's acquisition of the Ring from Gollum. In the original edition, the ring in question was a simple invisibility ring, and Gollum freely gave it to Bilbo as his prize for winning the riddle game. When Tolkien revised the novel to make it conform to his new Lord of the Rings storyline, minor tweaks would suffice for most sections, but this chapter obviously needed a more substantial alteration, which Olsen tracks in precise detail, along with the elements Tolkien put in The Fellowship of the Ring to explain the existence of a previous version of the story.
While he's doing that, though, he can also tell you what the riddles that Bilbo and Gollum pose to each other reveal about their characters--part of a larger consideration of the novel's many poems and songs, which readers sometimes skim over impatiently. "That's something that has been a stalking horse of mine for a while," Olsen admits. "It's shockingly common to skip the songs, but if you pay attention, you'll learn things about the themes of the story you won't get any other way. When you look at how they work in the story, it's quite remarkable."
Olsen has found no shortage of subject matter to discuss in his podcasts. For example, he's done nearly 30 two-hour episodes on The Silmarillion, a collection of other stories from Tolkien's universe; in that time, he says, "I feel like we scratched the surface, but not very deeply." The podcast, and the classes from which it emerged, serve as a solid rebuke to what Olsen describes as academia's "totally irrational resistance" to the fantasy genre. "There's this idea that literature is not serious unless it's what scholars call 'realistic,' which has never been a presumption of literature before," he says. "The idea that the fantastical story is somehow illegitimate as an art form is kind of crazed. One of the reasons to tell a story is that you're telling a remarkable story. If it's something you can walk out into the street and see, why are we talking about it?"
To redress the balance, Olsen recently launched the Mythgard Institute, an online educational program where he offers his Hobbit course to people who aren't enrolled at Washington College, as well as other courses on fantasy and science fiction literature. Participants can audit the classes for their personal edification, or work toward a master's degree.
And, as you might imagine, Olsen is eagerly anticipating the December 14 release of The Hobbit: An Unexpected Journey, the first installment of Peter Jackson's adaptation of the novel. His enthusiasm grows as he discusses the artistry with which the film's production team has managed to make the dwarves individually distinct and recognizable, and he's even more excited about all the ancillary material Jackson will be bringing into the story, including characters that aren't otherwise seen in The Hobbit. In the meantime, the podcasts continue--and one day, he allows, they might lead to a follow-up book taking on The Lord of the Rings. For now, if you've never read The Hobbit, or haven't read it in a long time, Exploring... is the perfect companion to help you appreciate its singular role in 20th-century literature. --Ron Hogan, founder of Beatrice.com
Inklings
Creating Luck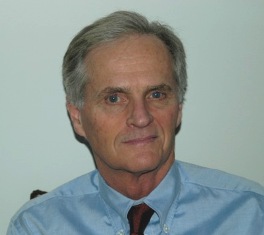 William Ecenbarger is a journalist, travel writer and the author of Glory by the Wayside, a photo-essay book; Walkin' the Line, a travel-history narrative about the Mason-Dixon Line; and Kids for Cash, an account of a judicial scandal in Pennsylvania, released by the New Press in 2012.
I am continuously aware of the role of luck in my professional life. I was lucky at the age of 12 when I decided I wanted to be a journalist. I had the good fortune to grow up on Long Island, not far from New York, at a time when there were seven city daily newspapers plus two Long Island dailies. My father was a commuter and reader, and there was a continuous flow of newspapers into my home. I was lucky as a new college graduate when a newspaper editor turned me down for a job but suggested I stop in at the nearby UPI bureau because he thought they needed someone. I got the job, and it was the best training ground in the world. After 10 years with UPI, I decided I needed a change and just then the Philadelphia Inquirer was purchased by the Knight chain, which turned the paper into one of the best in the nation. I left the Inquirer to freelance in 1990, but three years ago I got a late evening call from one of the editors. An Inquirer staffer had become ill, and they needed someone to cover a hearing tomorrow morning. Could I do it? I did, and this story would occupy me for the next two and a half years. The result was my book Kids for Cash, an account of an infamous Pennsylvania case in which two judges took $2.8 million in bribes for sending children to a private juvenile detention facility.
I'm not suggesting that my life has been a stroll through a meadow of four-leaf clovers. And I will take credit for a durable work ethic; but I believe the harder you work, the more luck you'll have.
Book Review
Fiction

She Loves Me Not: New and Selected Stories
by Ron Hansen
The Other Side of the World
by Jay Neugeboren
Sweet Tooth
by Ian McEwan
Mystery & Thriller
The Right Hand
by Derek Haas
Science Fiction & Fantasy
Silhouette: A Peacer Novel
by Dave Swavely
Romance
Badlands Bride
by Adrianne Wood
Biography & Memoir
Listening for Madeleine: A Portrait of Madeleine L'Engle in Many Voices
by Leonard S. Marcus
Thomas Jefferson: The Art of Power
by Jon Meacham
Religion

Help, Thanks, Wow: The Three Essential Prayers
by Anne Lamott
Children's & Young Adult

This Moose Belongs to Me
by Oliver Jeffers
Ashen Winter
by Mike Mullin
Poetry
Poems 1962-2012
by Louise Glück
--- SPECIAL ADVERTORIAL OFFERINGS ---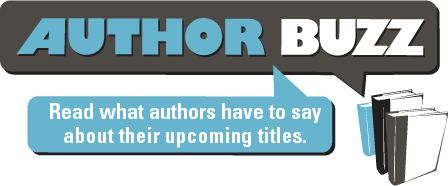 Dear Reader,

When I first set up a "demon graveyard," of sorts, for my Demonica/Lords of Deliverance series, I never imagined that the characters who populated it would become so central to the series. But here we are, following up the Grim Reaper's story with that of his right-hand man, Hades.

Dark, lethal, and a little playful, Hades will take a beautiful, brave fallen angel on a journey that will lead them both to danger and, possibly, love.

Please write to 1001DarkNights@gmail.com to win one of five copies.

http://www.1001darknights.com/authors/2015-books/larissa-ione-hades/




Publisher: Evil Eye Concepts, Inc

Pub Date: 5/26/15

ISBN: 978-1-940887-54-8

List Price: $2.99