Shelf Awareness for Readers for Tuesday, December 11, 2012
Book Candy
Gifts for Bookworms; A Bibliophile Wedding; Brilliant Book Ads
'Tis the season. The Huffington Post showcased some "gifts for bookworms: 10 clever ideas for readers and writers."
---
Offbeat Wedding shared photos of Cindy & Sam's "geeky bibliophile wedding," which included a book arch, an engagement shoot at the Seattle Public Library, a haiku page and books decorating the aisles and tables.

---
"You kids don't read anymore!" Buzzfeed found "10 brilliant book ads" that tried to remedy the situation.

---
Ever wonder what writers think about movies made from their books? Flavorwire highlighted "authors' funniest responses to the film adaptations of their work."

---
If "you want to understand this transformation, from the rise of oxygen in the atmosphere to the mass deaths of the dinosaurs," io9 offers the "10 books you absolutely must read to understand the history of earth."

---
"You wear amber-colored contact lenses to show solidarity with vampires who only feast on the blood of animals." Word & Film revealed "11 signs you're a Twi-hard Twilight fan."
Great Reads
Further Reading: Queen Elizabeth Behind the Scenes
Queen Elizabeth II is undeniably elegant, reserved, unflagging in her attention to her many duties and fond of her corgis and horses. But despite her decades in the public eye (and her appearance with James Bond--er, Daniel Craig--at the opening ceremonies of the London Olympic games), she remains largely an enigma. Who is the woman behind the royal façade?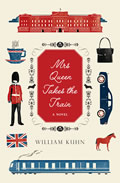 William Kuhn takes a quirky, fresh approach to this question in his debut novel, Mrs Queen Takes the Train. Already feeling depressed and rather fed up with her endless round of appearances and charity events, Elizabeth is saddened by the prime minister's news that the Royal Train will soon be decommissioned. Disguised in a hoodie, she walks out of Buckingham Palace and hops a train to Scotland, headed for the royal yacht Britannia, moored near Edinburgh. Followed by half a dozen members of her household, she traverses the length of the country, meeting some rather unusual members of her public along the way. Kuhn deftly intertwines the story of Elizabeth's reign with the lives of six vastly different people, none of whom will remain unchanged by their journey.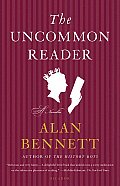 Kuhn slips in a sly reference to another fictional portrait of the queen: Alan Bennett's charming novella The Uncommon Reader. Discovering a bookmobile on the palace grounds one day, the queen (accompanied by her corgis) stops in to investigate. Feeling duty-bound to check out a book, she surprises herself and the royal household by becoming an avid reader, interrupting her packed schedule to steal a few more pages and upsetting everyone from her husband to the Prime Minister.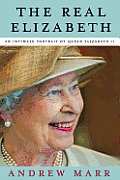 For a more factual but equally interesting look at the queen, Andrew Marr's biography promises to show readers The Real Elizabeth. Marr explores Elizabeth's family history and historical context before painting a detailed portrait of her long reign. He touches on politics, economics, the delicate interplay between the queen and Parliament, and the royal family's problems in recent decades. He ends with speculations on the future of the monarchy in a rapidly changing Britain. --Katie Noah Gibson, blogger at Cakes, Tea and Dreams
The Writer's Life
Ken Jennings: It's Science. Really.
Author Ken Jennings (photo: Cathy Jennings)
Ken Jennings, best known for his lengthy winning streak on Jeopardy, takes on the myths and rules passed down by generations of parents in his newest book, Because I Said So!: The Truth Behind the Myths, Tales, and Warnings Every Generation Passes Down to Its Kids (Scribner; reviewed below). Jennings examines the scientific evidence for a number of these parental rules--e.g., don't swim for an hour after eating--and judges the accuracy of each one with a true/false scale and a healthy dose of humor.
What inspired you to write on this topic? Do you have any experiences breaking the rules you got from your parents, only to find out they were right or wrong?
The book was born a couple years ago when my son, Dylan, who was then six, was running around with a lollipop sticking out of his mouth. I told him to sit down, because if he fell, the lollipop could puncture the back of his throat and go straight into his brain. He was fascinated by this idea. "Could it REALLY?" I realized I had no idea, so I appealed to my mom, who had always terrified us with this same warning when I was a kid. She admitted, "I have no idea. I heard it from Grandma when I was a little girl!" That's when I realized that these stories propagate for generations without anyone actually fact-checking them. But parents still have to act 100% sure about them, that's what I love. Kids are like bears, you can't show any uncertainty or they'll pounce. I decide I would write a book that would do the fact-checking for you, so parents could actually be sure and right. Also, kids of all ages would know when they'd been lied to.
How did you compile such a large list of parental warnings? How much is from your own family, and how much from other sources?
The list started with my own childhood, of course, but that well ran dry when I got to about 50 myths. At that point, I started bugging friends (and acquaintances, and people sitting next to me on airplanes...) for their own parenting clichés, because I wanted at least 50 more in the book. Turns out this isn't something you can really research at a library--it has to be anecdotal data. Towards the end, I got desperate and outsourced the question to the Internet. In particular, the hivemind at Reddit.com was very helpful. But I look at the book now, and I recognize at least 75% of the material from my own childhood. My parents were huge nags, I guess.
What was the best experience in writing this book?
The kids really liked the myths we tested firsthand. We wanted to see how big a mess you could really make with shaken-up soda cans, so we went out to the backyard with a 24-pack. My son held the stopwatch, and my daughter held the umbrella. We felt like Ben Franklin with the kite, real guerrilla science. SPOILER WARNING: soda explosions just don't happen anymore, for whatever reason. Give the can 10-15 seconds to "rest," and it'll open like it was never shaken at all. (Also, tapping on the top of the can doesn't do a damn thing.)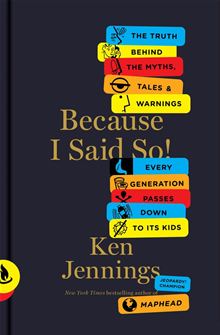 What was the most challenging part about writing it?
I'm discovering the repercussions of writing this book are only beginning. Here is what happens at least once a week at our house now. My wife: "Stop reading in the dark, kids, it's bad for your eyes!" Me (not looking up from phone): "No, it's actually not. Go right ahead, kids." She says I am undermining her parenting, but IT'S NOT ME, HONEY. IT'S SCIENCE. Actually, now it's even worse than that, because my son just read the book cover to cover. So now he's the one saying, "I don't have to sit up straight. It's in Dad's book." So this may be the book that saves millions of childhoods but ends my marriage.
What's your go-to "because I said so" with your own kids?
Writing the book, I found that the research for "go to bed early" is pretty iffy. Some people are just night-owls, and a lot of studies show that evening sleep isn't inherently more virtuous than early-morning sleep. But I still make my kids go to bed at 8:30--or whatever time they're starting to annoy me, really. I tell them it will extend their lives, and, luckily, they haven't asked too many follow-up questions about that yet.
Oh, I also tell them that the car doesn't run if they sing along with the radio. This is not supported by science, as far as I can tell.
Do you have any holiday-themed "because I said so" warnings or traditions?
My parents always told us poinsettia leaves were poisonous, have you heard this one? Not true at all--apparently it goes back to a single misdiagnosis in Honolulu in 1944. So eat all the poinsettia you like, kids. Also, there's never been a single recorded case of anyone getting sick from eating snow.
What's your next project?
I'm writing a series of children's books for Simon & Schuster at the moment. Amazing-true-facts books, which I couldn't get enough of when I was a kid. I told them my only demand was that the book prominently feature an owl wearing glasses and a graduation hat. Kids just trust owls wearing glasses and graduation hats, I don't know why but they do. --Rob LeFebvre, freelance writer and editor
Book Review
Fiction

The Twelve Tribes of Hattie
by Ayana Mathis

The Book of Neil
by Frank Turner Hollon
Sandalwood Death
by Mo Yan , trans. by Howard Goldblatt
The Light of Amsterdam
by David Park
Food & Wine
When I Met Food: Living the American Restaurant Dream
by Kathy Sidell
The North End Italian Cookbook: The Bestselling Classic Featuring Even More Authentic Family Recipes
by Marguerite Dimino Buonopane
Biography & Memoir
Death in Persia
by Annemarie Schwarzenbach , trans. by Lucy Renner Jones
Saul Steinberg: A Biography
by Deirdre Bair
Essays & Criticism
Meet Me at Emotional Baggage Claim
by Francesca Serritella , Lisa Scottoline
Through the Window: Seventeen Essays and a Short Story
by Julian Barnes
Children's & Young Adult

Twelve Kinds of Ice
by Ellen Bryan Obed , illus. by Barbara McClintock
The Almost Truth
by Eileen Cook
Reference & Writing
Because I Said So!: The Truth Behind the Myths, Tales and Warnings Every Generation Passes Down to Its Kids
by Ken Jennings
SOLITUDE CREEK
by Jeffery Deaver
ISBN-13 978-1455517152
Grand Central Publishing
5/12/2015
#4 in the Kathryn Dance Series


an exclusive interview with
NYT bestselling author Jeffery Deaver
SOLITUDE CREEK is the fourth in the Kathryn Dance series, following the amazing, XO. What's in store for Dance this time around?
Oh, mayhem, chaos, and terror, of course! In this novel, Kathryn gets busted down to "buck private" for making a serious mistake during an interrogation; she's relegated to civil work for the CBI, like checking health certificates and bottle deposit receipts. But you can't keep a strong woman down and she secretly runs an investigation on a villain obsessed with turning people's panic into a weapon.
THE BIG THRILL caught up with Deaver to talk about mayhem, chaos, and of course, SOLITUDE CREEK. Read about it here.

ALSO FEATURED ON THE
the big THRILL…
RUINS OF WAR by JOHN A. CONNELL: It took a decade, four defunct novels, and countless rejections before Connell landed a publishing deal. But the hard work and determination paid off. His novel, RUINS OF WAR—a unique, historical thriller set in postwar Germany—is already garnering national acclaim. And Connell, well, he's considered a debut-to-watch. Read about him in THE BIG THRILL.
THE TAPESTRY by NANCY BILYEAU: As a trained Journalist, whose editorial credentials include Rolling Stone and Entertainment Weekly, Nancy Bilyeau understands the value—and importance—of a well-researched novel. Particularly in the case of her Tudor-inspired thrillers. For THE TAPESTRY, the third book in her bestselling Joanna Stafford series, Bilyeau pits her protagonist against none other than King Henry VIII. Check it out in THE BIG THRILL.
THE SHADOW CARTEL by LAYTON GREEN: International man of action, Dominic Grey, has fought cults and criminals all over the globe. In his next escapade, he takes on THE SHADOW CARTEL. We recently sat down with Dominic's creator, Layton Green, and asked the world-traveler-turned-bestseller about his journey to the top of the bestseller list and where he plans to go from here. Catch the whole interview in THE BIG THRILL.
STONE COLD DEAD by JAMES ZISKIN: A taut tale of mystery and suspense that is at once a reminder of how a sleuth got the job done in the era before CSI and an antidote to nostalgia, James Ziskin's STONE COLD DEAD is just too cool to miss. Read all about it in THE BIG THRILL.
DYING BRAND by WENDY TYSON: In the third installment of Wendy Tyson's Allison Campbell mysteries, Campbell ends up investigating the brutal murder of her former boyfriend. As her hunt for truth reveals each secret, Campbell's past and present collide, in a mystery that is not just deadly, but the most personal yet. Get the full scoop on DYING BRAND in THE BIG THRILL.