Shelf Awareness for Readers for Friday, July 8, 2011

Bookselling News
The Hazards of Romance Reading
Will chunky paperbacks soon have to be stamped with a Surgeon General's warning? According to an article in the Guardian, some psychologists believe that reading romance novels may be hazardous to a woman's love life.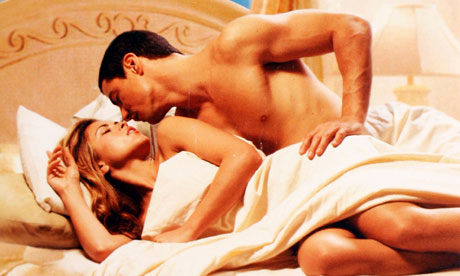 Yes, this steamy news is all contained between the covers of a decidedly unsexy academic journal. The Journal of Family Planning and Reproductive Health Care article was written by psychologist Susan Quilliam, who writes almost plaintively of why she believes Mills & Boon novels (the U.K. equivalent of Harlequins) send cross-productive messages:

"We don't condone non-consensual sex. We want women to be aware of their own desires rather than be 'awakened'. We aim to reassure our female clients that their first time may not be utterly joyful and that they may not gain reliable orgasms through penetration, but that they themselves are nonetheless existentially valid and that with affection and good humour things can improve immensely...."

After arguing for and against romance novels a bit, Quilliam goes on to conclude that "if readers start to believe the story that romantic fiction offers, then they store up trouble for themselves--and then they bring that trouble into our consulting rooms."

Sarah Wendell of Smart Bitches, Trashy Books responded to Quilliam's article: "More than anything, I wish that Susan Quilliam had a better and more recent understanding of the complex and positive portrayal of female sexuality in romance novels. By using an outdated sample, she's maligned the genre, and judging by her credentials and expertise in women's sexual health, she'd be a wonderful asset to our side of the argument in support of romance fiction."
Book Candy: Games (Lit) People Play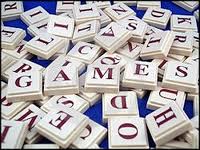 Flavorwire offers a roundup of literary games for "bored book nerds." We like that they mentioned the wordplay that Christopher Hitchens and his circle indulged in (e.g., substituting the word "love" with "hysterical sex" in a book title so that you get "Hysterical Sex in the Time of Cholera"), along with board games, trivia and more. We'd to remind bookish types that anyone with a mobile device can amuse herself and holiday pals with the same sorts of hijinks on Twitter. This week alone there were hashtags such as like #replacewordinafamousquotewithduck and #worstbook.
Great Reads
We Loved It: Anthropology of An American Girl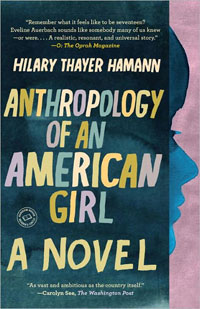 One of my very favorite novels of 2010 has just been published in paperback--Anthropology of an American Girl by Hilary Thayer Hamann (Spiegel & Grau, $16). Reading it last year was an exhilarating experience, and I will never forget this vivid story of growing up female in America. In reviewing it I said, "Where to start with this magnificent book? With the dazzling quality of Hilary Thayer Hamann's prose? With the themes of love and loss, trust and betrayal, innocence and maturity? With the tremendous satisfaction one feels at the end? There are so many ways to praise Anthropology of an American Girl, an exceedingly intense and passionate book; it's a romance in the grand sense, a rich, affecting experience" (Shelf Awareness, May 4, 2010). And it's a glorious and epic novel about integrity, heroism and abiding love. I may just have to read it again. --Marilyn Dahl, book review editor, Shelf Awareness
Further Reading: A Dance with Dragons
The long-awaited A Dance with Dragons: A Song of Ice and Fire, Book Five by George R.R. Martin is out next week and is sure to be snatched up quickly by devotees of the current A Game of Thrones adaptation on HBO. Yesterday, one of my friends mentioned that her father was captivated by Martin's books and wanted more like them, which made me think there might be others out there with the same need. So, if you like Game of Thrones and want more books like it....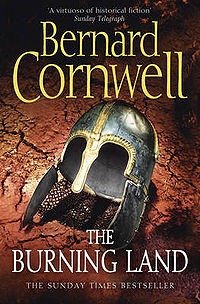 For more on divided kingdoms and plenty of historical detail, try Bernard Cornwell's the Saxon Chronicles series, which includes five titles so far and a new one, Death of Kings, due out in September. If you wind up enjoying Cornwell's writing, he has plenty of other series and standalones to choose from, too.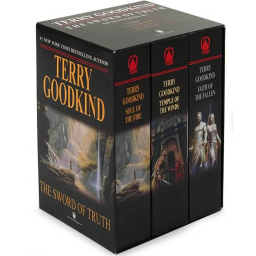 For clangs and clashes as fantasy, the Sword of Truth series by Terry Goodkind satisfies--and goes on for 12 volumes. Goodkind, a master of his genre, knows how to deliver exactly what readers of war and political fantasy want, so if you get started, you'll have plenty of... further reading.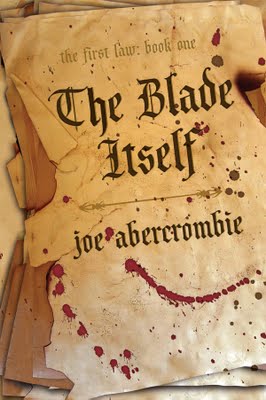 For something more recent and a little different, give Joe Abercrombie's the First Law trilogy a try. It hasn't been entirely well received, but the author's combination of humor and violence has plenty of fans. There is less "good versus evil" and more honor among thieves in these books.
Electronica
Letterpress Meets iPad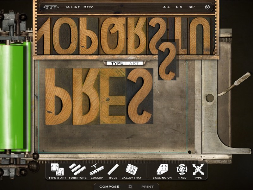 Just because you were born after the great age of the printing press doesn't mean you can't have fun sorting type and stamping paper--virtually. ArtDaily.com wrote that a new iPad app called LetterMpress allows users to "select and assemble vintage wood type and art images, mix colors and ink the type, select paper, and hand-crank the virtual letterpress to produce graphic designs for prints, posters, books, invitations, greeting cards, photo albums and more."
The Writer's Life
Portrait of the Artist: Jeff Abbott
Sometimes fictional characters spring from an author's creative subconscious. Sometimes they're based on historical people. And sometimes... they come from a doodle.
Sam Capra, the hero of Jeff Abbott's newly released thrilled Adrenaline, was born one day when Abbott doodled a picture of a globe. "For some reason, I drew a martini glass under it," said Abbott, speaking by telephone from his home in Austin, Texas. "I thought: What if I had a character who would own bars, bars around the world.... After all, bars are points of entry to communities. But how would this character come to own bars around the world? That's when Sam Capra was born."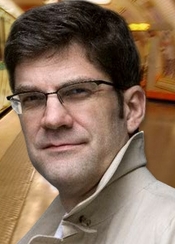 Abbott, who has written more than a dozen books, said he knew when he came up with Capra that he'd be writing a series. "I'll only do a series if I find a great main character, because basically doing a series means that for the next few years--sometimes more than a few--you're going to be married to that person!" He knew he wanted to do something completely fresh, and to give this "Sam Capra" a reason to travel the world without merely wandering. "My choice of his name was deliberate, too. 'Sam' was sort of an internationally flexible name, and so was 'Capra'--plus, I love the movies of Frank Capra and they give me a sense of hope. I wanted to give that to Sam, too."
"I wanted someone who could walk away from an established career, but still be young," Abbott continued. "Readers will learn more about Sam's backstory in the next book, but basically he and his family lived all over the world while he was growing up because his mother and father worked for Episcopal relief missions. His mother did reparative surgery and his father was a financial administrator. So he had sort of a nomadic childhood that allows him to be comfortable in many different places."
Sam Capra is definitely a hero for the new global society, but Abbott points out that there are other things that make him a 21st-century hero. First, his enemies are different. "A lot of the suspense heroes still fight organizations that are very hierarchical, like the Mafia," Abbott noted. "But today, with 20% of the world economy drawn from illicit sources, criminal organizations have changed. They've branched out into separate 'cells,' each with an expertise. Groups can snap together and apart like Lego blocks, which makes it very hard to break them."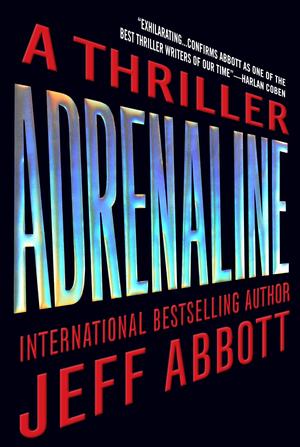 Abbott emphasized that he was interested in finding a new type of protagonist who would have the skills to handle a new type of threat. "Criminals love it when society and community feel weak. That's an opportunity for them," he says. "Criminals with very large aspirations are really fun to write about, and they're also really fun to pit an individual against. Sam Capra doesn't want to give up on things. He wants to believe in the goodness of people, and he does believe there are things worth fighting for in this world."
Without giving away anything that happens in Adrenaline, we can say that Sam knows what it is to be wronged. "He doesn't want anyone to have that same feeling," Abbott said. "He may never have a normal life again, but he wants to have a normal life again, he wants other people to have that opportunity."
Interestingly enough, one of Capra's skills led Abbott to a person who gives others the opportunity for normal lives. In the first chapter of Adrenaline, we follow Capra as he engages in the sport of parkour, which originated in France and is a way of getting from one place to another by running, jumping and climbing without stopping, if possible. Says Abbott, "Parkour is a way to get from point A to point B with maximum speed; it's a good metaphor for what Sam needs to do." It's also a young man's sport: "Jack Reacher is not doing parkour!" Abbott said with a laugh, referring to his fellow author Lee Childs's famed protagonist.
When Abbott decided to use parkour and to set his book's opening in London, he also arranged to meet that city's top traceur, as parkour runners are known. "This guy took me through parts of the city where he does practice runs--but he also took me to training programs that he does for underprivileged kids. Not only does he show them fitness moves they can do in their own neighborhoods, he helps them to build confidence."
Sam Capra's athletic temperament means that he's not a big drinker, but he does love bars, their atmosphere and well-mixed cocktails. In the next Capra book, At the Last Minute, we'll learn more about Sam's new bars, as well as his motivation, family and intriguing good-guy (good-gal?) boss, Mila. Abbott already has a "cocktail of the week" featured on his blog, and a YouTube channel for Sam Capra's favorite cocktails. "At BookExpo, the drink--recipe cards, including the Sam Capra Cooler and the Adrenalin Martini, went instantly," Abbott said. Here's to Sam Capra and to author Jeff Abbott's success!"--Bethanne Patrick
Book Review
Fiction
A Good Hard Look
by Ann Napolitano
A Bouquet of Barbed Wire
by Andrea Newman
Lola, California
by Edie Meidav
Parts of a World
by A.G. Mojtabai
The Bolero of Andi Rowe: Stories
by Toni Margarita Plummer
Mystery & Thriller

The Hypnotist
by Lars Kepler , trans. by Marlaine Delargy
You're Next
by Gregg Hurwitz
Very Bad Men
by Harry Dolan
Science Fiction & Fantasy
Vortex
by Robert Charles Wilson
Nonfiction
Always On: How the iPhone Unlocked the Anything-Anytime-Anywhere Future--and Locked Us In
by Brian X. Chen
Children's & Young Adult
Withering Tights
by Louise Rennison
Lost Voices
by Sarah Porter
The Invasion of the Potty Snatchers
by George Beard , Harold Hutchins
--- SPECIAL ADVERTORIAL OFFERINGS ---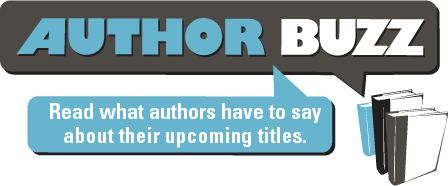 Dear Reader,

When I first set up a "demon graveyard," of sorts, for my Demonica/Lords of Deliverance series, I never imagined that the characters who populated it would become so central to the series. But here we are, following up the Grim Reaper's story with that of his right-hand man, Hades.

Dark, lethal, and a little playful, Hades will take a beautiful, brave fallen angel on a journey that will lead them both to danger and, possibly, love.

Please write to 1001DarkNights@gmail.com to win one of five copies.

http://www.1001darknights.com/authors/2015-books/larissa-ione-hades/




Publisher: Evil Eye Concepts, Inc

Pub Date: 5/26/15

ISBN: 978-1-940887-54-8

List Price: $2.99