Shelf Awareness for Readers for Tuesday, April 3, 2012
Book Candy
Hemingway; Book Landscapes; Honest Bookshelves
An "incredible
hand-drawn stop-motion version
" of Ernest Hemingway's
The Old Man and the Sea
was showcased by Flavorwire, which noted that the "effect is less like watching a movie than reading a picture book as it's being created."
---
And if that's not enough Papa H. for you, Buzzfeed asked
Hemingway to preview the upcoming National Football League Draft
.
---
Still life with tomes. Joel Robison really loves books... and photography. Book Patrol noted that "one of the objects he consistently pays homage to are
books as they permeate many of his landscapes
."
---
Tom Cox explained how to "
reorganize your bookshelf using the honesty system
," noting that for his own collection, he "wanted to find a scheme where I didn't get the constant sense that the worthy books I'd repeatedly chickened out of reading were getting together to look down their noses and whisper about me."
---
The
Harry Potter Alphabet
. Buzzfeed asked: "How well do you know the characters?"
---
To celebrate National Stuff That Was Popular When You Were a Kid Day last week, Mental Floss gave readers the
Bobbsey Twins quiz
.
---
Sherwood Anderson fires himself
. In 1918, while working as a copy-writer for an advertising agency, the future author of
Winesburg, Ohio
wrote a resignation letter that began: "You have a man in your employ that I have thought for a long time should be fired. I refer to Sherwood Anderson."
---
Design Milk featured Ka-Lai Chan's limited edition
SheLLf bookcase
, praising "the cool visual effect of the shelf growing big in the center and tapering on the edges."
The Writer's Life
Grace McCleen: Darkness and Light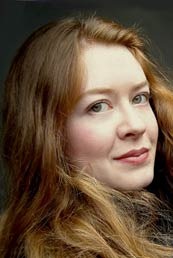 In Grace McCleen's debut novel, The Land of Decoration (Holt), 10-year-old Judith McPherson lives an isolated life. To fill the void she creates a world of her own, the Land of Decoration, constructed with bits and pieces of rubbish and other discarded treasures she finds. Judith takes on the role of God in her microcosm and soon learns there are unforeseen consequences to every action, no matter how good that action initially seems.
McCleen was born in Wales and grew up in a fundamentalist religion where she did not have much contact with nonbelievers. Her family moved to Ireland when she was 10, where she was schooled at home. When Grace and her family moved back to Britain she studied English Literature at Oxford University and the University of York before becoming a full-time writer and musician. She lives in London.
You began writing this novel during a period of illness--was this the first opportunity you had to take the leap?
I'd always wanted to write a novel; I wanted it so much in fact I might never have got around to it (as is often the case with the most consuming ambitions) unless I had been laid up ill and not able to do much else. It wasn't the first opportunity; I could have made time before but I was so terrified of beginning and wanted it to be astonishing and enduring, so I didn't.
How was taking that first step in reality as compared to the fears in your mind?
I was able to overcome the terror because I realized that this was life forcing me to do what I would otherwise always run away from. Taking the step was just as awful as I had imagined and nearly every sentence I wanted to stop. It was a sort of agony. I'd rather go through extreme physical pain than do it again.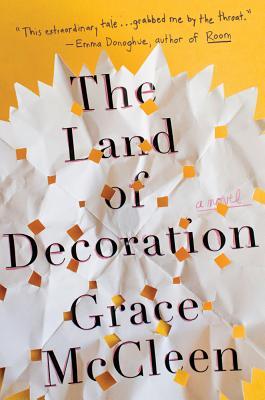 Based on your life story, The Land of Decoration seems to have an autobiographical feel to it. How close are Judith's experiences to your own?
Not very close at all, if you are talking about particular instances or events, but the emotions are very similar--emotions such as grief, fear, rage, etc. I was also extremely isolated and create worlds.
Like Judith, you create "little people." Judith's are creatively fashioned from rubbish but yours are more expertly crafted. What started the fascination with these little people? How did creating worlds become a coping mechanism for you?
Why I began making the little people I have no idea; six months down the line it has become an obsession, I was waking to make more at night, waking up in a sweat, trying to finish them, having panic attacks. Every project is that way for me. I suppose I would have always made the little people at some point, I love tiny things and so it was inevitable.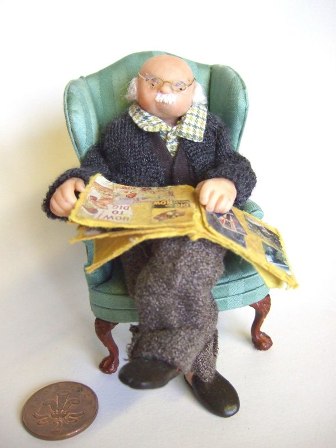 I don't know how much making other "worlds" helped me cope but I did it--do it--continually, so I guess my subconscious thinks it serves some purpose; I find it pretty difficult interacting in the real world, I suppose.
You've also written songs. If you were to give Judith a theme song, what would it be?
An unusual question--I don't think any of my songs on my website suit her but the childlike sound of "The Boat of Sound" would work well, as would the subject matter of "Holy Smoke," which is all about faith.
Growing up, what kind of experiences did you have reading?
I read mostly children's picture books until I was 16, which are still one of my favourite types of literature, and I wanted to write one and illustrate it for many years. The atmosphere in my favourite children's picture books is still unsurpassed by anything else I have read, probably because in childhood we are so much more susceptible to impressions. I also read the Bible and was very well versed in it as a religious text. But when I began writing The Land of Decoration, I saw that I had imbibed just as much from it in a literary way.
When I was 15, I began reading literature and haven't stopped since. I read literature at Oxford and afterwards did an MA by research at York University.
Do you have authors you especially favor or specific types of books?
The Brontes, Herman Melville, Woolf, Cormac McCarthy, Marilynne Robinson, J.M. Coetzee, Franz Kafka, W.G. Sebald. Books that attempt to express the spiritual experience we humans have in the world--not religious experience; it could be the experience of being in love, the experience of drinking a cup of tea, the experience of picking up excrement from a pavement, the experience of breaking apart. All these writers are also masters of metaphor; metaphor becomes the guiding principle in their work, pointing to something higher than us, something transcendent. They all go as deeply into the darkness of the soul as they can, they deal with extremes (Robinson in the subtlest way of all), and some of them come back. (I don't think Kafka and Sebald do; Robinson definitely does; Melville--well, seeing as he is the god of gods, it's anyone's guess).
You hit a pretty significant depth of darkness in The Land of Decoration--and in your own personal faith as well, it seems--how difficult did you find it to come back?
That's a good question. I haven't come back at all. It is a particularly dark time of my life at the moment.
We truly hope the publication of The Land of Decoration can bring some light to your life. It's a stunning work. What, if anything, do you hope people can take away from the experience of reading your novel?
Thank you so much for your kind words. If people take anything away from it, I hope it is to ask questions: How closely related are belief and imagination? Can we ever take any action that will not affect us in turn? Can the bravest thing in the world be to open ourselves up to love and to confess it? And lastly I hope they stop a moment to digest the short metaphysical passages in between some of the chapters, in which all the dichotomies of life as we know it are explored. Inside and out, something and nothing, energy and matter, space and time, darkness and light--basically all the marvels of our universe, which are very moving when you think deeply about them, and to some people point to some higher power, some beauty, some order, some majesty at work. They draw on the spiritual writers I was reading when I was ill because I was desperately looking for something other than this world, writers like Einstein and Emmanuel Swedenborg and William Blake and Emily Dickinson and Dame Julian of Norwich and Walt Whitman.
What's next for you?
What's next for me is to finish writing my next book, and then music, performing it. --Jen Forbus of Jen's Book Thoughts
Inklings
'Not That Again'

Remember when you were small and stuck at family gatherings, parked next to dear old Uncle Frank, hearing for the umpteenth time his story of how he blew out all the tires on Grandfather's car?
I try not to be Uncle Frank. But if you pick up one of my series novels (Mrs. Murphy, Sister Jane, Six of One or the Nevada series) without reading the first, what do I do? Well, pray, perhaps. But I recall Mother intoning, "God helps those who help themselves." So you need to know about those four blown tires, so to speak, because facts are essential to character and series. Back in the 6th century B.C., Heraclitus said, "Character is destiny." A writer would do well to memorize that. So would a politician.
The other fence a writer must vault over is the relationships between standing characters. Are they married? Did they ever have an affair? Are they best friends? What do they share? Class or racial bias? Are they hiding something like homosexuality? Are they emotionally honest?
A character can be a moral paragon and deeply unlikable. What do the other characters make of this person? In the South, the response will be consistent; the South has a place and a phrase for such people which every other Southerner understands just as they understand you never call your unmarried aunt who is ugly as a mud fence just that. If you have a scrap of breeding, you will refer to her as "an unclaimed treasure."
Somehow I have to transmit this without bogging down the plot. Sometimes I succeed, sometimes I don't. That is why one has editors.
Often a person will ask me how I keep returning to the same territory. Do I get bored? No more than I get bored with my family and friends, which is to say sometimes yes, sometimes no. And sometimes, I could just kill them. In the books, I really can.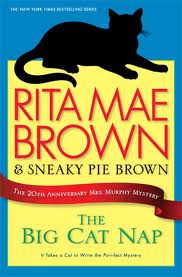 The reward for all this is I laugh when I write; sometimes the smoke comes out of my ears, and sometimes I cry. I love the English language, so I generally have a wonderful time. The other reward and one I never considered when I started writing in high school was that many people hear an echo in my books, whether it is the series or the stand-alone books (e.g., Rubyfruit Jungle and The Sand Castle).
It really is call and response, but then, I'm a Southerner. It's second nature. --Rita Mae Brown, whose latest book, with Sneaky Pie Brown, is The Big Cat Nap: The 20th Anniversary Mrs. Murphy Mystery (Bantam)
Literary Lists
New Parents; Father & Son; Myths for Grown-ups
For the PageViews blog, Minh Le compiled a literary guide for the new parent, choosing "some complementary book pairings: a 'grown-up' book and its picture book counterpart. These pairings offer a bridge between reading worlds by featuring recognizable characters, similar styles, and parallel themes. And most importantly, none of these pairs feature any (overt) messages about the joys of pooping."

---

Children's author Tony Bradman, who has written several books with his son Tom, shared his top 10 father and son stories in the Guardian.

---

In the latest edition of NPR's Three Books series, Lyndsay Faye, author of The Gods of Gotham, recommended a trio of magical myths for grown-ups, noting: "For some, the tingling sensation of magical lands fades after leaving childhood behind. But I still peer curiously into wardrobes, and thus here are three blazingly intelligent adult novels for the untamable Alice in all of us."

---

Leah Konen suggested five "young adult books adults will love" at the Huffington Post.

---

Glenn Patterson, author of The Mill for Grinding Old People Young, chose his "top 10 Belfast books" for the Guardian.
Book Review
Fiction
The Good Father
by Noah Hawley
Divorce Islamic Style
by Amara Lakhous , trans. by Ann Goldstein
A Surrey State of Affairs
by Ceri Radford
Mystery & Thriller
Elegy for Eddie: A Maisie Dobbs Novel
by Jacqueline Winspear
Blood in the Water
by Jane Haddam
Ashes to Dust
by Yrsa Sigurdardottir
Current Events & Issues
The Crisis of Zionism
by Peter Beinart
Religion
The New American Haggadah
by Jonathan Safran Foer, editor , trans. by Nathan Englander
Children's & Young Adult

Grave Mercy: His Fair Assassin, Book 1
by Robin Lafevers
Caddy's World
by Hilary McKay
Pets
Kitty Cornered
by Bob Tarte
Parenting & Family
I've Had It Up to Here with Teenagers
by Melinda Rainey Thompson
SOLITUDE CREEK
by Jeffery Deaver
ISBN-13 978-1455517152
Grand Central Publishing
5/12/2015
#4 in the Kathryn Dance Series


an exclusive interview with
NYT bestselling author Jeffery Deaver
SOLITUDE CREEK is the fourth in the Kathryn Dance series, following the amazing, XO. What's in store for Dance this time around?
Oh, mayhem, chaos, and terror, of course! In this novel, Kathryn gets busted down to "buck private" for making a serious mistake during an interrogation; she's relegated to civil work for the CBI, like checking health certificates and bottle deposit receipts. But you can't keep a strong woman down and she secretly runs an investigation on a villain obsessed with turning people's panic into a weapon.
THE BIG THRILL caught up with Deaver to talk about mayhem, chaos, and of course, SOLITUDE CREEK. Read about it here.

ALSO FEATURED ON THE
the big THRILL…
RUINS OF WAR by JOHN A. CONNELL: It took a decade, four defunct novels, and countless rejections before Connell landed a publishing deal. But the hard work and determination paid off. His novel, RUINS OF WAR—a unique, historical thriller set in postwar Germany—is already garnering national acclaim. And Connell, well, he's considered a debut-to-watch. Read about him in THE BIG THRILL.
THE TAPESTRY by NANCY BILYEAU: As a trained Journalist, whose editorial credentials include Rolling Stone and Entertainment Weekly, Nancy Bilyeau understands the value—and importance—of a well-researched novel. Particularly in the case of her Tudor-inspired thrillers. For THE TAPESTRY, the third book in her bestselling Joanna Stafford series, Bilyeau pits her protagonist against none other than King Henry VIII. Check it out in THE BIG THRILL.
THE SHADOW CARTEL by LAYTON GREEN: International man of action, Dominic Grey, has fought cults and criminals all over the globe. In his next escapade, he takes on THE SHADOW CARTEL. We recently sat down with Dominic's creator, Layton Green, and asked the world-traveler-turned-bestseller about his journey to the top of the bestseller list and where he plans to go from here. Catch the whole interview in THE BIG THRILL.
STONE COLD DEAD by JAMES ZISKIN: A taut tale of mystery and suspense that is at once a reminder of how a sleuth got the job done in the era before CSI and an antidote to nostalgia, James Ziskin's STONE COLD DEAD is just too cool to miss. Read all about it in THE BIG THRILL.
DYING BRAND by WENDY TYSON: In the third installment of Wendy Tyson's Allison Campbell mysteries, Campbell ends up investigating the brutal murder of her former boyfriend. As her hunt for truth reveals each secret, Campbell's past and present collide, in a mystery that is not just deadly, but the most personal yet. Get the full scoop on DYING BRAND in THE BIG THRILL.