WI7: So Far, So Lively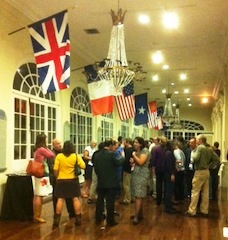 Many of the 500 booksellers who are attending the seventh annual American Booksellers Association's Winter Institute in New Orleans, La., came to the opening reception last night at the Cabildo, the Louisiana State Museum, where the Louisiana Purchase was signed. Among topics of conversation: strong holiday sales, which are continuing into January at some stores, as well as the importance of trying a beignet while in the Big Easy.
WI7 begins this morning with a plenary session featuring author and new bookseller Ann Patchett as well as Ingram CEO Skip Pritchard. At lunch, James Patterson speaks about how the industry can encourage young readers, and later Douglas Brinkley talks about the recovery of New Orleans. In the afternoon, the first wave of Winter Institute sessions focuses on information gleaned from Book Stats, the Census and ABACUS, the ABA's own membership survey of financial information.
---

---