E-Books: Turned On and Off Like a Spigot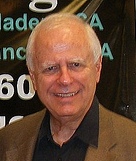 Bill Petrocelli, co-owner of Book Passage, Corte Madera and San Francisco, Calif., takes exception to Tim Parks's comments on the beauty of the e-book (quoted in yesterday's issue), particularly the last paragraph, which read, "Add to that the e-book's ease of transport, its international vocation (could the Iron Curtain have kept out e-books?), its indestructibility (you can't burn e-books), its promise that all books will be able to remain forever in print and what is more available at reasonable prices, and it becomes harder and harder to see why the literati are not giving the phenomenon a more generous welcome."
Does he not realize that e-books exist only in the cloud and can be turned on and off like a spigot? The e-book burners of the future won't have to round up all of the copies and put on them on a big pyre. They could achieve the same thing with the push of a button.
For Petrocelli's own take on e-books, see his column in the Huffington Post.
---

---