Capitola Book Café Starting Nonprofit, Fundraising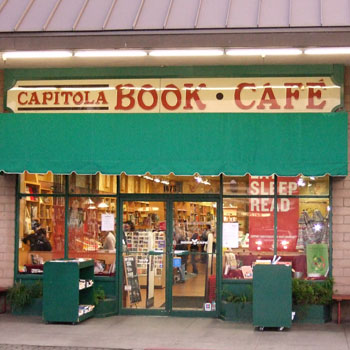 In the face of "the increasing challenges of online competition and the ongoing downturn in the economy," Capitola Book Café, Capitola, Calif., is restructuring its business in a way that several other independents, such as Kepler's in Menlo Park, Calif., have done recently.

Under the "hybrid" approach, the store's basic bookselling operation will remain a for-profit venture and will focus on "the business of selling books." Plans include, the store said, "streamlining the store's retail space, increasing its in-store book inventory, expanding its website offerings for e-books and direct-shipping of online orders, and refining its role as a cultural hub through the sale of unique products such as local art, antiques and handmade crafts."

At the same time, Capitola Book Café is creating a 501(c)(3) nonprofit called Books Belong that will manage and operate the store's events, education and outreach. Books Belong will be able to receive grants and donations from businesses and individuals.

Hoping to raise $285,000, the store is launching a six-week "Survive & Thrive" fundraising campaign that will run from May 20 through June 30. By raising that amount, the campaign aims to stabilize the store's "fiscal foundation (a result of the past five years' decline in sales), fund the transition to the new model (including development of the 501(c)(3)), and create a solid foundation from which to operate both entities going forward."

The campaign launches on May 20 with a "Survive & Thrive" kickoff party and fundraiser at the store that includes food, beer, wine, live bluegrass music by Windy Hill, and a silent auction that will feature donations and works that range from local artists and businesses to nationally known authors and publishers."

The store will offer a range of donation opportunities, including the "Books Belong Bookshelf Dedication" campaign, allowing customers "to honor their love of reading through permanent shelf plaques."

"This is an all or nothing effort," co-owner Wendy Mayer-Lochtefeld said. "We have a relationship with our community and were not prepared to give up without offering them an option for success. We believe this evolution creates a 21st century model for sustainability and growth in a neighborhood like ours. And we're going to need the community's help to make it happen."

photo: www.bookstorepeople.com
---

---