Bestsellers Café Re-Opens After 'Temporary' Five-Year Reno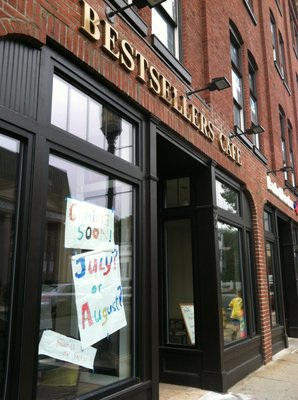 In the worst case of disastrous construction delays we've ever heard of, Bestsellers Café, Medford, Mass., reopened last Thursday, more than five years after it shut down for renovations on its 19th-century building that were supposed to last five months.

Owner Rob Dilman said on Facebook, "the permits are in order, books have been discounted, food has been ordered, new books (plenty) have arrived, and the staff are anxious to meet everyone and welcome the community, too!" The store's grand re-opening celebration will be held this coming weekend, August 11 and 12.

During the hiatus, Dilman had another job and sold some books. Customers repeatedly asked when he would reopen. As the re-opening of Bestsellers Café approached, the Boson Globe wrote, Dilman has had "the curious task of relearning his own business with a new staff working in an unfamiliar layout." A major change at the store whose name emphasizes what's selling: Dilman has dropped the New York Times bestseller list and is using IndieBound's list. He's also planning to bolster the store's e-commerce, expand the events program and offer space for meetings and performances for small groups.

The construction delay occurred because Bestsellers Café's building on Medford Square was erected in 1860 on riverbank mud, making its foundation shaky. It took three years to secure the foundation by driving girders to the bedrock. Then the interior was gutted and rebuilt, and office space above the store was converted to condos. Not surprisingly, landlord Michael Casoli called the process "a horror show." Casoli has given the store free rent for almost two years and isn't charging for rebuilding the space, which now features bamboo floors and French doors overlooking the Mystic River.

Bestsellers Café is located (again) at 24 High St., Medford, Mass. 02155; 781-391-7171.
photo: Yelp.com
---

---