WORD Opening Second Store, in Jersey City, N.J.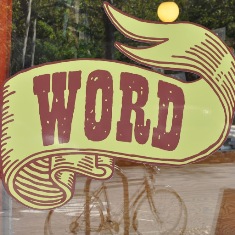 WORD in Brooklyn, N.Y., is opening a second location, in Jersey City, N.J., by the summer. The new store will be about 2,500 square feet--larger than the Brooklyn store--and have a café. It's located on Newark Avenue, near the Grove Street PATH station, and will be called either WORD or WORD Books & Café.

The new store's inventory will be "very similar" to the Brooklyn store but with an expanded kids section, owner Christine Onorati said. The café will also be used as an event space, allowing the Jersey City WORD to hold "a thriving literary event calendar as we do in Brooklyn," Onorati continued. "I have very high hopes for this new store, and I'm excited to help foster the vibrant, literary, community-focused spirit of Jersey City."

Onorati explained her decision to open a store on the other side of the Hudson River: "We have family in Jersey City whom we have visited often for the last 10 years or so. While opening a second store was never really my plan, I have watched the neighborhood change and grow in recent years, and when my cousin opened a small Italian eatery in downtown Jersey City late last year, I was finally convinced that the area needed a bookstore and community hub. I think Jersey City is the perfect place to bring WORD, and I have been incredibly excited by the response we've received in just the last few months we've been talking about it."

The second-largest city in New Jersey, Jersey City is much like Brooklyn: it has a large office building district, a beautiful historic downtown, many residents in the arts and many residents who are refugees from Manhattan, which is easily accessible.

Onorati opened WORD in the Greenpoint section of Brooklyn in 2007.
---

---