DBW: Children's Publishing Goes Digital
Who owns the stories children read? The author, the artist, the publisher, the reader? Who owns the market share? The school library, Amazon, the independent bookstore?
These were some of the questions debated yesterday by children's publishers, platform creators and data collectors at "Children's Publishing Goes Digital," a preconference to Digital Book World sponsored by Publishers Launch at the McGraw-Hill Auditorium in New York City.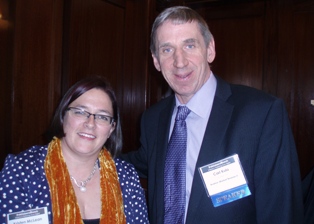 Carl Kulo of Bowker and Kristen McLean of Bookigee.
In "Sizing Up the Kid's Book Market," Carl Kulo of Bowker and Kristen McLean, CEO and founder of Bookigee, shared key findings from their November 2012 survey. Even as they noted a decline in bookstore and library influence, and friends and family now rank as the top influence, the bookstore and public library are still the best places for children and parents to discover books. Parental attitudes toward kids' e-books are still evolving. Parents show a preference toward print for their children, while parents surveyed are tracking at 42% e-book readership.
McLean said, "Teens' attitudes toward e-books are 'snapping back' to print in this survey." Though she's not sure if this will be a "continuing trend," she did point out that "Teen e-book adoption does not align with sales," a point that Kulo had emphasized at November's Publishing Perspectives conference and reiterated yesterday. "Only 16% of YA books are being purchased by teens," Kulo said. "62% of YA books are bought by 18- to 29-year-olds." Overall, the children's book market is "extremely stable," said McLean. But online purchasing for children's books is up, so McLean asks, "If we lose that opportunity for exploration, how do we replicate that?"
Some presenters suggested that we solve it through platforms. Kashif Zafar and Matt Warner of Barnes & Noble and Nook Kids said there's a move away from buying on BarnesandNoble.com and toward readers purchasing books directly through their Nooks. Lists became "the preferred method of on-device discovery," said Zafar. Deborah Forte, president of Scholastic Media, talked about Storia, a new platform for reading, as what she calls "the school-to-home connection" and as a means of discoverability. "No one has done that better than Amazon," Forte said. "How can we do that better?"
On the educational front, Neal Goff, of Egremont Associates, suggested publishers get involved with the Learning Resources Metadata Initiative, which offers guidelines to the right metadata so teachers can find trade books through Google and Bing. Teri Souter, a founder of Brain Hive, discussed a new model for providing an e-book library of 3,700 titles to schools. Membership is free; there's a $1 fee to use the library, "a brainhive buck" for every checkout, 14 days maximum. It's billed monthly based on circulation. Souter hopes other publishers will add their e-books on a shared-revenue basis.
Other publishers discussed new ways of engaging kids in story that they're exploring--Jess Braillier, whose Poptropica launched the Wimpy Kid franchise; Christian Dorffer of Magic Town; Asra Rasheed of RRKidz, the new Reading Rainbow app; and Dominique Raccah, who announced that Sesame Street Workshop has just signed on as a partner to her new program at Sourcebooks, Put Me in the Story, in which a child can place himself or herself in a book as a character.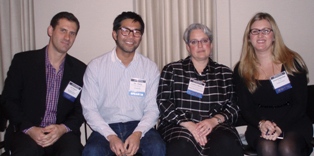 Rethinking Intellectual Property: Jon Yaged, Eric Huang, Corinne Helman, Swanna MacNair
Eric Huang, director, new business and IP acquisitions at Penguin, Macmillan's Jon Yaged, Corinne Helman of HarperCollins and Swanna MacNair from Creative Conduit discussed the challenges of trying to take classic characters into different realms in "Rethinking Intellectual Property." Huang differentiated between the example of Peter Rabbit, for which Penguin is a co-development partner, and material he's originating, such as Edmund and Cecile, a fairy-tale brand that will launch as an app first. Yaged said that the decision to launch Macmillan's Priddy Books apps came largely because Macmillan owned the rights. "It's easier when you own everything, but my most successful examples are based on traditional license projects," Helman explained. "We buy 400 books a year, and we can't afford to buy transmedia rights for all of them. We make a book a success, and everyone else benefits."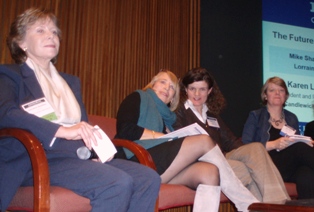 Lorraine Shanley, Market Partners; Barbara Marcus, Random House; Karen Lotz, Candlewick; Kate Wilson, Nosy Crow.
In a closing panel, "The Future of Children's Publishing in the Digital Age," Barbara Marcus, president and publisher of Random House, noted, "The consumer is king in digital." Gone are the restrictions of "YA" versus "adult" physical book sections. Kate Wilson, managing director of Nosy Crow, an app and book developer in the U.K. and the U.S., expressed concerns about the fate of bookstores: "They cannot live by children's books alone," Wilson said. "And in a context when adult books are shifting more rapidly [to e-books], that has important implications for all of us." Candlewick's Karen Lotz articulated the role of the publisher in this brave new world, "What goes first are the deals with the highly recognized properties. What is our role as publisher in figuring out how to be financial stewards of the properties we have?" --Jennifer M. Brown
---

---