Walter Dean Myers on 'The State of Our Union'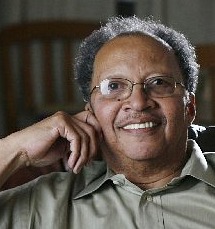 "This is my second year as National Ambassador for Young People's Literature, and I plan to spend the year writing for young people and also educating parents, guardians and teenagers about how America's literacy gap can be solved.... I'll be writing about how teenagers, especially boys, can overcome their feelings of being defeated and how they can get back into the game. Working with the Library of Congress, and the Every Child a Reader Foundation, I hope to make a small difference and look forward to the year doing what I love."
--Author
Walter Dean Myers
on PBS
Newshour
's "
The State of Our Union
," which has been reaching out to people featured in the program's arts and culture stories last year to check on the state of their lives now and what they foresee for 2013.
---

---