'The Book Grapevine at Its Finest'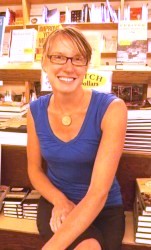 "This week I finished reading Eleanor & Park by Rainbow Rowell, and it... is... AMAZING! The book was brought to my attention by a customer, who wanted a copy because it had been recommended by the amazing author, John Green. Let's do a very basic flow chart: John Green recommends Eleanor & Park > Customer reads recommendation & contacts local bookseller to request a copy > Local bookseller puts copy on hold for customer & also grabs a copy for herself > Local bookseller reads book, loves it, and now recommends it to other customers. That, my dear book loving friends, is the book grapevine at its finest."
--Lindsey McGuirk,
Village Books
, Bellingham, Wash., in the store's newsletter.
---

---