Booksellers Coping After the Boston Marathon Bombing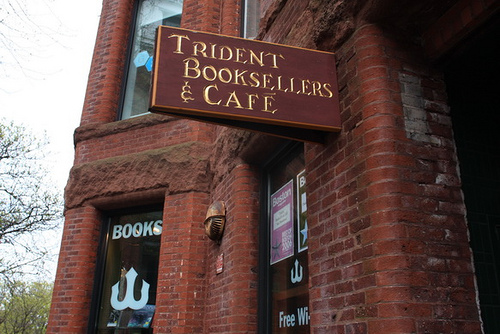 photo: City Rover Media
"Just picking ourselves up over the last day has taken an enormous amount of energy," said Courtney Flynn, marketing and events coordinator of Trident Booksellers and Cafe in Boston, Mass.

The Trident is only a few blocks away from the intersection of Exeter Street and Boylston Street, where two bombs exploded on Monday afternoon during the Boston Marathon. Approximately a half hour after the bombs went off, killing three and wounding more than 100 people, police came and evacuated the store and cafe.

"We had many, many customers in here," Flynn said. "People were in the middle of their meals in the cafe. The whole street was closed. Yesterday we were able to get in and open semi-normally."

Flynn described an extremely fraught afternoon as she and many others in Boston who were eager to check in with and reassure family, friends and loved ones were unable to make outgoing phone calls. Text messages were "hit and miss." There were several Trident employees on Boylston Street, but no one was injured. Flynn's brother, who ran in the marathon, was unharmed. Said Flynn: "Everyone had some connection."


Carole Horne, general manager of Harvard Book Store in Cambridge, Mass., described a similar experience. "Our first response was getting in touch with everybody, seeing if everybody was okay."

Several Harvard Book Store staff members live near the site of the bombing, and others were volunteering at the marathon. One of them, Horne related, was "pretty close" to the explosions. All of them, however, made it out all right.

The store remained open for the rest of the day, although a Monday evening event with Adam Grant, author of Give and Take: A Revolutionary Approach to Success (Viking), was cancelled. As of Tuesday afternoon, Horne was unsure if Grant's appearance would be rescheduled, but an event planned for that night went ahead as usual.

The store also remained open on 9/11, and Horne remembered many customers appreciating that there was a place to go that "seemed as normal as things get in those sorts of circumstances."

After the perpetrators of the 9/11 attacks became clear, employees of the Harvard Book Store and several other booksellers in the area came up with a list of books on relevant political, social and historical issues. As more details about the Boston Marathon bombing become clear, Horne expects that they will do something similar.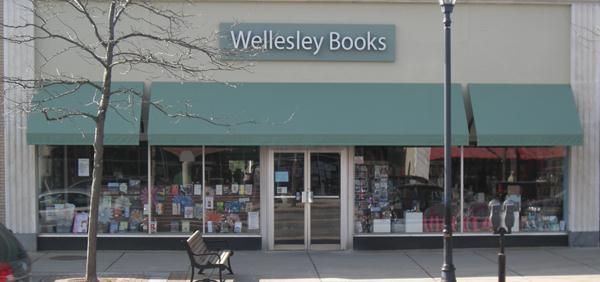 Kym Havens of Wellesley Books in Wellesley, Mass., described the events of Monday as surreal. "We were at mile thirteen [of the marathon route], watching people go past all day. Half an hour after the street was opened back up, we heard about the bombing."

None of the store's employees who had that day off were injured in the blasts, and Wellesley Books stayed open for the rest of the day. Havens, who is an assistant manager, kept the store open until nine, even though it was scheduled to remain open only until six. Although few customers came in that night, Havens and her co-worker kept busy by reorganizing books and reordering shelves. A handful of the customers who stopped by even helped with the shelving. "It was very therapeutic," Havens said. "There are few things more therapeutic than moving and organizing books. The store was a good place to recoup."

The strangest part of the day came Monday evening, when Havens watched policemen empty the trash bins outside the store. "They were checking trash cans all up and down the route," she said. "Wellesley is very slow at night. You never see four police at one time in Wellesley."

Havens, who writes the bookstore's newsletter, related that she had struggled for a while to write anything meaningful about the attack on Monday.

"So many great things have already been so well said," explained Havens, citing several pieces written by local authors, including Dennis Lehane. "What is there to add? And how do I transition from that to something about a cooking event? Eventually I stopped worrying and just wrote it, and it turned out okay." --Alex Mutter
---

---