Plot Thickens for Rowling/Galbraith Novel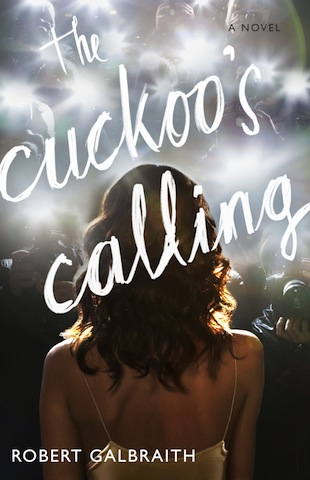 The intriguing and devilish case of Robert Galbraith's The Cuckoo's Calling continues to unravel after the big revelation earlier this week that J.K. Rowling wrote the crime novel, which has instantly risen from near anonymity to bestseller status.

Mulholland Books is going back to press for 300,000 hardcover copies of the book with a cover note identifying Galbraith as a pseudonym for Rowling.

A handful of fortunate readers currently own a signed copy of the novel, and bids for them "have topped $1,000 on eBay," according to the Associated Press. Rowling spokeswoman Nicky Stonehill said the author signed "a few copies."

"Yes, those books will have value," said Angel Webster of Bauman Rare Books in Manhattan. "The first edition is already a scarce commodity, and she only signed a handful of them under vague circumstances."

Bookstores were "in a mad dash to secure copies," the Modesto Bee reported. The Avid Reader at Tower in Sacramento did not have the book in stock when the news broke, and staff members were "trying to locate copies of the novel from a variety of distributors." By late Monday, the store "had indeed managed to secure a small shipment of the book from a distributor." Manager Don Kochis said what really makes an independent bookstore is having "books that people want or being able to get them in short order."

Boswell Book Company, Milwaukee, Wis., sold its only copy shortly after opening Sunday and owner Daniel Goldin told USA Today he took 25 calls from readers, including a woman "who told me she had called about 50 stores around the country looking for a copy."

Forbes magazine suggested that "the real winners here are the online e-book stores.... With book shops genuinely caught out and lacking stock (surely the biggest sign this wasn't some fascinating long-con), anyone who wanted a copy of The Cuckoo's Calling was going to have to go digital. The Kindles of the world are likely going to be the only place to read the adventures of Strike for the next few days. It wouldn't surprise me if the book turns out to be one of the biggest selling e-books of the year--from the lowest reaches of the charts sales rocketed 158,000% and it hit the number one spot on Amazon."

Stephen King, who wrote several novels under the pseudonym Richard Bachman, cheered Rowling's decision, telling USA Today that "Jo is right about one big thing--what a pleasure, what a blessed relief, to write in anonymity, just for the joy of it. Now that I know, I can't wait to read the book."

Also in the USA Today, Shelf Awareness's own John Mutter questioned whether there could be a marketing method to the retail madness, noting it is "easy to imagine that the 'leak' (to the British newspaper) was countenanced. Her statement had none of the anger of someone whose secret was compromised.... It'll be interesting to find out how much Little, Brown knew and when... If they knew early on that Galbraith was Rowling, I can imagine she swore them to secrecy. And what publisher wouldn't obey such a request from J.K. Rowling?"
[Editor's note: Mutter adds that if Rowling and the publisher decided to make the author's true identity known, it may have been more to help the book find the audience Rowling thought it deserved than a simple financial consideration.]

This morning, the Bookseller reported that Rowling's spokesperson Nicky Stonehill said, "We can confirm the story in the Sunday Times was correct, and it was not a leak or elaborate marketing campaign to boost sales. We are not commenting any further." And Little, Brown has issued a statement, noting that the revelation "was not a leak or part of a marketing campaign. We were very pleased and proud to have published The Cuckoo's Calling, and we're delighted with the great response it has been met with from readers, reviewers and fellow writers. We're looking forward to publishing Strike's next installment in summer 2014."
---

---