Hastings's Third Quarter: Missing 50 Shades of Grey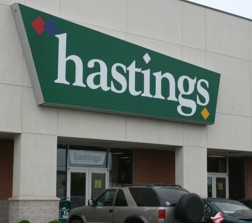 In the third quarter ended October 31, total revenues at Hastings Entertainment fell 6.6%, to $94.7 million, and the net loss was $6.2 million, compared to a net loss of $8 million in the third quarter last year.

The company operates 127 superstores, 10 fewer than in the third quarter last year. Sales at stores open at least a year fell 2.2%, an improvement over a 4.7% drop in the same quarter in 2012.

CEO and chairman John H. Marmaduke noted that revenues for music, books and rental continue to be impacted by "the popularity of digital delivery, rental kiosks and subscription based services." The company added that book sales year-to-year in the quarter fell 11.7% because of "a weaker release schedule for new books and a decrease in trade paperback sales, as compared to the third quarter of fiscal 2012, which included strong sales from the Fifty Shades trilogy." For the year to date, book category comp sales are down 11.8%; the only category performing worse is music.

Hastings has previously announced a strategic initiative that focuses on "the introduction of new product categories which includes consumer electronics, music electronics and accessories, vinyl, hobby, recreation and lifestyle and tablets."
---

---