Happy World Book Day!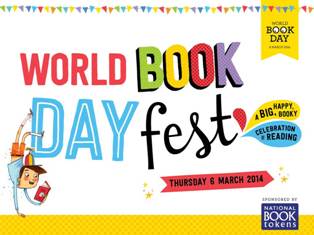 Today is World Book Day in the U.K and Ireland. The goal of the annual celebration of authors, books and young readers "is to encourage children to explore the pleasures of books and reading by providing them with the opportunity to have a book of their own."

In addition to events at schools, libraries and bookshops, as well as offerings like The Biggest Book Show on Earth, the day is marked by sending "millions of book vouchers to children and young people (more than 14 million, in fact: that's one for nearly every child aged under eighteen in the country)." The children can take their voucher to a local bookseller and use it to choose one of 10 "(exclusive, new and completely free) books. Or, if they'd rather, they can use it to get £1 off any book or audiobook costing over £2.99 at a participating bookshop or book club."

As part of its coverage of World Book Day, the Guardian offered some guidance in the form of "reviews of the 2014 £1 books written by our wonderful website members."
---

---