Family Christian Stores Sold, Will Stay Open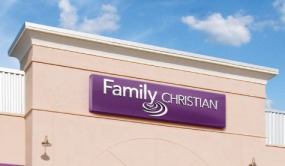 Family Christian Stores, which has 266 bookstores and filed for bankruptcy in February, will remain open after a bankruptcy judge approved its sale to Family Christian Acquisitions, mlive.com reported. Family Christian Acquisitions is headed by Richard Jackson, who owns Family Christian Stores and was the company's largest secured creditor. The chain plans to close 12-14 stores in the next few months.

Family Christian Stores CEO Chuck Bengochea said, "We have a sovereign God who has a plan for Family Christian. We have been through dark days and now we can celebrate."

The sale will be for between $52.4 million and $55.7 million and erases the chains debts of more than $127 million. Family Christian Stores estimated that sales this year would be $216 million, down from $305 million in 2008.

Many creditors, including publishers, will lose millions of dollars on the deal but preferred to keep the chain open. According to Christianity Today, creditors voted 162 to 7 for the sale.

Family Christian Stores began as the bookselling part of Zondervan publishing and was spun off in 1993 after HarperCollins bought Zondervan Corp.
---

---