B&N First Quarter: Sales Slip; Net Loss Rises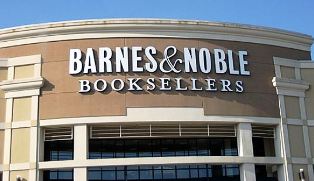 In the first quarter ended August 1, consolidated revenue at Barnes & Noble fell 1.5%, to $1.2 billion, and the net loss was $34.9 million, compared to a net loss of $28.4 million in the same period a year ago. The results, which included college results until the college division spinoff this summer, were below Wall Street analysts' predictions. B&N also said it will pay a quarterly dividend of 15 cents on October 30.

Sales in the retail segment, including B&N stores and BN.com, fell 1.7%, to $939 million. Sales at stores open at least a year rose 1.1%, mainly from "growth in non-book categories." Comp bookstore sales excluding Nook products rose 1%. The company noted that book titles including Harper Lee's Go Set a Watchman and E. L. James's Grey "helped offset comparisons to the strong young adult titles in the prior year, including John Green's The Fault in Our Stars, Gayle Forman's If I Stay, and Veronica Roth's Divergent series."

Sales of Nook devices, content and accessories fell 22.4%, to $54 million. The college division, which is now a free-standing company, had sales that rose 5.7%, to $239 million, benefiting "primarily from new store growth and a 1.8% comparable store sales increase."

For the rest of the fiscal year, B&N said it continues to predict that retail core comp bookstore sales, excluding Nook products, to increase about 1%.

B&N CFO Allen Lindstrom said that the company "successfully executed its major strategic initiatives during the first quarter, including the spin-off of its College business, the conversion of the Series J preferred shares into common shares and the initiation of a quarterly dividend. As we look to the second quarter and beyond, we are focused on opportunities to increase comparable store sales and reduce expenses. The company plans to further reduce Nook expenses through synergies with the retail business and we expect to see those benefits during the balance of the fiscal year."
---

---