One Grand Books Opens in Narrowsburg, N.Y.
One Grand Books, which features 1,000 books curated by 100 notable people, from Tilda Swinton and Lena Dunham to Ta-Nahesi Coates and Alice Waters, has opened in Narrowsburg, N.Y., "overlooking the beautiful Delaware River," as owner Aaron Hicklin put it. The store asks the curators, who include designers, musicians, artists, actors, performers and directors, politicians, novelists, scientists and athletes, what 10 books could they not do without if they were stranded on a desert island.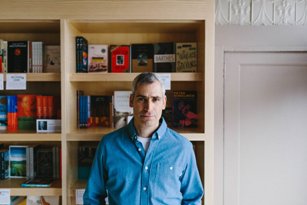 Aaron Hicklin at One Grand (photo: Matthew J. Novak/NYT)
The editor-in-chief of Out magazine, Hicklin had opened One Grand this past summer as a temporary pop-up bookshop in Whisper Editions at 6 Fulton Street in Manhattan's South Street Seaport. The Narrowsburg location is a permanent location.
In a New York Times interview, Hicklin said architect Jon Buono designed the 550-square-foot store in a way that preserves the space's original pressed-tin ceiling and walls, and created an interior featuring white ash paneling with "a routed geometric pattern that evokes both stacked books on a shelf and the 1940s Sears & Roebuck asphalt siding on a nearby house."
Hicklin said each collection will have a limited run, and, as the Times wrote, "every two weeks an older set will be rotated out and a new one brought in (the store's website, meanwhile, will introduce a different list weekly)."
One Grand will also hold salons, in the store and on a barge on the river, featuring curators reading from their picks. The Times added, "Hicklin plans to man the store himself on weekends, offering up mince pies and cups of tea (including a rooibos blend called 'Little Dickens' from the Brooklyn-based purveyor Bellocq, as well as Yorkshire Gold from his native England)."
---

---