Quarto Buys Harvard Common Press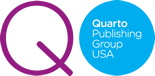 Quarto Publishing Group USA has bought the Harvard Common Press, which focuses on cooking and child care and will become an imprint of Quarto Publishing Group, with editorial and production operations in Quarto's office in Beverly, Mass. Dan Rosenberg, editorial director for Harvard Common Press, is joining the Quarto team in the same role. Harvard Common Press's president and publisher Bruce Shaw and associate publisher Adam Salomone will remain in advisory roles with Quarto.
The acquisition adds "hundreds of titles to the Quarto backlist as well as over 25,000 recipes" and, the company said, "furthers Quarto's position as a leading publisher of lifestyle-oriented titles for consumer markets." Quarto president and CEO Ken Fund noted that "the addition of Harvard Common Press's award-winning cookbooks will nicely expand Quarto's footprint in the culinary category."

Harvard Common Press's Bruce Shaw said, "Over the past 35 years, HCP has become widely recognized by both consumers and media as a go-to resource for home cooks. Quarto recognizes HCP's strategic value and the opportunity to further expand the reach of HCP titles and authors both domestically and globally."
Founded in 1976, the Harvard Common Press includes the Not Your Mother's series of cookbooks, Cheryl & Bill Jamison's Smoke & Spice, and the Nursing Mother's Companion.
Quarto Publishing Group USA is the U.S. division of the Quarto Group and includes Book Sales, Cool Springs Press, Creative Publishing international, Fair Winds Press, Moondance Press, Motorbooks, Quarry Books, Race Point Publishing, Rock Point Gift and Stationery, Rockport Publishers, Seagrass Press, Voyageur Press, Walter Foster Publishing, Walter Foster Jr., Wellfleet Press and Zenith Press, as well as the distribution service QDS.
---

---