'I Seek Out the Nearest Bookstore'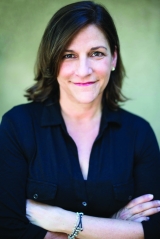 "I have always been an avid reader and lover of bookstores, especially small neighborhood independents. Wherever I travel in the world, I seek out the nearest bookstore and plant myself there. The creation of coffee shops in bookstores thrills me, because I can spend hours in one of my favorite places. I am delighted to say that I'm visiting many on my book tour. My launch on March 22 was at Greenlight Bookstore in Brooklyn, and that was a thrill.

"I live in Los Angeles and am a frequent customer at Skylight Books, which I can walk to (and was one of the things I loved about my house when we first saw it!), and Book Soup and the Last Bookstore."
--
Cynthia D'Aprix Sweeney
, whose debut novel,
The Nest
, is April's #1 Indie Next List Pick, in a q&a with
Bookselling This Week
.
---

---