Robert L. Bernstein, Ex 'Office Boy-in-Waiting'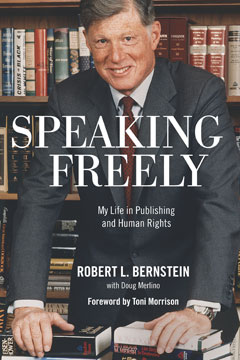 "[I chose book publishing as a career] by accident--just like so many other serendipitous events in my life. A friend of my father, who always got everything wrong, told Albert Leventhal, a vice president at Simon & Schuster, that I wanted to be a writer. I was fresh out of the U.S. Air Force and had just returned from serving in India. I didn't want to be a writer. What I really wanted was to go into television and radio, but I had no experience. So I kept the appointment with Albert as a courtesy to my dad's friend. At the time, I was working as a receptionist at WNEW, which paid $25 per week. Albert told me I would hate radio and television, and I should go into book publishing. He said that he didn't have a job, but then he changed his mind and said I could become an assistant to the office boy who was about to be promoted to reader. The job paid $30 per week, so I said okay. That's why I like to say I started my career in publishing--at a new low--as Office Boy-in-Waiting."
--Robert L. Bernstein, former longtime head of Random House and author of the new memoir Speaking Freely: My Life in Publishing and Human Rights, published last week by the New Press, with a foreword by Toni Morrison.
---

---