Hayden Confirmed as Librarian of Congress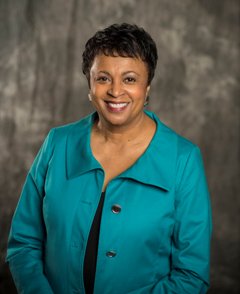 Carla Hayden
Yesterday, by a vote of 74-18, the U.S. Senate confirmed Dr. Carla D. Hayden as the 14th Librarian of Congress, for a renewable 10-year term. The longtime CEO of the Enoch Pratt Free Library system in Baltimore and a former president of the American Library Association was nominated by President Barack Obama in February. As the first woman, and the first African American, to serve as chief executive of the Library of Congress, Dr. Hayden succeeds acting librarian David S. Mao, who has served since the retirement of Dr. James H. Billington last September. She will be sworn in at a date to be determined and is expected to assume her duties soon.
"This is truly a great honor to be nominated by President Obama and confirmed by the U.S. Senate to lead the nation's library, the Library of Congress," Dr. Hayden said. "It has been my privilege to serve the citizens of Baltimore for 23 years and help restore the Enoch Pratt Free Library as a world-renowned institution. I look forward to working with the dedicated staff of the Library of Congress. I will be honored to build on the legacy and accomplishments of my predecessors in this position, to be part of a continuing movement to open the treasure chest that is the Library of Congress even further and to make it a place that can be found and used by everyone."
Dr. Hayden has recently overseen the renovation of the central branch of the Enoch Pratt Free Library, a four-year, $112 million project, and has also led $40 million in renovations to other units within the 22-branch Pratt system. She took the helm of the Baltimore system in 1993. Before that, Dr. Hayden was deputy commissioner and chief librarian of the Chicago Public Library, assistant professor for Library and Information Science at the University of Pittsburgh and library services coordinator for the Museum of Science and Industry in Chicago. She received Library Journal's 1995 Librarian of the Year Award.
---

---