New ILSR Report Examines Amazon's Negative Impact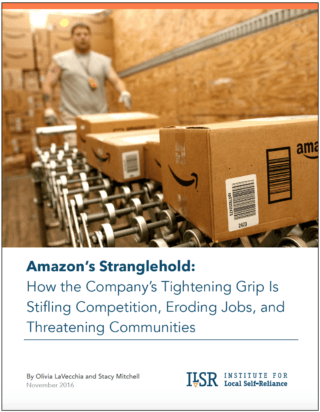 The Institute for Local Self-Reliance has published Amazon's Stranglehold: How the Company's Tightening Grip is Stifling Competition, Eroding Jobs, and Threatening Communities, a new study that "provides in-depth details on how Amazon is monopolizing the economy, undermining job growth, and weakening communities--and what can be done to address the online retailer's dominance across a growing number of marketplaces," Bookselling This Week reported.
"We commend ILSR for this in-depth and very thorough examination of Amazon's growing dominance in the retail sector--and beyond--and of the widespread deleterious effects its business practices are having across a broad range of American society," said Oren Teicher, CEO of the American Booksellers Association. "Following up on the ABA and Civic Economics 'Empty Storefronts' study--which documented the severe losses in Main Street storefronts and jobs due to the massive shift of retail spending to Amazon--the ILSR report is further proof that the American public needs decisive action from all levels of government, including the new administration and Congress, to counter Amazon's market dominance and dubious practices, which are affecting the entire economy."
Authored by ILSR co-director Stacy Mitchell and Olivia LaVecchia, a researcher with ILSR's Community-Scaled Economy Initiative, the "Amazon Stranglehold" report reveals that the online retailer is now capturing nearly $1 in every $2 that Americans spend online. The company sells more books, toys, and, by next year, apparel and consumer electronics than any retailer online or off.
With Amazon Web Services currently providing cloud computing technology for much of the country (including Netflix and the CIA), and Amazon's warehouses and delivery stations in nearly every major U.S. city, the study points out that by "controlling... critical infrastructure, Amazon both competes with other companies and sets the terms by which these same rivals can reach the market."
"It's eroding opportunity and fueling inequality, and it's concentrating power in ways that endanger competition, community life, and democracy," the authors write. "And yet these consequences have gone largely unnoticed thanks to Amazon's remarkable invisibility and the way its tentacles have quietly extended their reach." The report provides a detailed examination as to why this is the case, drawing on interviews with manufacturers, retailers, labor organizers and others.
Policy solutions recommended include encouraging policymakers to "restore the broader range of goals that guided antitrust enforcement for much of the 20th century" and to divide Amazon into separate firms, as well as prevent it from using financial resources to capsize smaller competitors. They also urge lawmakers to update labor laws at the state and federal level to protect workers' rights in the digital economy, and suggest that local and state governments should cease providing subsidies to Amazon.
---

---