MIT Press Bookstore Expanding to New Genres, New Community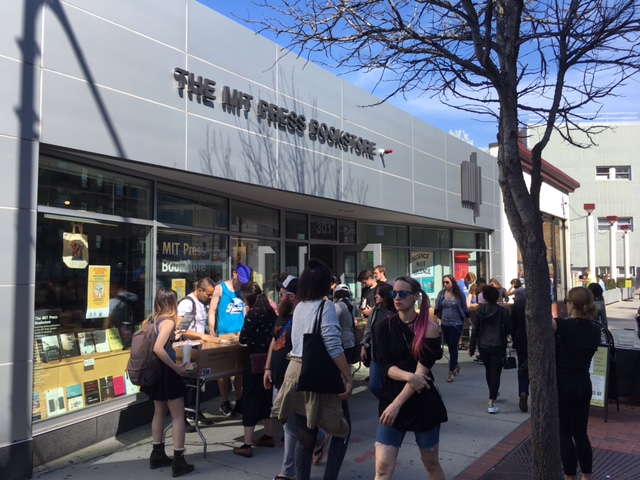 In 2016, the MIT Press Bookstore moved from its long-time home on the Massachusetts Institute of Technology campus in Boston, Mass., to a new, larger space in a different Boston neighborhood. The move isn't permanent--the bookstore is scheduled to move back on campus to a newly renovated building on Kendall Square in 2022--but the bookstore has nevertheless taken the opportunity to expand not only its selection of books, with new genres as well as books for younger age groups, but also its events program.
The changes, explained MIT Press sales manager David Goldberg, go hand-in-hand with changes on the publishing side of the business: slowly but surely the press has been publishing a wider array of work, both nonfiction and fiction.
"It made sense for the bookstore to take on new categories and new disciplines," said Goldberg. "And we talked about expanding our publishing to make it as inter-generational as it is international."
One of the biggest changes made by the MIT Press Bookstore since the move to 301 Massachusetts Avenue has been the inclusion of a children's section. Goldberg said that by design, all of the bookstore's sections are meant to look different from what might be found in a general-interest independent bookstore, and the children's section is no exception. There are no fiction books to be found. Rather, the focus is on nonfiction, STEAM subjects, DIY projects and other things "really meant to broaden children's minds and imaginations."
"Development of a really unique children's book section is critical for us," remarked Goldberg.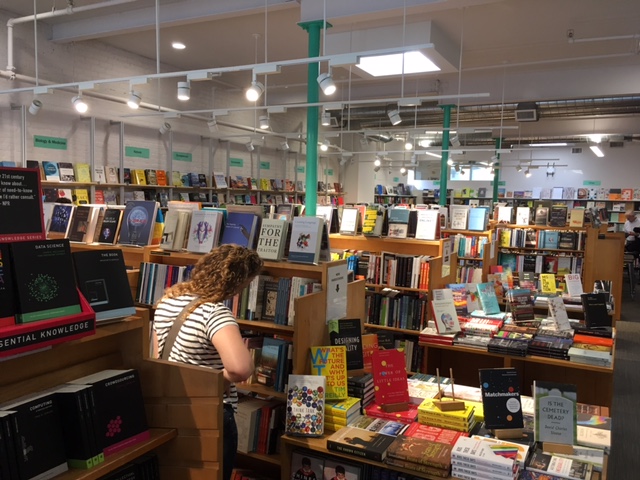 MIT Press has handled distribution for a number of smaller imprints, including publishers like Zone Books and Semiotext(e), for years, and until very recently the only fiction carried in the MIT Press Bookstore was fiction published by its various distribution clients. Now, the store is branching out into carrying more fiction that is "relevant to the press and its customers." This also roughly coincides with MIT Press publishing its own science fiction for the first time. In addition to science fiction, the bookstore has a burgeoning selection of literature and poetry, much of that driven by staff members who have a personal interest in those subjects.
When it comes to the bookstore's expanding events program, Goldberg said that they are trying to "build a program that supports your books as a publisher and your community as a bookseller." He also noted that MIT Press is "very mindful of our neighbors at other bookstores," and often does book events with MIT authors at nearby indies like Harvard Book Store or Porter Square Books. The goal for events held at MIT Press Bookstore, he continued, is to make them seem like "the best graduate seminar or the best conference you ever attended," with a focus on vigorous q&as, panels and conversations.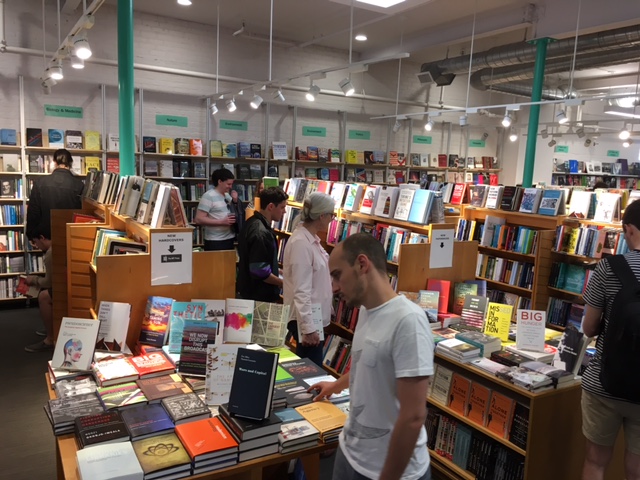 Goldberg also pointed to the bookstore's Espresso Book Machine as something that the bookstore staff plan to use to a much greater extent. Ideally, he said, the Espresso could be used to publish books by community members as well as rediscovered MIT classics on demand. Recalled Goldberg: "My challenge to the store was to say, 'what's going to be our top-selling self-published book in store?' "
While many changes have come to the MIT Press Bookstore within the last two to three years, Goldberg stressed that it all really lies with manager John Jenkins, who has managed the store since the mid-1990s. It was in the '90s that the store first started selling titles not published by MIT Press, and he has guided the store since.
MIT Press has also become increasingly engaged with the American Booksellers Association as both a publisher and a bookstore. Last year the store hosted a New England Independent Booksellers Association event that brought New England indie booksellers to the store to meet MIT Press editors. Two bookstore staff members, including floor supervisor Jeremy Solomons, helped spearhead Boston Independent Bookstore Day, which was the store's best sales day of the year and brought in a large number of first-time customers.
And as much as the MIT Press Bookstore is learning from other indies, Goldberg says he hopes that ABA and NEIBA members will learn some things from them, particularly where it comes to displaying, promoting and selling nonfiction books on subjects like game studies, neuroscience and digital culture.
"I like to think of our store as not just an embassy for people interested in MIT and art and design," said Goldberg, "but also as a laboratory for how other bookstores can do an even better job connecting with and invigorating their customers." --Alex Mutter
---

---