Wi14: A Winter Institute Welcome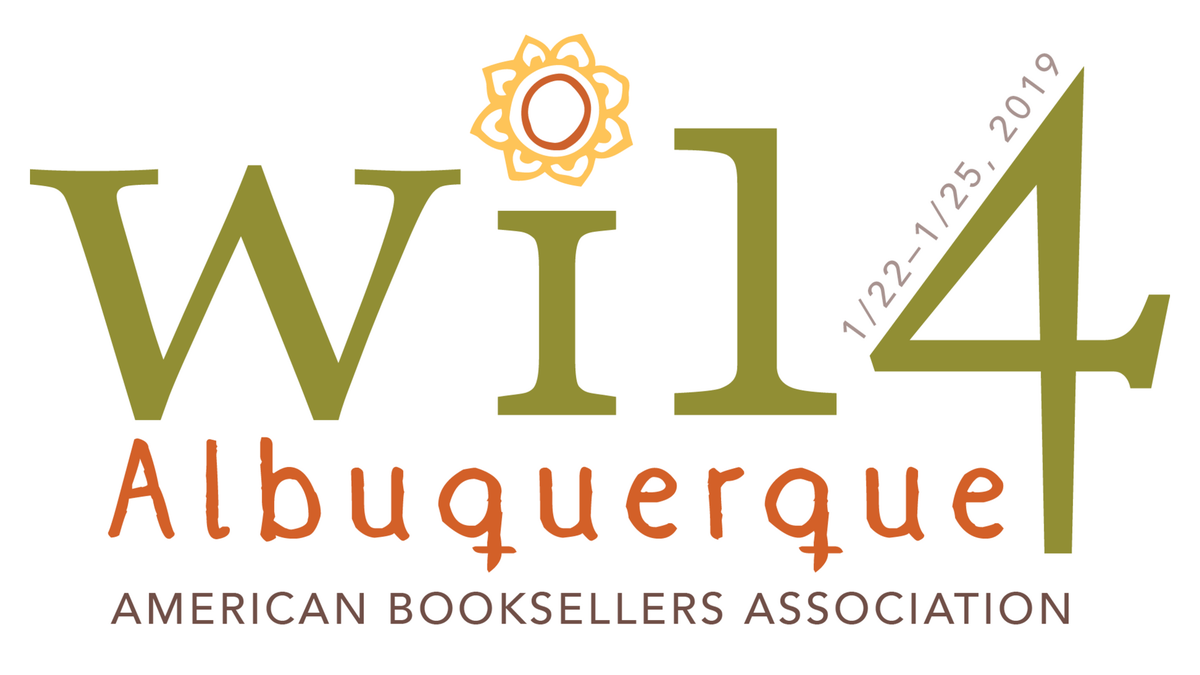 Starting today, we'll have extensive coverage of the American Booksellers Association's Winter Institute 2019, held this year in Albuquerque, N.Mex., which begins officially this evening with a welcome reception (co-sponsored by Shelf Awareness!) and runs through Friday. As usual, our coverage will extend for the next several weeks since there's just so much going on. Many of us from Shelf Awareness are at Wi14, and we hope to see you!
Bookseller attendance is up again this year, to 710, representing 388 stores, and, as has been usual in recent years, a significant number (202 this year) are first timers, especially from established stores whose owners and managers are staying home in order to allow more staff members to experience Winter Institute. International attendance is also strong: some 50 participants from 11 countries, including Russia for the first time, are expected at the Winter Institute.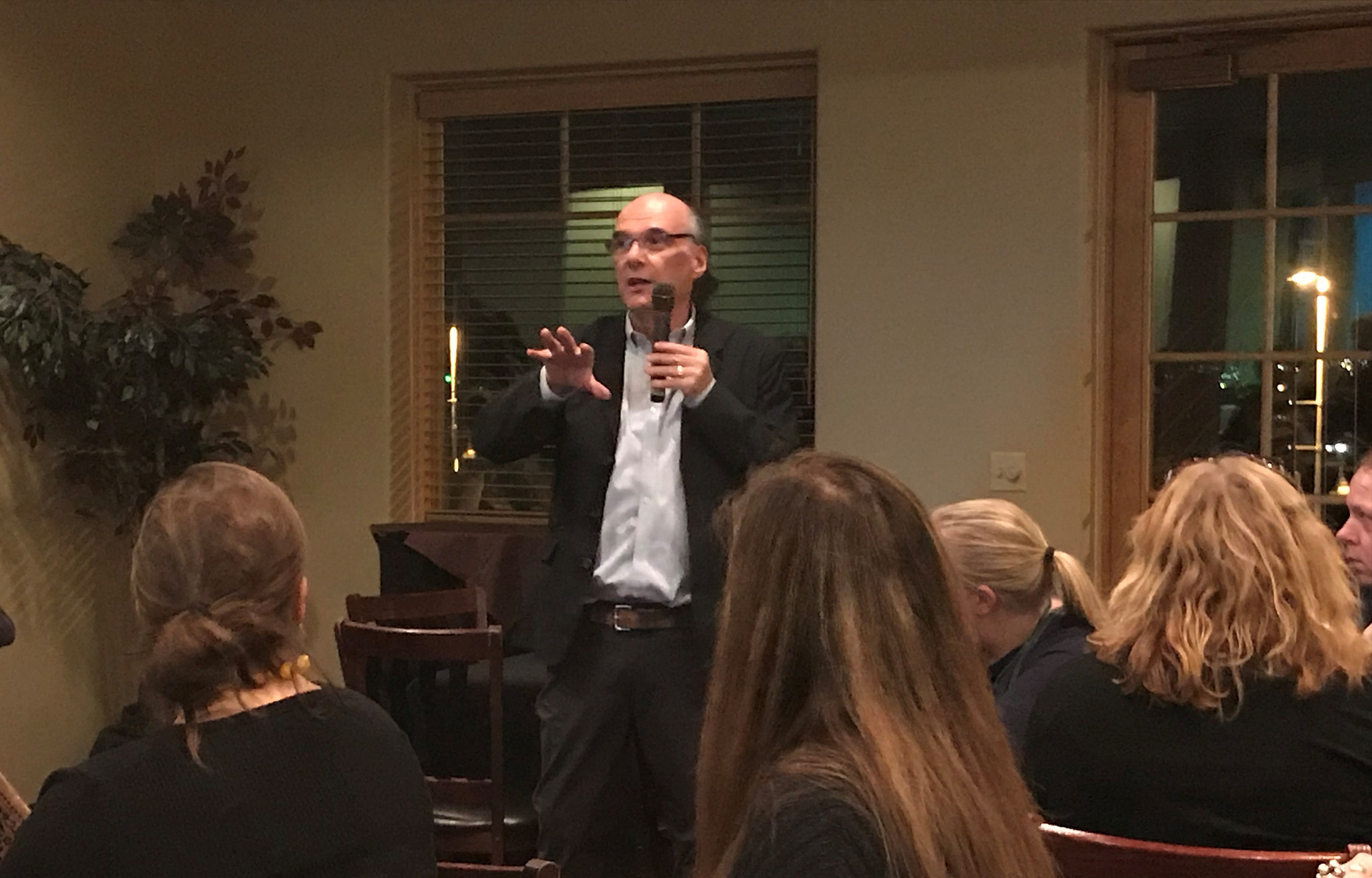 Oren Teicher at last night's reception for international attendees.
Noting that many younger and new booksellers are again in attendance, ABA CEO Oren Teicher said, "The torch is being passed to a younger generation of booksellers, owners and managers. There's nothing more exhilarating and exciting to us to observe way there is new generation in this business operating stores all across the country. Nothing speaks more clearly to the long-term viability of booksellers."
Those younger booksellers also come to the Winter Institute "with all kinds of ideas and enthusiasm," he continued. "They look at the business with a slightly different hue of glasses, with a new, fresh approach."
Teicher also noted that one of the most appealing parts of the Winter Institute continues to be simply creating the setting for booksellers and others "to get together and have conversations in the hallways, in the lobbies, in the bars, and share best practices." He called it "the secret sauce of why things work as well as they do. People are really smart about hearing, absorbing and taking new ideas from there to their stores. Many leave with two or three actionable items they can do at their store that will have an impact on their business."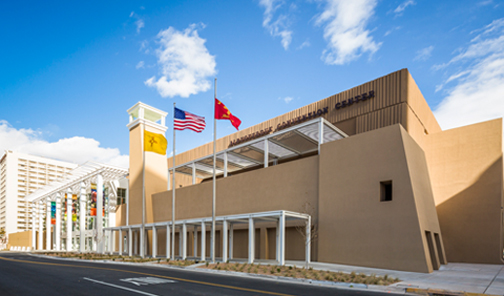 For the second year in a row, the Winter Institute is being held at a convention center and, for the first time, there is no headquarters hotel (registration will be at the convention center). "It's a newer, nicer version of the facility we used in Memphis," Teicher said. "It's laid out in a rational way," and the Winter Institute hotels circle it.
---
Like the 13 prior Winter Institutes, this one promises to be engaging, informative and energizing. Among the 154 authors on hand are Margaret Atwood, who will speak with author Erin Morgenstern; and Hanif Abdurraqib, author of Go Ahead in the Rain: Notes to A Tribe Called Quest (University of Texas Press), who will deliver a keynote.
ABA CEO Oren Teicher emphasized that the authors are a mix of "superstars like Margaret Atwood" and lesser-known authors who "may be the next Margaret Atwood." He added that the ABA is "delighted with the number of authors who will be in attendance with Indies Introduce program."
Sessions cover everything from the nuts and bolts of bookselling to selling international and diverse books; building successful relationships with landlords and with publishers; partnerships and programs to empower women; how to boost preorder sales; the importance of James Baldwin; selling board games; graphic novels; mixing bookstores and bars; and a salute to New Mexican authors.
This year, in another first, the ABA will livestream all plenary sessions for booksellers who can't attend Winter Institute, as well as continue to record all sessions and make them available after this week.
And in another first, the ABA will disseminate a code of conduct for the meeting that aims to be "as clear and unambiguous as we can about appropriate behavior in these kinds of settings." Teicher stressed that the code is "a work in progress. We continue to welcome suggestions for improvements to it."
---
Among the early festivities was a reception last night for international guests at the Indian Pueblo Cultural Center. Today's schedule includes a daylong Paz & Associates workshop for prospective booksellers with some 30 attendees; several in-depth seminars, on staff management and human resources, merchandising design and used books; and the IndieCommerce Institute.
The usual field trips to local bookstores and areas of interest near the site of the Winter Institute have a twist this year: the trips include day-trips to Santa Fe and to Acoma Pueblo, as well as three walking tours in Albuquerque (at 10 a.m., noon and 1 p.m.) led in part by writers of Arcadia Publishing titles, including Roger Zimmerman, author of A History Lover's Guide to Albuquerque; Ana Pacheco, Pueblos of New Mexico and Early Santa Fe; Allen Steele, Santa Fe 1880; and Paul Secord, Galisteo Basin and Cerrillos Hills and Bandelier National Monument. Arcadia is promoting its YourTown program by presenting all bookseller attendees with lists of 16 appropriate hyperlocal titles for their stores. ("The time for 'local' is finally here," Teicher commented, "and we have a great new year's resolution for indie booksellers--get a YourTown Store Match and make sure you have a terrific local selection in your store.")
In a similar vein, Hummingbird Digital Media, AdventureKEEN and Bookworks, the Albuquerque bookstore, have teamed up to offer attendees a free e-book copy of 60 Hikes Within 60 Miles, Albuquerque: Including Santa Fe, Mount Taylor, and San Lorenzo Canyon by Stephen Ausherman (Menasha Ridge Press).
Ingram is sponsoring the first Indies by the Fireside event, from 11 a.m.-4:30 p.m. today in the La Sala room at the convention center. Ingram "invites everyone to relax and chat by the fire in La Sala with independent booksellers and publishers from around the country and the globe."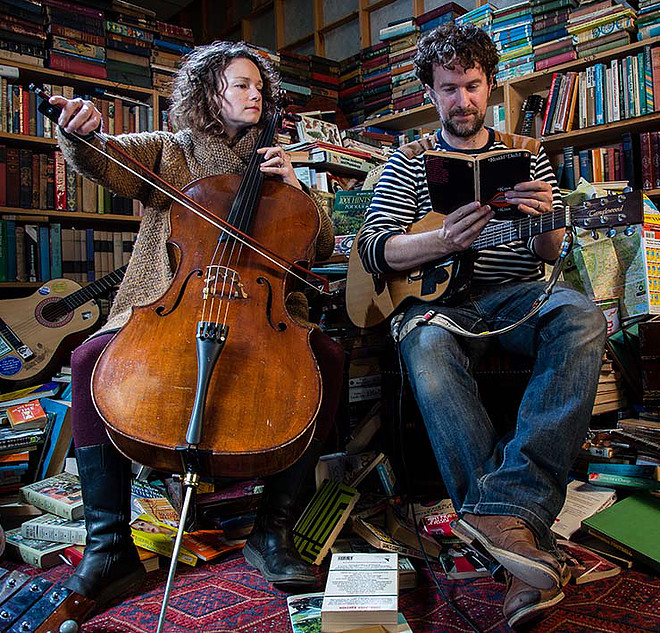 And tonight the Bookshop Band will hold the first of several performances. The band, formed in England in connection with Mr B's Emporium of Reading Delights in Bath, writes and performs songs inspired by books and by hundreds of authors, from Shakespeare to Philip Pullman. The duo has released 13 studio albums featuring many of the authors they have worked with, and has been performing in the U.S. in the run-up to the Winter Institute.
During Wi14, a refugee book drive to benefit parents and children from Central America and Mexico is being held; donations of Spanish-language books are welcome. The drive was organized by Denise Chávez of Casa Camino Real Bookstore, Las Cruces, N.Mex., and is being administered by Border Servants Corps. Check out suggested titles here.
Teicher praised Chávez for organizing the drive, and noted that "the politics of the movement will likely be part of the conversation in Albuquerque, which combines a rich cultural history involving Native Americans and Spanish-speaking people." As a result, it allows "that part of country to be front and center. It gives people from other parts of the country an opportunity to be exposed to something different."
---

---