Grand Opening for Main Street Books in Summerville, S.C.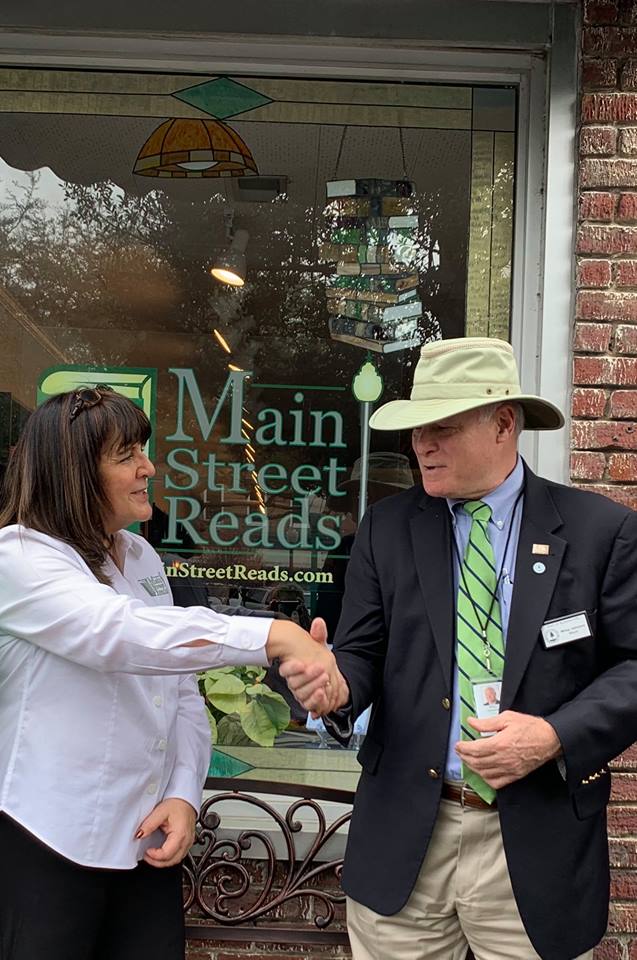 Main Street Reads owner Shari Stauch with Summerville Mayor Wiley Johnson
Main Street Reads hosted its grand opening weekend at 115 S. Main St. in Summerville, S.C., beginning with a ribbon-cutting ceremony Friday. On the bookshop's blog, owner Shari Stauch wrote: "The doors were ready to open at noon, just one hour before our official 1 p.m. scheduled ribbon cutting. Coffee, tea and champagne were at the ready, along with fruit from Edible Arrangements up the street, and wine from Accent on Wine across the square. Now we just had to hope people would brave the rain.... Wow, did you ever! By the time Summerville Mayor Wiley Johnson arrived to cut the ribbon, Main Street Reads was standing-room only! Make sure to check out all the pics at our Facebook page here."
Stauch expressed her gratitude "to our friends, family, and our extended Summerville and lowcountry family--we wouldn't be here without ya! And our very special thanks to so many folks behind the scenes without whom Summerville's new indie bookstore would not be possible.... If you haven't had a chance to visit yet, we look forward to seeing you soon. Drop by and tell us what you like to read. We take requests and will be ordering lots of books all the time to serve up what you want!"
---

---