Penn Book Center: 'All That an Indie Bookstore Is'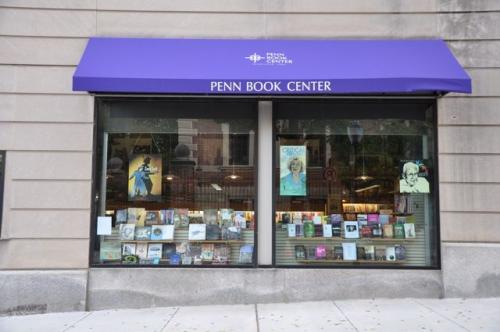 "Stores like ours keep the streetscape interesting. Over the years, our huge windows facing Sansom Street have featured themed displays on: women's history, philosophy, French history, film, jazz, Pope Francis, cats vs. dogs, just to name a few. Our 34th Street window always features books by Philly authors.
"Independent stores form great partnerships with the local community. Our windows have promoted shows at the Institute of Contemporary Art and Wolf Humanities Center lectures. Penn writing classes hold readings at our store. Students from Drexel and Penn have designed our store windows. We've collaborated on events with nonprofits like Philadelphia Stories, Blue Stoop, and Mighty Writers, along with the All But True Reading Series, among many others.
"An independent bookstore is an intellectual hub, a place to talk books and ideas. But it is also a place for more casual conversations. Our lead bookseller, James Gleeson, who has vast knowledge of poetry and philosophy, is likely to ask, 'How was your weekend?' on a Monday morning--and be genuinely interested in your response. These casual exchanges are essential to urban life.
"A lot of heart has gone into building the Penn Book Center, and it's very sad to see that come to an end."
---

---