Amazon Breaks The Testaments Embargo; Indies Furious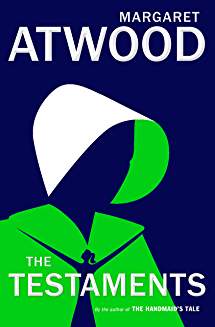 Amazon has broken the worldwide embargo on Margaret Atwood's The Testaments (Nan A. Talese), which isn't supposed to go on sale until next Tuesday, September 10. On social media, some people who had pre-ordered the book with Amazon displayed their copies that had arrived in the past several days, and a variety of indie booksellers said some customers had told them they had received copies from Amazon.
The pre-embargo shipping, which apparently took place in the U.S. and consisted of at least 800 copies (according to the Guardian), has infuriated indies, led to early reviews of the book around the world--revealing basic elements that we will refrain from mentioning here--and caused exclusive excerpts to be published earlier than planned. Altogether, the embargo violation stained the release of one of the biggest books of the fall season, Atwood's long-awaited sequel to The Handmaid's Tale.
In response to the situation, publisher Penguin Random House issued this statement: "A very small number of copies of Margaret Atwood's The Testaments were distributed early due to a retailer error which has now been rectified. We appreciate that readers and booksellers have been waiting patiently for the much-anticipated sequel to the bestselling The Handmaid's Tale. In order to ensure our readers around the world receive their copies on the same day, our global publication date remains Tuesday, September 10."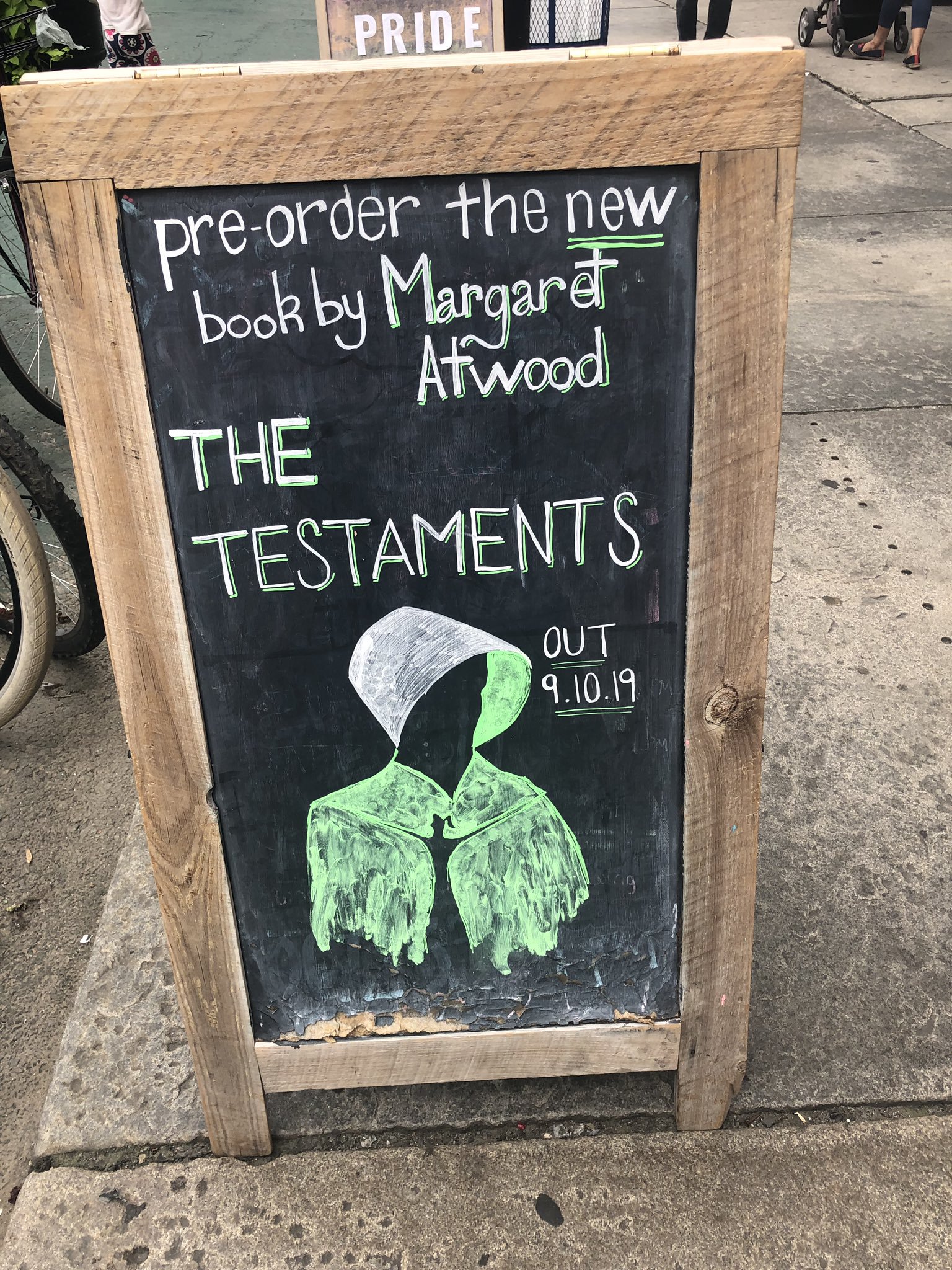 At WORD Bookstore, Jersey City, N.J.
Not naming Amazon and attributing the problem to "a retailer error" irritated many indie booksellers for a number of reasons: some pointed out that if their stores had sold copies of the book early, it would be considered an embargo violation and likely lead to punishments, such as not receiving embargoed books ahead of publication date in the future. Many speculated PRH will not do anything of the sort with Amazon.
In a series of tweets, Raven Book Store, Lawrence, Kan., succinctly outlined the problem:
"In order for us to order copies of The Testaments we had to sign an affidavit swearing that we wouldn't put copies out before 9/10. As outlined in the affidavit, if we broke the terms we'd be liable for damages and we wouldn't be allowed to sell the book anymore.
"It should come as no surprise that a certain huge online retailer is selling this book very close to our cost; if we sold it at their price we'd make $1.73 per copy. We've discussed before how this is unfair, and how we deal with it.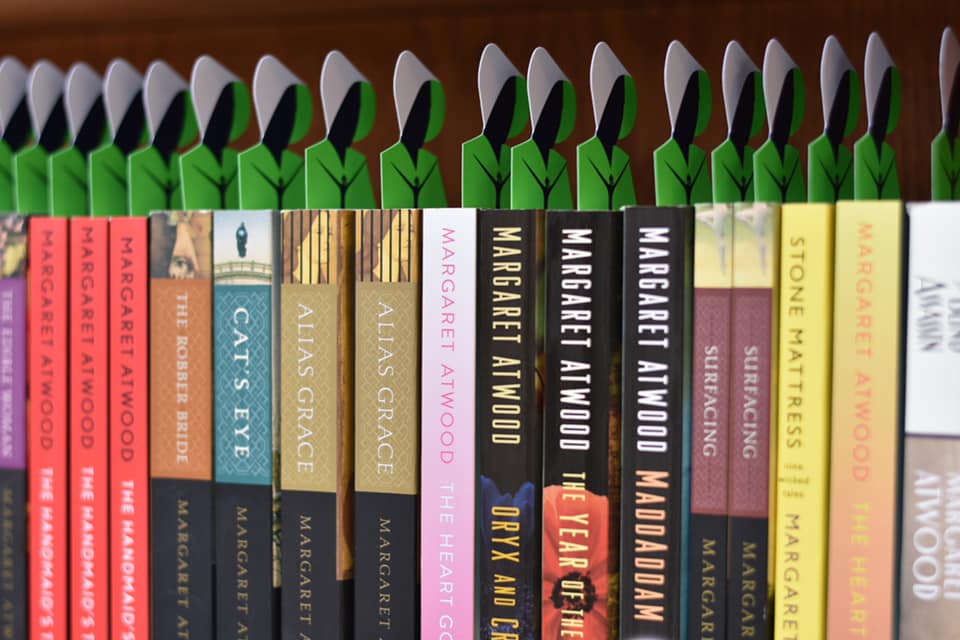 Display of Atwood titles at Raven Book Store, with Testaments bookmarks
"But now, not only is the huge online retailer selling it for a price we can't compete with, but they shipped out copies a week early. This increases the likelihood that someone who got it early uploads a bootleg copy online, cutting into sales for everyone.
"It also gave de facto permission to places like the New York Times and NPR to publish spoiler-heavy reviews, which deflates the mysterious buzz about what's in the book. It's likely that less mystery means less vital first-week sales for everyone. I hope we're wrong.
"Here's the thing: 44.8% of our sales last year were between September and December, almost half. This is in part because publishers release their most commercial books in September and October. We're thinking The Testaments might be the year's biggest book.
"The Testaments is one of a select few titles that enable us to imagine the light at the end of the cash flow tunnel. We operate most of the year at a loss, and make up for it with big Fall and pre-holiday releases like this one.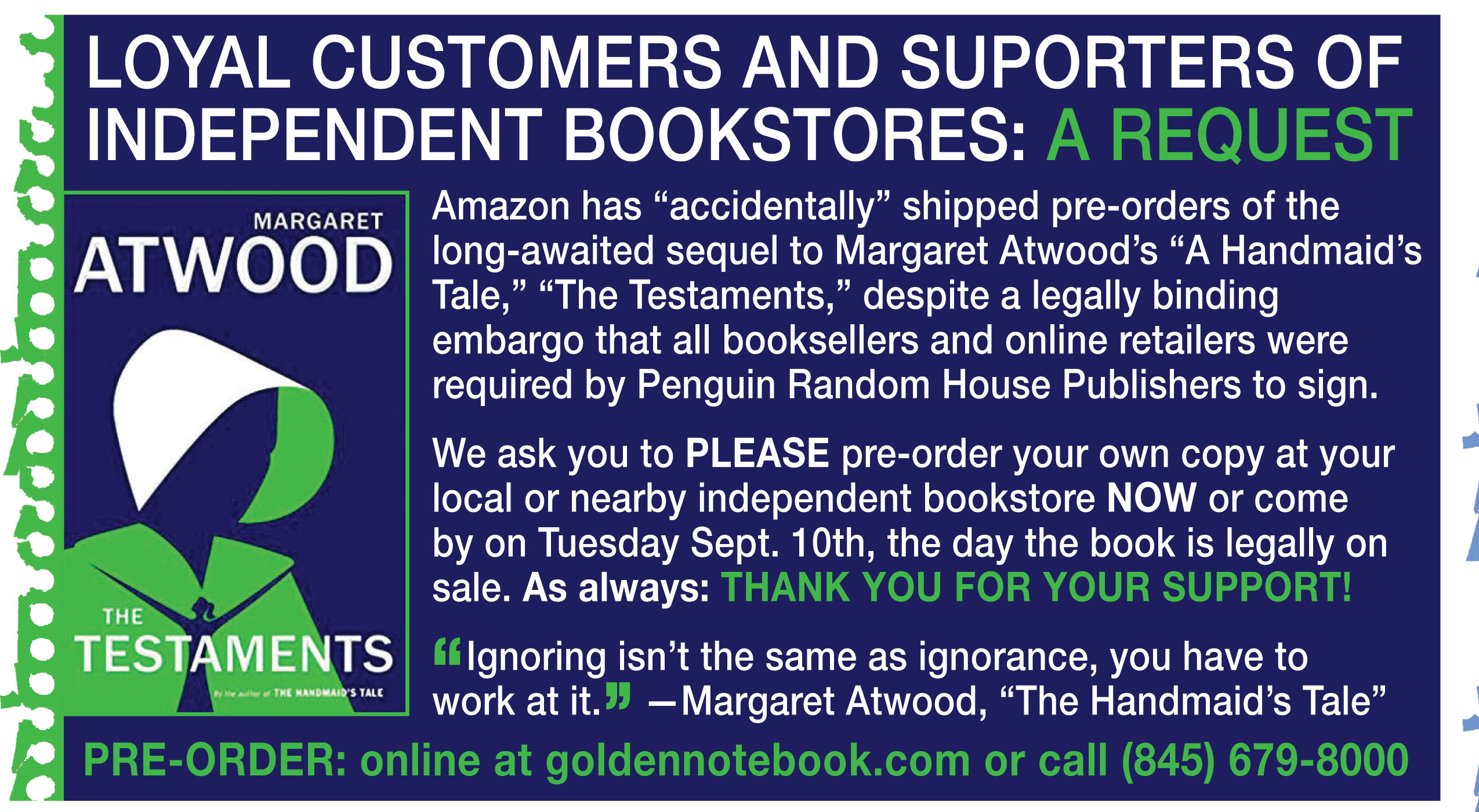 The Golden Notebook, Woodstock, N.Y., suggests booksellers share this image with their customers.
"We know we'll lose sales on The Testaments to a certain online retailer's habit of pricing books too low. We're a bit scared to think the same retailer will cut into even more of our business by breaking the embargo that *every book retailer in the world* had to sign."
And on Facebook, Jennifer Jubenville, store manager of the Bookstore at Fitger's, Duluth, Minn., wrote in part: "I'm sorry that Amazon thinks the rules don't apply to them. Because I follow the rules, and I believe when a person signs an agreement to honor the release date, you do just that--I won't be releasing this book early.... It's incredibly disrespectful to the author, her publicity team, and booksellers around the world who have put together preorder campaigns, countdown publicity (which we're taking part in), and events related to the release of the book. It's also heartbreaking to see people write things like, 'This is why we order from Amazon; they always get you things first.' We're not ENTITLED to things 'first,' which is what Amazon would have you believe. We're better as a whole when we work hard together to create respectful, celebratory, mutually-beneficial circumstances. We here at the Bookstore at Fitger's will ALWAYS work toward the best interests and betterment of the group, as opposed to the entitlement of a few. We have been in business for more than 20 years because we work to support READERS and as a result we know that we have earned your respect. THANK YOU for shopping locally wherever you are and for supporting stores that respect retailer agreements."
Noting that it had expressed to Penguin Random House "our strong disappointment regarding this flagrant violation of the agreed protocol in releasing this book to the public," the American Booksellers Association added that "in recent weeks ABA has communicated with appropriate officials at the U.S. Department of Justice and the Federal Trade Commission about the negative impact of Amazon's market dominance in the book industry and U.S. retail overall. Amazon's latest actions only further underscore how important it is that the appropriate federal agencies thoroughly investigate Amazon's destructive business practices."
In Australia, where the embargo was not broken, Australian Booksellers Association CEO Robbie Egan said in the association's weekly e-mail that "our members will sell The Testaments in big quantities and while we are all unhappy about the breach, for both booksellers and readers, this is a hugely important release for us and we have an opportunity to do what we do best: talk to our customers in person and share in their excitement at what is a significant event in contemporary publishing."
---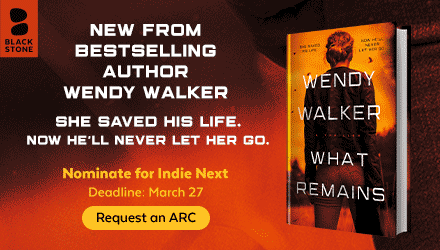 ---